I'm aware that I live a fairly charmed life.  I make my living directly from my arts, while residing in a very socially progressive city.  The combination of art + place means I look and dress how I please, in a daily style that is normal and comfortable for me.  Which means when I travel to other parts of the country, I become suddenly aware of just how myself I am, and how much I "stick out." Similarly, when the band is hired to perform a fan convention, I'm often asked who am I dressed up, who am I cosplaying? I was greatly confused until I figured out what they were asking, especially as I was in "plain clothes" for me.
I bring this all up because I found myself in an unusual headspace while attending an event this past weekend.  I'm usually fairly in tune with understanding why I feel a certain way, but it took me a while to figure this one out.  The event was a lovely celebration of fantasy culture called 2nd Star Festival, located in Florence, OR.  There were music and dance performances, lectures by artists, writers, and makers, variety performers including pirates, dragonmasters, and mermaids, plus a vast collection of amazing vendors.  We were there as the band was hired to headline the Saturday evening concert, as well as smaller acoustic sets during the days and talks.  It was our first time there, but we do these kinds of events all the time.
As we were still fairly close to home, there were a lot of familiar faces, even some I just saw last week at Many Gods West. Yet I felt out of sorts, and a bit out of place.  It had nothing to do with how I was dressed or presenting my work, the quality of the festival or the attendees.
It dawned on me that perhaps my malcontent was an internal shift, caused by a kind of disconnection.  I had been so immersed at Many Gods West, teaching, attending and facilitating ritual.  I had so many wonderful conversations about practice, belief, identity, magick, power, and practical living – which spilled into last week's blog posts (here, here, and here.)  There was nothing fantasy about it, it was all real people, real practice.  My brain was having a hard time switching from the experience of one kind of event to another.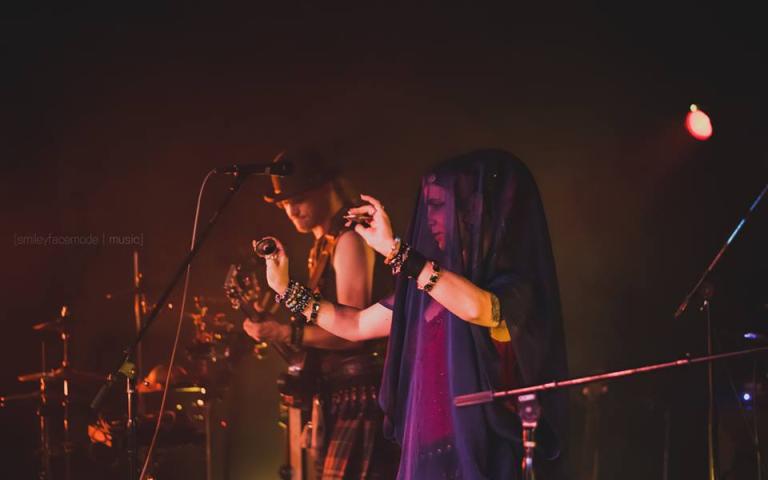 I'm a huge supporter of creative thinking, of fostering imagination and having a healthy sense of play. I recognize the need and release of many to dress up – and the power that comes with it.  Whether it's dressing up as a mermaid, a fairy, a pirate, or a dragon handler – there is much beauty to be embraced in the crafting and wearing of these costumes – and it's what so many folks do for fun and a break from daily life.  I am also extremely sensitive to how which costume I choose to wear when I perform as a dancer influences my performance and the audience's experience.
Yet there I was, having a hard disconnect.  My brain still wanted to talk about ritual, divine experiences, P-word politics, witchcraft, etc and it was being presented with an overload of cosplay.  Essentially it was throwing a tantrum and my emotional well-being was dealing with the fallout.  (Luckily, there was a
cider booth
next to us, which helped quite a bit.) It didn't matter that there's significant overlap in attendee interest/identification with P-word events, my brain was hooked on the factor that this event wasn't about
that
 specific kind of identity and awareness.  I left MGW feeling so at home, so connected with a diverse group of people – and that's the feeling I get from nearly every kind of well-run P-word gathering.  They provide spaces to look at concepts in depth we don't get to talk about anywhere else really, face-to-face.
It got me thinking – there are folks who often roll their eyes at the mention of Pagan festivals, gatherings, and other events, often throwing around the word "Playgans."  That term insinuates that these events are for mainly for people who like to dress up and "pretend" to be Witches/Druids/Insert Your Choice of P-Word here.  Sure, there's some folks who enjoy in dressing up more fantastical than usual – and maybe some of them put more thought into their attire than their practice, but you can't make that judgment by dress alone.  Or they may dismiss an event because they heard of this drama or that drama, but every gathering of any kind will have that.  (One of my favorite games is discovering what the huge drama/fallout happened at an event that I was at, that no one seemed aware of.  Not to dismiss real issues, because those are important, but more a point that some things happen and most attendees never had an inkling while they were there.)
Nor do you have to be an extrovert to enjoy those events, they're often a gathering of introverts – and both event producers and attendees can help make those experiences more comfortable for everyone. 
We can talk and write online about all of these things, but nothing beats that face-to-face contact and interaction.  There is truly something special that happens at P-word gatherings that I don't experience anywhere else – and I hold that sacred in my own weird way.  There's nothing pretend about interpersonal practice.  I love being introduced to new ways of thinking, being able to listen to other people's experiences, and challenging my own ideas.  It brings a whole new level of wonder and authenticity to one's path.
I wonder if that's at the root of why those people complain about events they don't attend – maybe they're afraid of being challenged in some way.  Maybe they're afraid their practice won't measure up somehow, and they prefer to feel superior by their separation.  These things reflect on the people who believe them, not the ones actually going and doing.
Which is why I had to be firm with my brain and do some re-programming to get through the weekend.  Gatherings are about sharing thoughts, ideas, and building community. Even though it may not be a community I plug into most profoundly, that doesn't mean it's unworthy of my respect or appreciation.  Everyone needs and deserves to have an outlet to share their art and sense of self – whether that's gaming, dressing up,  or invoking gods.  Those experiences are all real in their own way.