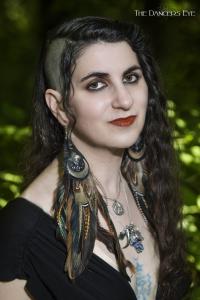 Laura Tempest Zakroff is a visual artist, author, designer, dancer, and Witch residing in Seattle, WA with her partner, musician Nathaniel Johnstone and their 3 cats. She has identified as a Modern Traditional Witch for over two decades, viewing her path as one of vocation, craft and practice, spirituality, and way of living.
She has published two books:
The Witch's Cauldron: The Craft, Lore & Magick of Ritual Vessels (released May 2017 from Llewellyn Worldwide as part of their Witch's Tools series.)
Sigil Witchery: A Witch's Guide to Crafting Magick Symbols (released January 2018,  from Llewellyn Worldwide) – see also sigilwitchery.com
Upcoming releases in 2018-2019:
The Witch's Altar: The Craft, Lore & Magick of Sacred Space (co-authored with Jason Mankey)
Weave The Liminal: Living Modern Traditional Witchcraft 
She is also is a contributor to The Witches' Almanac, Ltd, illustrates for BBI Media (Witches & Pagans, SageWoman Magazine) and writes the blog Fine Art Witchery.
Events & other news can be found at www.lauratempestzakroff.com
Other Links:
Art: www.owlkeyme.com
Design:  www.magodjinn.com
Dance: www.darklydramatic.com
Witchery: www.moderntraditionalwitch.com