Immediately following my last post, people started talking about their favorite occult shops, which I think is a fantastic idea.  People also asked me about what specific shops I like the best.  So I figured I'd team the ideas up in a new post: a survey of favorite shops I have visited in the last year, and the opportunity for you to share your favs in the comments.
A couple notes and ground rules before we get to that:  

1)
No negativity.
 If you don't like a shop that I or someone else listed, keep it to yourself.  Instead, tell us what shop you DO like and why. Otherwise your comment will be deleted.
2) I am defining occult shops by those who mainly/primarily focus on some aspect of the occult – witchcraft, spellcraft, p-wordism, and other arcane practices/belief systems.  There's many lovely new age shops out there that have a single shelf on Wicca and Tarot amongst the yoga mats/pants and crystals – not what we're looking for here.
3) I have been to a LOT of shops over the years – but I am limiting this list to just the ones I have been to in the last year (with a few notable mentions).
4) To recommend your favorite shop, list the name, the city/location, and a link if possible – and ideally a few words about why it's your favorite!
Salem, Massachusetts
As I just got back from visiting Salem, MA – and it's a placed loaded with shops, I'll start there and work my way back through the year and locations.  I have a 20 year history with visiting Salem, so I'm splitting the listings into my old favorites that are still going strong, and newer shops that caught my eye:
The Old Favorites:
Nu Aeon – Pickering Wharf – I have always been impressed by this shop ever since my first trip.  It's beautifully curated, with a diverse selection of books, artwork, statues, jewelry, and more.  It's definitely geared more towards the serious practitioner, but I've only ever heard sound advice and sincerity spoken to anyone who has entered.  Their hours are a bit limited compared to other shops in the area (they were closed on my last 2-3 trips in the area prior to this one), but definitely worth a try.
Artemisia Botanicals – This shop used to be in Pickering Wharf, but is now up the way on Hawthorne Blvd, on the way to the Hawthorne Hotel.  I was overjoyed to find it this trip (I had thought it had closed when I didn't find it in its old locale), as it has been one of my favorite stops for decades. Walls lined with jars of herbs and more from floor to ceiling, plus oils, books, and more. Very friendly and extremely knowledgeable.
Pyramid Books – Across the way from Pickering Wharf (and around the corner from Artemisia).  Alas, there seem to be less and less books every visit and more new age products, but they still have a pretty good and diverse selection, and most importantly, one of the largest "open box" Tarot/oracle deck collections I've seen.  You want to see what a deck looks like? They probably have a copy of it open, and also in stock. I've found the staff also to be friendly and knowledgeable.
Newer & Notable:
Enchanted – Pickering Wharf – located in the stretch of buildings where Artemisia used to be is Enchanted.  Very good selection of books, decks, some more unusual/artful items, and essentially a little bit of everything.  Definitely a very good place to get started, and the staff are considerate, knowledgeable, and happy to help.  They also have class space adjacent to the main shop.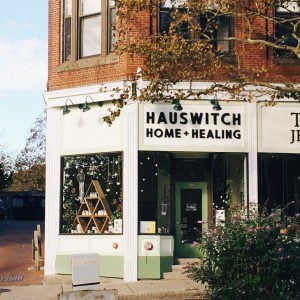 The Coven's Cottage – Essex Street (Brick Marketplace area) – as I stated somewhere recently online, I wouldn't mind living in this shop.  We found it on our previous trip (I think 2014), and while their layout has changed since then, it's a dream of a witch's cottage with herbs and bones hanging from the ceiling and throughout the shop, with adorable market baskets to shop with.  I've particularly enjoyed the music they play (it's a bit different than the usual occult store soundtrack), and it's especially notable for their focus on heathenry/asatru/northern deities and practices.
HausWitch Home & Healing – Washington Street – we found this gem heading back to our car.  This shop stands out in the town for being decidedly of a modern, young, and hip perspective/style.  The shop is bright with large windows, light wood fixtures, white walls, and everything very neatly laid out.  It could easily be at home in the trendy neighborhoods of Seattle, Portland, NYC, Atlanta, or San Francisco, and features an array of handmade homegoods, art, and off-the-beaten path witchy items – as well as offers a variety of events in their space.
Seattle, Washington
The next group of shops are from my home area.  Although I have lived here for over 4 years now, I have not yet made it to all of the shops in the area, so this list happens to be both the ones I frequent and enjoy.  If you have a favorite in WA, do let me know so I can visit!
Edge of the Circle Books – University District – A mainstay in the local community, EotCB used to be located in Capitol Hill, but luckily found a new home in the U-District.  I'd say arguably the best selection of occult books and decks in the area, owner Robert pretty much has it all, and if he doesn't, he'll order it for you.  In addition, there's a good selection of supplies, jewelry, statues, shirts, and more – as well as having a space for rituals, classes, and more.
Gargoyles Statuary – University District – What's awesome about EotCB moving to the U-District is that it's in close proximity to Gargoyles, so you can get two-in-one for your parking and shopping joy.  Gargoyles is a must-see, stacked from floor to ceiling with gargoyles (of course), amazing other kinds of statuary, jewelry – and much locally sourced/promoted art, prints, incense, candles, and more. Owner Gayle does a fabulous job of curating the store, and always happy to help you find what you're looking for.
The Cunning Crow Apothecary – Greenwood – a newer shop with a modern hedgewitch aesthetic, this beautiful shop focuses more on oils, herbs, tinctures, and similar items – so if herbs and oils are your thing, head this way!  They also have an adjacent space for classes, healing work, and more.
And not quite in Seattle, but close is:
Crescent Moon Gifts – Tacoma – This shop is HUGE.  Like there's definitely a little bit of everything and then some and keeps going.  It has a tea room, event spaces, books, candles, stones, music, and much more. They're also a staple vendor at local events like Pagan Pride.
California

There's a wealth of shops in CA that are noteworthy, but as I said, I'm trying to keep the list to the ones I have visited in the last year, and I was just in California last month.  I'll make note of some honorable mentions that I need to get back to visit to again: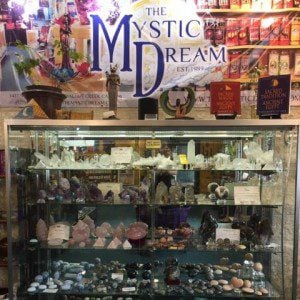 The Mystic Dream – Walnut Creek (Bay Area) – I remember when this shop used to be Dolphin Dream (and very new agey) –  Storm Faerywolf  and crew took it over, and  it has transformed into a wonderfully witchy space that's very satisfying.  There's a candle dressing bar, a very large selection of books (particularly small press/Feri ones), many decks, rocks and crystals, and much more.  Plus they hold regular classes and events.
Serpent's Kiss – Santa Cruz – I know there's a few shops in this area, but when touring recently, I've only had time to hit Serpent's Kiss.  Definitely notable for their rootwork/hoodoo/conjure supplies and selection, this is another large and beautiful shop with an array of books, crystals, jewelry, oils, clothes, and other supplies. They also hold events and classes regularly.
Honorable Mentions in California that I need to get my butt back to, so hopefully some of you will chime in to sing their praises in detail:
Air & Fire – Boulder Creek
Milk & Honey – Sebastopol
The Sword & Rose – San Francisco
Ancient Ways – Oakland (hosts of PantheaCon!)
I also want to visit The Sacred Well (now with shops in both Oakland and Portland, OR), I haven't been to either yet!
Asheville, North Carolina
Raven & Crone – We stopped at this delightful shop when we were on tour last May.  It has a resident cat (huge bonus points), a tea and research/class room, many books (especially some by local experts/authors like Byron Ballard), a good stock of supplies and unusual items, and I had a lovely time talking with the owner's husband on our visit.  It's an absolute delight!
Minneapolis/St. Paul, MN
I was in Minneapolis for Paganicon, but I unfortunately did not have time to stop at any brick and mortar shops.  I would very much like to get back to Eye of Horus for another visit (last time was 2012).  I've never been to Magus Books, but we vended across the way from them at Paganicon.  They had a great selection of imported books, and we had a fantastic time talking with the owner and staff all weekend, so it's on my list of places to visit.
New Orleans, Louisiana

Hex
– French Quarter – It's nearly been a year since I've been to NOLA, so this one's getting in just under the wire. I know there's a Hex in Salem, owned by the same person, but I have to recommend the NOLA store because they've always been welcoming, friendly, and very patient in explaining things to tourists and newbies while I've been in earshot. There's a good selection of books, focus on voodoo and conjure work (no surprise for the location), and a lot of artful beautiful things.  We always seem to meet really interesting new folks or run into folks we know in the most random fashion just outside the door, so that's fun too!
I'm a bit lacking for voodoo-specific resources in NOLA that are current, so I'd love to get some recommendations for the non-tourist variety here. 
So that's my year-list. Unfortunately my tour schedule was pretty fast and furious this year, so I missed out on hitting more shops due to timing and travel logistics. There are many more fabulous shops out there, deserving to be mentioned, so I'm counting on you all to share your favorites!