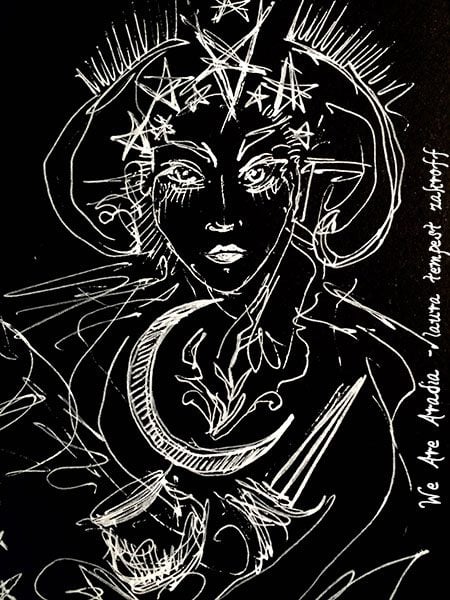 Following up with yesterday's post  of #WeAreAradia (also be sure to also check out Storm's post here), I was inspired to create a modern tradition-inspired charge of Aradia.
Technical note: The translation I was working from didn't rhyme, and despite my Italian roots, I can't say with confidence the original Italian did either. But as I worked in free verse, it pushed for couplets instead.  This makes it easier to remember, to sing, and to chant.
I hope that you find it inspiring for your practice, and that it gives you hope, power, and energy.  Most importantly, remember – WE ALL are the New Aradia. And so I present to you The Charge of the New Aradia:
The Charge of the New Aradia
When sense and world has parted ways,
Whenever need is great and dire
In brightest sun or moon's dark phase
Bring forth will to light the fire.
Send down the roots, raise up your arms,
Call forth spirit, summon its charms
With wand and cauldron, stang and knife,
With cloak and horn and lore of wife
Build your wisdom and bide your time
In eyes of heart, and blood sweet wine.
In city and wood gather still
To protect and guide with our will.
Now is the time to heed the call
Witches together one and all.
In our truth, we know the power,
That our voice brings down the tower.
To banish, cleanse, bless, heal, and guide
With our secrets and sabbat ride.
It's the hour to change the tides
For now as witches we all rise!
-Laura Tempest Zakroff, 1-25-2017
#WeAreAradia
Please feel free to share this, to save it for your books of shadows, grimoires, notebooks, post-it, etc.  I'll be writing more in the future about specific work you can be doing to empower yourself and others – daily, weekly, monthly.  But I feel it's also very important to have something to focus on, to rally energy, and to inspire. That is the intent of this charge.
Remember, **together** we are Aradia!