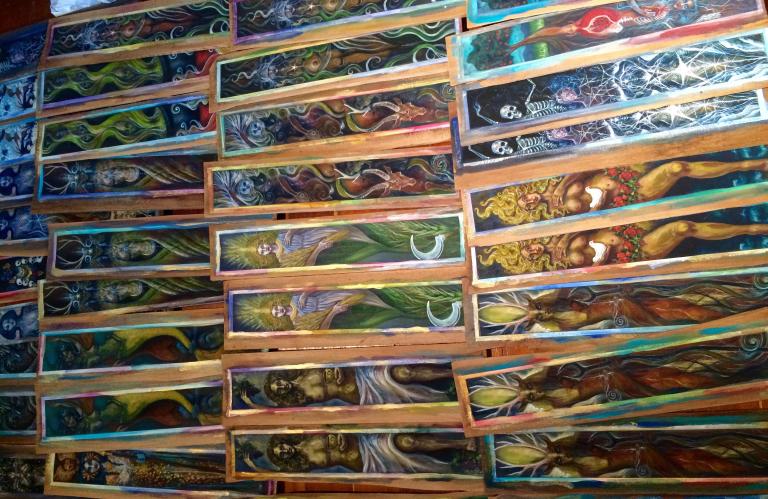 And so it begins…
I am getting ready to head down to PantheaCon in San Jose, CA – where I will be vending, performing, presenting – and hopefully getting some additional fun socializing in!
So if you too are also heading to PantheaCon and you'd like to come by and say hi, here's where I'll be:
VENDING: Most of the time from Friday through Monday, I'll be chained down I can be found at my booth, Owlkeyme Arts – which is located immediately OUTSIDE of the main vendor hall, in the hallway.  If the vendor room is on your right, then look to your left. You'll see the book signing/reader tables, then the fantastic pottery of Gaean Allusions, then I should be right next door, with lots and lots of artwork – as well as the Power Sigil and #WeAreAradia items.  Hall vendors set our own hours, so I tend to open a little before the main room – and similarly close a little after them.
However, I am involved with several other activities over the weekend: 
PERFORMING:
First up on Friday at 9pm, I will be performing with Anaar as part of the Black Rose Sabbatic Dance Ritual (led by Devin Hunter, Storm Faerywolf, Chas Bogan)
On Saturday, I'll be performing with the Mythpunk Masquerade with occupies TWO slots (7-9pm, 9-11pm) on the schedule!  I'll be playing and dancing with Nathaniel Johnstone, S.J. Tucker, Betsy Tinney, Sharon Knight & Winter, and Dogwood – and we'll be switching off all evening long and teaming up in fantastic ways, so definitely set some time aside to enjoy live music and dance!
PRESENTING:
Sunday
is my marathon day – and both events happen in the
11th hour – am and pm!
11am: Into The Labyrinth: Change Through Movement
: (workshop) Life is a labyrinth: we are constantly moving through layers to reveal ourselves. In this workshop, we will work with physical movements that will aid in uncovering the various layers of ourselves (playing with age, identity, ability, and roles), as well as help us to connect with the journey of others. Discover sacred and ecstatic movement that you can incorporate into your own practices and rituals.
11pm: Hekate at the Crossroads: A Meeting Of Mind & Movement: (ritual, live music/dance experience) – we're bringing the much-talked about and highly-praised experience from last year at Paganicon to PantheaCon! In honor of the goddess Hekate, we shall meet at the Crossroads, engaging in a ritual that combines live music, sacred dance, and embodied movement to allow us to see where we have come from, where we are at, and where we are going- individually and as a community. Tempest and Nathaniel will present an ecstatic rite that fuses together elements of Modern Traditional Witchcraft, Middle Eastern and Mediterranean Dance, Inspired World Music, and Ritual Performance. You will be welcomed to participate at your own level of comfort, no dance or ritual experience necessary.
And I'll be out and about at the Llewellyn Suite, and making my way through the hospitality rooms as well when I have some time and energy 🙂
Then I head back home and nearly right away turn around to fly out to Convocation in Detroit, MI.  I'll do a similar write-up for that event next week.  And hopefully get another blog post in too…