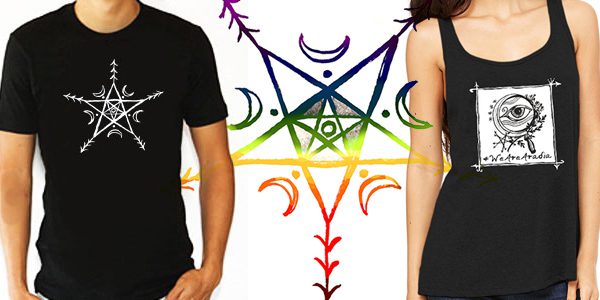 We are interrupting your normal blog feed to give you a head's up about some developments regarding the Power Sigil and #WeAreAradia.  So many people asked me about having the Power Sigil and #WeAreAradia art as shirts, stickers, and patches that I decided to add 12 more things to my workload to get done before PantheaCon and make it happen.  To maintain sanity, for the first run will be two styles of shirts (regular tee's and flowy opaque tanks), patches in two sizes, and stickers.  A portion of the proceeds from the Power Sigil will be donated to the ACLU.  The proceeds from #WeAreAradia will help fund the printing of educational materials.
The deadline for ordering is the end of Monday, February 6th.
Please read all of the information very carefully, as there's an additional button you need to click on to designate whether you're picking it up at PantheaCon in two weeks, or if your order will be mailed to you.  There are several options for mailing to choose from – select the one that matches the items you are ordering.
Got that?  Great! Okies, here's the link! http://magodjinn.com/clothing.html
And now back to your regularly scheduled blog reading!