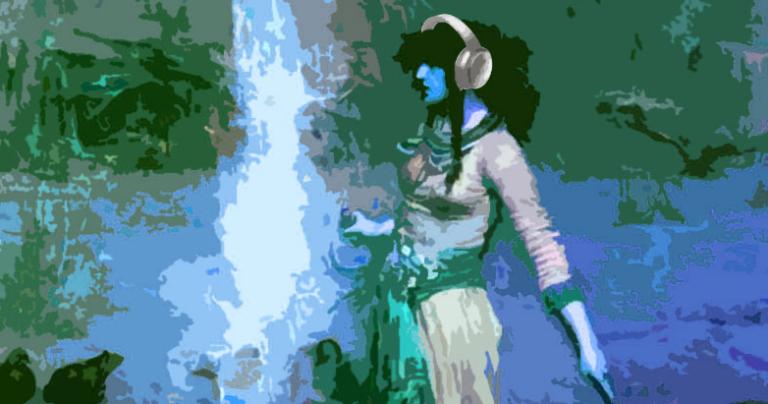 So previously I shared with you some of my favorite music.  Really just the tip of the iceburg, because I have quite a diverse and extensive collection of music.  But it's a start that could keep some folks busy for quite a while.
I love to drive around town listening to music, and I love doing chores with it blasting.  However, when I'm doing long drives, and when I'm trying to focus on art, it's podcasts that I find myself turning to the most.  And there are a LOT of there.  So I'm going to give you a few different genres and my favorites.  There are MANY MANY MORE podcasts that I listen to, but I wanted to especially provide you with a list of podcasts that come out fairly regularly and also have a significant backlog for you to listen to.
Myth, Legends, Lore, & Tales
The Myths & Legend Podcast – there's a lot of myth-inspired podcasts out there, but OMG, this one is my favorite.  Jason has a great voice, he does a huge amount of research, and presents really well-rounded views of myths – with a side of snark.  How could you not?
Lore – So Lore is a bit more spooky and creepy – and Aaron covers a wide range of phenomenon, weird tales, and facts from around the world.  If you get freaked out easily, then…listen with friends?
Spirits Podcast – This one is like if the two above podcasts got drunk on Manhattans – these two gals cover myths, stories, and spooky things – while also imbibing.  What could go wrong?
Podcastle – Podcastle is part of a group of podcasts (Escape Pod and PseudoPod are part of the same family) – and this branch is the Fantasy branch.  That does encompass a wide range of stories, and I especially love how they feature stories by women and those outside of the gender binary.  They range from all ages to adult.
Witchcraft 
The Modern Witch
– Devin Hunter has been the main force behind this well-done podcast, and has been joined on more recent episodes by partner Storm Faerywolf.  Both of those guys are just as busy as I am, but they still manage to get a podcast or 3 out every so often.  Great interviews with a wide variety of pwords, and thoughts on modern-day practice and issues.
Down At The Crossroads – Chris and Tara are awesome folks – they interview some really interesting movers and shakers in our world (present company included), and pair it with a fantastic variety of music – and they do it very regularly too!  Plus they now have a Patreon which gets you backstage access to some special recordings.
New World Witchery – Cory and Laine have been exploring what it means to be witches in America for quite some time now.  I love that they don't claim to be experts, and they include you in on the experience in a very grounded, interesting way.  They also do interviews with some really neat folks.  Cory also has another podcast that I'm looking forward to hearing more of – Chasing Foxfire – which explore folklore in a fascinating way.
The Priestesses – Ok, I'm just realizing that I know pretty much all of the people I'm talking about here in the Witchcraft section. What can I say, I know awesome people – or somehow get to know them because the Fates are kind?  And The Priestesses I definitely include in this group.  These folks tackle some really hard and difficult issues in the Pword community, and they do it gracefully.  Definitely worth a listen!
Ok, I'm going to end it here for now.  There are more podcasts and music I wish to share with you, but I need to get my arse in bed, as we're off to Hexenfest.   Do you have a favorite podcast you feel is witchy AND gets updated on a regular basis?  Share it in the comments!