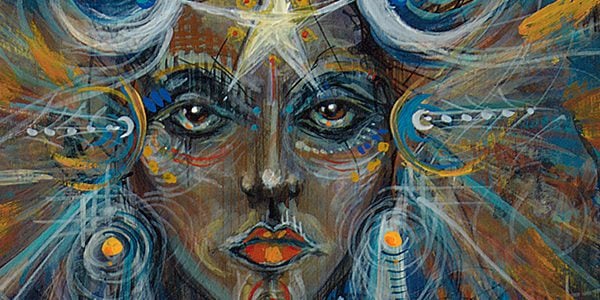 This is probably going to sound weird coming from a Gemini, but extreme dichotomies annoy me.
Human beings have a tendency to view things as either being A or Z, black or white, good or bad, positive or negative.  The brain wants to categorize something, be done with it and move on to the next thing. It says: "There! That's where you belong! I don't have to think about you anymore!" The reality is that in most instances, there is an infinite amount of possibilities and variations between the two extremes.
A prime example of this is the archetypes of the Virgin and the Whore as aspects of the Divine Feminine.  Both have found places within the realm of Witchcraft, often creating a polarizing practice. There have been many books written on exploring these archetypes, because there is much to explore here. So you'll have to excuse me not going into infinite detail about the history and development in a mere blog post. Instead I am going to offer my own viewpoint of what I have encountered over the years and poke at the problematic root of both.
For many, the Virgin Mary was (and still is) the gateway drug to finding the Goddess – or more specifically, the Divine Feminine. She can't help but be that, as the only prominent "acceptable" female figure in Christianity.  Sure, there's Mary Magdalene, but she often gets the Whore label attached to her and a brief appearance. Protestant preachers like to bring up Jezebel and Delilah(Old Testament) and the Whore of Babylon (Revelations), but rarely is there mention of the powerful, kick-ass women to model (Esther, Judith, or Ruth for example). This stuff is worth mentioning because these stereotypes often become subliminal baggage in our brains.

Following our tendency to swing toward extremes, many folks discovering the Divine Feminine tend to ditch Patriarchy to embrace a Matriarchy of sorts.  God becomes Goddess, and the "pure from sex/untouched by man" Virgin gets upgraded to the "independent and whole of self" Virgin like Diana, Artemis, etc. The Holy Trinity of God/Son/Holy Spirit is replaced by the Maiden/Mother/Crone. It's an easy, familiar slide over. If there's a male deity acknowledged, he tends to get put in that same safe quasi-space the Virgin Mary occupies in the Patriarchy. (FYI, none of this is a criticism of anyone's beliefs. I personally went this way myself when I first started out, and I know many others who did the same.  Some changed their paths over time, and others still find it the best way for them.) The act of sex becomes intermingled with the divine, seasons, and life cycles – sanctioned and sacred. It's rather neat and tidy, controlled and orderly.
Then there's the other extreme: the embracing of the Whore.  From modern ceremonial magic groups to some avenues of tradcraft, there is a desire to see the Divine Feminine as raw, carnal, sexual, bloody, dangerous – the embodiment of untamed sex and wild presence. She has sex with anyone and anything for any reason she feels. In many cases, her power is derived (or bestowed upon) directly from sexual encounters. There's sometimes the underlying theme that if you don't embrace sex or deity in the same way, then you're a prude or a pawn. When you're coming from a repressed background, it's natural to seek to embrace absolute rawness.
I can't help but think – why not both?
But more importantly, why must we be either? 
Of course, there are many paths that walk closer to the middle, but it often feels like we're being haunted by the absolutes and cultural baggage still. There's also the impact of extreme male deity archetypes to consider, and the erasure of genderfluid ones. (Again, only so much I can cover in a single blog post!).  Regardless, how we view the divine influences how we view ourselves and each other. This vision directly affects how we practice as Witches. If we focus too narrowly, we lose sight of the possibilities we can bring into being.
Which brings us to the truth that we as a society need to embrace a wider definition of sex and sexuality, while fostering a healthier approach to our bodies. To fully embrace our powers as Witches, we need to honor and respect body, self, and spirit entirely.  We need to shed the (hefty) baggage that our bodies are in any way shameful, or impure – no matter what shape, ability, color, age, or gender they are. Our bodies are amazing vessels of spirit that allow us to interact with this world in all senses.
I am sure that every person reading this right now can think back to your early childhood when you learned some part of your body was taboo.  Then as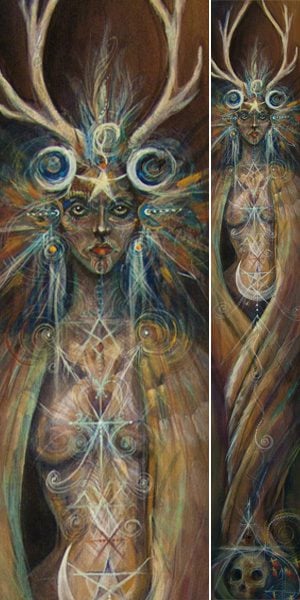 you reached puberty, you very likely were further "instructionally" assaulted with all the wrong things your body is (naturally) doing, and given very mixed messages about sex, sexuality, and relationships.  About who gets to have sex and when, what's too much, too little, or the wrong kind – and usually lacking the fact that sex doesn't have to define us or our relationships.
I have to wonder, if early on we're taught how to honor and respect ALL bodies, to see how beautiful they are, how many serious problems would we eliminate from culture/society? How much differently would we see ourselves – and each other? Mutual respect and consent would be innate. Sex could be understood as mundane, natural, and sacred at times, with no restrictions or demands about how much or little we engage in. It would cease to define or label us.
For me personally, an integral part of being a Witch is reconciling body, self, and spirit – for myself and as well as aiding others.  No part is more special or important than another. This at times means internally sorting through the proverbial haystack or bean bowl to separate out unhealthy ideas and introduce better ones. It can be achieved by mundane means as well as through conscious ritual and spellcraft.  We have to work on embracing all of our parts, and I do mean work.
As a society, we're far too quick to dismiss ourselves as broken or damaged. To just let things be the way they are because it takes effort. There is always room for change and growth. The belief that you can no longer learn, grow, or change is incompatible with Witchcraft. We can rebuild ourselves, share the healing process, and make a conscious effort to help our children see themselves as beautiful and capable early on.  We are more than archetypes, we are Witches.
A Witch's Mantra
There is no shame in my body.
There is no lacking in my spirit.
There is no end to my journey of self.
My body is beautiful.
My spirit is present.
My self is divine.