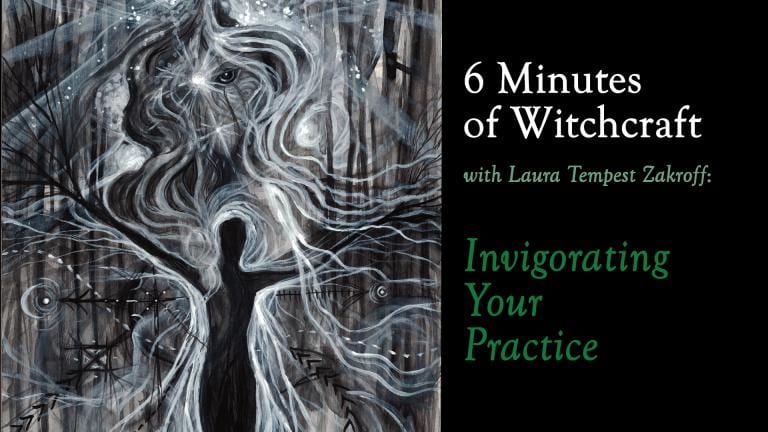 Could your Witchcraft practice use some invigorating and inspiration?
This episode answers viewer John Argue's question of "What do you do when you feel disconnected from your Witchcraft?" Thanks so much to John for asking this question – one that I feel a lot of you are often wondering. It's easy to look around the internet at all these beautiful photos and elaborate rituals – and feel like you're simply not doing enough – or doing the right thing. But don't get caught up in trying to match someone else's aesthetic. Just because something looks pretty doesn't mean it's effective or will work for you.
In fact, this is an excellent time to challenge yourself to find power in simplicity. Look around you – and most importantly within you. Stop trying to play the comparison game (which is never one worth winning) and open your eyes to what's right in front of you.
What I cover can also be extremely helpful for those of you wondering how to START your practice – not just those of you looking to reinvigorate or recenter it. More below after the video:
Look at your daily schedule. I know for many of you right now, that is totally something that feels tossed to the wind – which is natural when your patterns have been upset and disrupted by unexpected change. We love our patterns – and this is an opportunity to make new ones. So again, think about what do you need to accomplish every day or every week? Sleeping, eating, drinking, dressing, cleaning, taking care of children, pets, or other people – all of these things can be given a magical twist. This is a great time to slow down and uncover the meaning of what you've been doing regularly.
Also, even if you don't/can't leave your home, you should still attend to daily hygiene, and set some sort of reasonable schedule for yourself. Get up at a decent hour, make that tea, feed the cats, check the plants, get showered and dressed – etc. These activities create a pattern that will help you out mentally, physically, and spiritually. I guarantee you'll feel better and more connected by engaging in this simple/basic tasks.