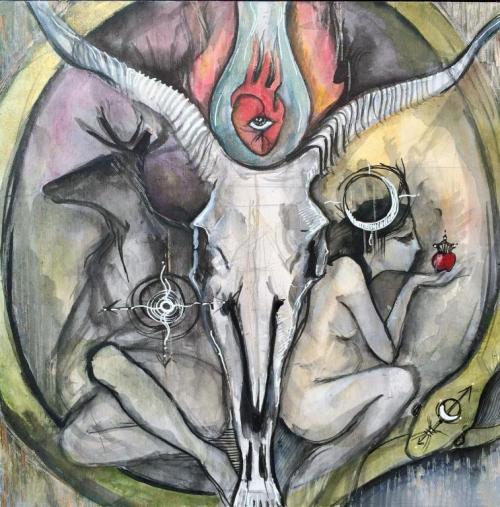 Sheltering-in-place and other quarantine measures can definitely put a damper on your usual ritual activities. While meeting in virtual space for a coven gathering or Sabbat isn't quite the same, it can definitely help you still feel connected. There is definitely power to be felt and shared via this kind of format.
For Beltane, my partner and I are offering an experience you can all join in – from our home to yours. We're teaming up with the wonderful folks of Thorn & Moon Market (Houston, TX) as part of their 4 day long virtual Beltane event. You can check out more about the whole event here on Facebook.
For the previous full moon, Nathaniel and I got inspired to live-stream an improvised full moon ritual performance – right from our living room. Minus some cat-wrangling and slight technical difficulties with the scheduled URL and planned after-chat Q&A, it went off splendidly with an amazing reception. Bonus points: the feed was recorded so you can still watch and enjoy it:
So join us as we celebrate the Beltane season through live music and dance. You can help set a reminder for yourself by joining the Facebook event page here. We will posting updates and other details in the event as well.
We currently have a scheduled URL for the livestream, which if you're reading this after May 1st 2020, then you'll be able to watch the playback right now.
It is best to keep an eye on that FB page though, as we had issues with our first scheduled URL – it got stuck in a load-loop and wouldn't start, so we had to start a new livestream window. We'll also try to do another Q&A, which may likely jump back over to FB if we have issues keeping the stream going after the ritual.
If you're curious about the kind of ritual performance Nathaniel and I do, here's a couple of previous posts:
Hekate at the Crossroads
The Priestessing Witchery of Dance
You can also check out Nathaniel's weekly live concerts on Tuesday nights.