Today, I ate lunch alone at a favorite restaurant.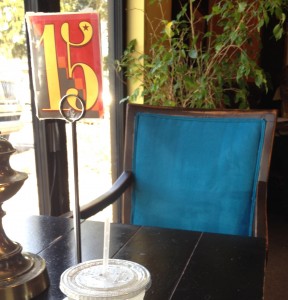 Frequently on Mondays, a colleague and I meet for lunch to share stories and envision new ways of working together. But today, he was out of town.
While eating my lunch, I sent a few text messages and answered a couple of emails.
In the digital age, we're connected like never before. But, as part of our food justice conversation, how are we connected to others through our food?
Who is at the table with us?
Who grew, picked, washed, and/or processed our food?
Who loaded, unloaded, transported and/or sold our food?
Who prepared our meal?
Take a few moments of your day and imagine all of those to whom you are connected because of your food choices. Does your food choice ensure that these people receive a fair wage for their work? And that they have safe working conditions?
How do we foster greater justice in the relationships created by food choices?
Consider the connections created by the food choices represented in this photo essay.
———————————-
Lenten Calendar for MARCH 17
Investigate local farmers' markets, CSAs or other places to buy locally grown food. See www.localharvest.org
————————————
Sign up to receive the daily meditations by email, or like us on Facebook.
We need your stories!
We're already looking ahead to the 40 Days for Food Justice Project for 2016 and we're looking for more stories, experiences, prayers and resources about food justice and food injustice.
If you would like to contribute – or would like to recommend a contributor – please send us an email and let us know.
About:
In addition to being the founder and editor-in-chief of the "40 Days for Food Justice Project", the Rev. MargaretAnne Overstreet is a mom, a Presbyterian pastor, and a certified Health Coach. She does ministry with and among the good people of Westminster Presbyterian Church in Belleville, Illinois, where she gets her hands dirty in the community garden and, every Sunday, preaches with bare feet. She treasures family time, relishes every opportunity to teach and write about food justice, and loves to play outside with her dogs. Find out more about her at www.AnInBetweenPlace.com