(We're revisiting this post from 2014.)
The South Hayward Emergency Food Pantry
by Rev. Jeff Hutcheson
There is an amazing collaboration happening in the southeastern part of the Bay Area, in Hayward, California. The interfaith organization known as the South Hayward Parish is working for justice by empowering the Hayward community. One arm of that justice is the South Hayward Parish Emergency Food Pantry. They serve approximately 300 people a day, 4 days a week. They recently dispensed about 3 tons of produce in just one week! The hunger is great, and they are meeting the need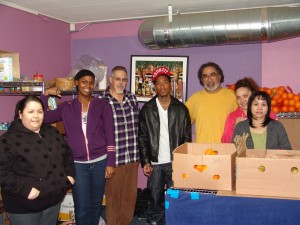 The pantry is sustained by gifts of money, time and food. These gifts come from the community food bank, individuals and corporations. Any gift is treated as a treasure. The director of the Food Pantry, Ralph Morales, says, "Twenty-seven cents is as valuable as 2700 dollars." Some corporations, including Target and Food Max, contribute name brand foods – even organic foods – to the ministry.
They have always been able to meet the needs of those who come for help. While the needs continue to grow, so do the resources. Ralph takes blessed assurance from his faith in Christ. He says they have "enough faith that there will be enough." So far, there is always enough.
Part of the food ministry is to increase awareness in the community of how much food is wasted, and how to make better use of quality food that might be unnecessarily discarded.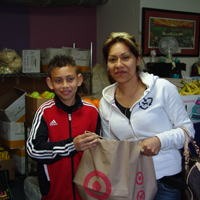 This is a ministry of food justice. Ralph and those who serve are answering God's call to feed the hunger and to feed the spirit. Not only do they distribute life-giving food, but also encourage, support and befriend the people who come to the pantry.
They set up the pantry like a mini grocery store. Often times people can have a choice of what items to take, including milk, eggs, and oatmeal. Ralph and his staff make every effort to "treat people as they would themselves would want to be treated." They minister to the dignity of those seeking help.
Meeting this basic need for food also has a ripple effect. It's an act of Grace that touches a family's whole life. Many who come to the pantry live paycheck to paycheck, so the slightest change can create a cascade of hardship. So many are caught between getting food and paying their bills. Providing quality food empowers people to feed their family while at the same time making the rent payment, or keeping the car so they can go to work.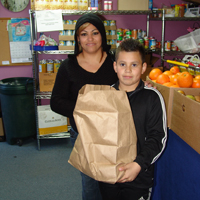 The pantry is but one service among many of the South Hayward Parish that supports those who are struggling and disempowered. The staff who serve there strive to create a safe place for people to come and share their burdens, be heard and be encouraged. Many of the volunteers are people who have benefited from the ministries of this Parish. When someone comes for assistance every effort is made to treat them as if they are "the most important person in the world."
The joy that Ralph, and others, get from this ministry is inspiring and contagious. Ralph says, "I feel like I have a whole bunch of best friends."
———————
Photos provided by the South Hayward Emergency Food Pantry
In his 23 years of ministry, Jeff Hutcheson has served congregations and presbyteries across the Eastern, Southern and Midwestern United States before accepting his current call as Pastor for Mission and Vision for the Presbytery of San Francisco. He holds a Ph.D. in Human and Organizational Systems; a Master's in Psychology; and a Master's of Divinity; and is a certified Life-coach. His published worlds can be found in Abington Press' Children Sermon Library Vols, 1, 2 and 3; We Believe church School Curriculum; a chapter to a just published book titled "The Reflective, Facilitative and Interpretive Practices of the Coordinated Management of Meaning." He is married to Sherri, his soul mate and best friend, who shows him the rainbows along this journey. They make their home with their faithful four-legged companion Simon.
———————————-
Lenten Calendar for MARCH 21
Read Psalm 34. Take a few moments each day for the rest of Lent and pray for hungry people.
————————————
Sign up to receive the daily meditations by email, or like us on Facebook.
We need your stories!
We're already looking ahead to the 40 Days for Food Justice Project for 2016 and we're looking for more stories, experiences, prayers and resources about food justice and food injustice.
If you would like to contribute – or would like to recommend a contributor – please send us an email and let us know.
About:
In addition to being the founder and editor-in-chief of the "40 Days for Food Justice Project", the Rev. MargaretAnne Overstreet is a mom, a Presbyterian pastor, and a certified Health Coach. She does ministry with and among the good people of Westminster Presbyterian Church in Belleville, Illinois, where she gets her hands dirty in the community garden and, every Sunday, preaches with bare feet. She treasures family time, relishes every opportunity to teach and write about food justice, and loves to play outside with her dogs. Find out more about her at www.AnInBetweenPlace.com