Chapel & Tomb of St. Philip Neri, Chiesa Nuova, Rome
Podcast of the Readings for All Saints Day via the USCCB
Late yesterday, word began to come of a "bloodbath" during Mass at Baghdad's Syrian-Catholic cathedral. Details are still emerging; it portends nothing good:
The terrorists, some wearing suicide vests, had taken over 120 faithful hostage at the Syriac Catholic Church of Our Lady of Salvation, one of Baghdad's largest, during Sunday mass and demanded the release of al Qaeda prisoners in Iraq and Egypt. "This tragedy represents a new and terrifying change in strategy by terrorists" said an anonymous source from the Catholic community in Baghdad, "it means all Christian parishes in Iraq are in danger". An Iraqi affiliate of Al Qaeda claimed responsibility for the attack. It said in a statement posted on radical Islamic websites that it was an action against the Coptic church in Egypt.
The pope has denounced the attack:
Benedict said he was praying for the victims "of this absurd violence, made more ferocious because it was directed against unarmed people gathered in the house of God."
More on the attack here. It seems 3 priests were killed
Last night a visit from a friend prompted a look at pictures from our recent trip to Rome, where we are reminded of the martyrs who helped to build the church.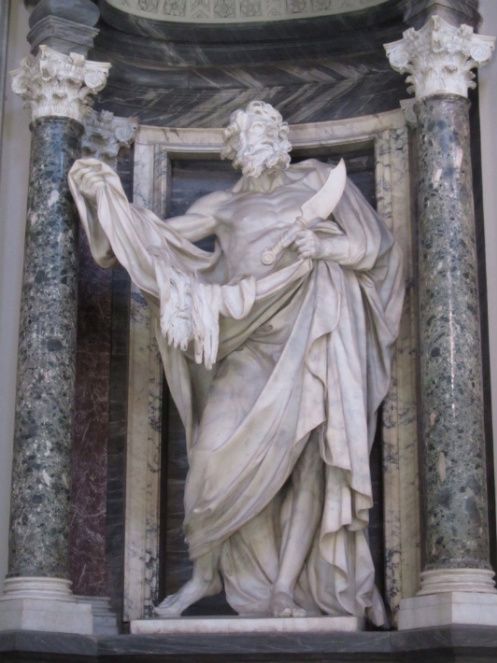 St. Bartholomew, Apostle, Martyr, (Basilica St. John Lateran)
Even today, in Vietnam and Africa, in the Middle East and elsewhere, people suffer for their faith, while Western Civilization has so lost sight of the disciplines of prayer and fasting and the integration of the life of faith into each act of each day, that it does not surprise us to read stories about Western women finding liberation in the hijab, and daily prayer times.
Lynne Ali remembers the night this hit home for her. 'I went to an old friend's 21st birthday party in a bar,' she reveals. 'I walked in, wearing my hijab and modest clothing, and saw how ­everyone else had so much flesh on display. They were drunk, slurring their words and dancing provocatively.

'For the first time, I could see my former life with an outsider's eyes, and I knew I could never go back to that.

'I am so grateful I found my escape route. This is the real me — I am happy to pray five times a day and take classes at the mosque. I am no longer a slave to a broken society and its expectations.'
Catholic lay people have always had the Liturgy of the Hours, which bring us to formal prayer throughout the day; we have always had modesty. Sadly these women seem not to know that, either because we have not taught it or because Christianity has become so watered-down that there is no understanding of the Christian spirituality commensurate with what they are looking for.
More on that from the experts:
"He who really wishes to become a saint must never defend himself, except in a few rare cases, but always acknowledge himself in fault, even when what is alleged against him is untrue. . . .What we know of the virtues of the saints is the least part of them."
— St. Philip Neri
What God wants most of all for each one of you is that you should become holy. He loves you much more than you could ever begin to imagine, and he wants the very best for you. And by far the best thing for you is to grow in holiness. . . . When I invite you to become saints, I am asking you not to be content with second best. I am asking you not to pursue one limited goal and ignore all the others. Having money makes it possible to be generous and to do good in the world, but on its own, it is not enough to make us happy. Being highly skilled in some activity or profession is good, but it will not satisfy us unless we aim for something greater still. It might make us famous, but it will not make us happy. Happiness is something we all want, but one of the great tragedies in this world is that so many people never find it, because they look for it in the wrong places. The key to it is very simple – true happiness is to be found in God. We need to have the courage to place our deepest hopes in God alone, not in money, in a career, in worldly success, or in our relationships with others, but in God. Only he can satisfy the deepest needs of our hearts.
— Pope Benedict XVI, during his recent trip to the UK, cited here, via here
New Theological Movement: Feasts of All Saints and All Souls, Hidden in the Mass
Fr. James Martin has a nice piece up at Huffpo, where he sort of dares the Huffpoians to read further about saints.
On the paradox of orders as proof of God's existence
In defense of religious freedom
From the UK: Religious Freedoms clashing with Gay Rights

Sainthood: Anyone can be a saint, but one can't be timid
UPDATE:
Bishop Kevin Farrell: the Saints of Baghdad
Bishop Timothy Dolan: the Greatest Family
Pope Celebrates All Saints Day
UPDATE II:
Get Religion notes the difficulty the NY Times had in revealing exactly what sort of church was attacked. Good catch.