Elizabeth Scalia is a Benedictine Oblate, an award-winning writer. and a regularly-featured columnist at First Things and at The Catholic Answer Magazine. Read her books, Strange Gods: Unmasking the Idols in Everyday Life and "I Don't Want to Be a Hoo-er" (*And You Shouldn't Want to be One, Either), with Foreword by Cardinal Timothy Dolan
---
Personal note from The Anchoress: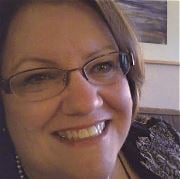 In the middle ages an Anchoress was a woman who lived in a small, sealed room inside a church; she would have visual access to the Sanctuary and to Holy Communion. Usually there was also a small side window at which she could converse with visitors, receive foods, get the news of the day and so forth.
I have no illusions that I am holy, but as a shy sort of person who craves solitude and prefers to hang in the background, the persona suits.
Consider this my window. Visits, news and commentary all welcome! I ask only that you be civil, because I do believe that decent people can disagree and still be decent people.
You can follow me on Twitter and Facebook.
All posts are copyrighted, 2012 Elizabeth Scalia.
Blog administrator is most emphatically not responsible for content of comments.
Please DO NOT leave comments here; I will not see them. I can be reached at theanchoress@gmail.com
Comment policy is here.
Note: All emails are considered fair game for publication, unless you specifically tell me not to quote you or use your name, in which case I am happy to comply.