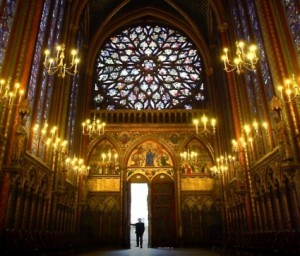 With his beautifully filmed series "Catholicism", Father Robert Barron has done for the church what Ken Burns did for the Civil War and Baseball — brought it to life in an immediate, meaningful and accessible way. Some parts of the series have run on some PBS stations, and tonight EWTN will be debuting six episodes.
I cannot recommend the series enough and urge you to gather your family (and friends and neighbors) together — even those who roll their eyes at "church stuff" — to take advantage of this excellent opportunity to grow in understanding about who we are, what we believe, and why we believe it. This series has breadth and depth; it is not a couple of people standing around talking — it is, rather, a literal "journey into the heart of the faith," just as the book says.
Speaking of the book, Catholicism, last weekend I heard a priest enthusiastically urge his parishioners to "buy it and read it, and give it away from Christmas."
This is who we are, and we need to learn about our faith, and to appreciate it at its core, if we are ever going to be able to defend it with heart and fortitude when we must.
If you are not sure where to find EWTN in your area check here
Related:
my interview with Father Barron on the Catholicism project.
Read Chapter One of Catholicism and a variety of reviews and excellent commentary on the book and series.