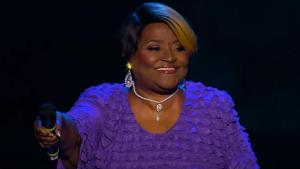 Lashun Pace was a famous gospel singer from Atlanta, Georgia who passed away at the young age of 60 years old in 2022.  March 21 marks the one-year anniversary of her passing.  Her cause of death:  kidney failure.
At the time of her death, Lashun was waiting for a kidney donor. It is one of the many issues that transplant patients face when waiting for a donor.  This could take months to several years, and it can be a long waiting list.  In Lashun's case this was that situation along with other health issues that were affecting her kidneys badly.
During her living years, Ms. Pace was a member of the famous legendary gospel group The Anointed Pace Sisters .  They first came onto the scene back in the mid-70s.  Lahsun  started as a solo artist first and then joined her family of 9  soon after.  This is something that is very rare when it comes to being a part of a music group.  Usually its the group first, and then the singer breaks from the group.  In this case, it was the other way round.  The Anointed Pace Sisters released several albums together including My Purpose in 1995 and Access Granted in 2009.
During Lashun's solo career, she released numerous albums that reached the Billboard gospel charts.  One of the songs she released was called "Act Like You Know." That was back in 1996.  However, because of TikTok, this song because a huge trend as well as a huge meme.  These videos that used the song show users in real-life situations that went along with the lyrics of the song.  When Lashun found out about this, not only did it make her happy, but inspired her to create more music.
With this re-discovery of her music, Ms. Pace started working on songs to connected to those new fans
However, singing was no her only claim to fame.  Ms. Pace starred in a couple of movies including Leap of Faith with Steve Martin and A Fool and His Money.   Lashun even became an inspiration for the a play written by Tyler Perry called "I Know I've Been Changed" based on same song used in TikTok videos.
The Pace Sisters themselves  made cameos in a lot of movies including The Fighting Temptations featuring Beyonce' and Cuba Gooding Jr., and Madea's Family Reunion with Tyler Perry.  These were great ways for the legendary family to make their mark.
Ms. Pace also became a writer creating an autobiography called For My Good But For His Glory where she wrote about the struggles in her life, including the loss of her daughter Xenia.  This was a new challenged for her and something she never did before.  However, when she took this leap of faith, she discovered how much flowed out from her fans and new readers a like.  It was truly a blessing for her.
In 2007, Lashun Pace was inducted into the Christian Music Hall of Fame. She is also a Stellar Award winner.   The Anointed Pace Sisters were give special honors at the 16th Trailblazers of Gospel Music Awards in 2015.
Other songs that Lashun has become known for (besides the TikTok meme include) "In Everything Give Thanks,"  "I Know I've Been Changed,"  and "Another Day's Journey," among others.  These songs can be found on Youtube, Spotify and anywhere that you can find her music.  They are truly songs that anyone can listen to anywhere and anytime and be truly blessed.
Most people will remember Lashun Pace for her special soprano voice.  While she will always be a gospel legend, her legend will now be on TikTok spreading gospel music around the world and bringing new fans to the genre.  That is truly a gift she has given to us.
Rest in Peace Ms. Pace.