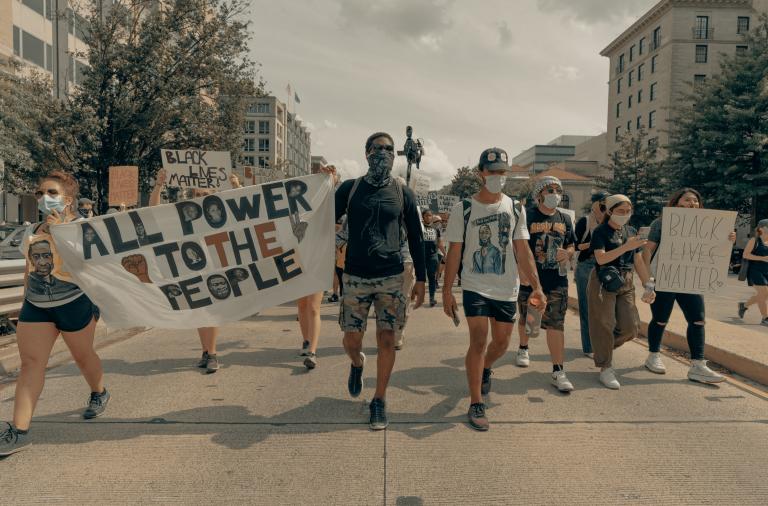 A couple of weeks ago I wrote about how the logic of critical ideologies (Postcolonial Theory and Critical Race Theory, in particular) may very well lead Christians to forsake missionary work (n.b. don't miss the update at the bottom of that article added later that day). The cause of decolonization demands it.
An article from today at the New Yorker, to some extent, corroborates my predictions. In "How Black Lives Matter is Changing the Church," Eliza Griswold chronicles the shift in thought and approach by church leaders like Brenda Salter McNeil (a Fuller graduate, racial reconciliation activist, and author of Becoming Brave) on issues of social justice, and, specifically, Black Lives Matter (for more, see my three-part series at Founders on BLM). The article is an interesting assessment of the current state of affairs. You should read the whole thing. But here are the money quotes that support my earlier predictions regarding the future of Christian missions in a world where the thought behind the quotes below continues to gain traction.
First, Jemar Tisby (see my quotes from the Color of Compromise in the update mentioned above) is quoted in the article,
What Black Lives Matter did was highlight the racism and white supremacy that still has a stranglehold on much of white Christianity," Jemar Tisby, a prominent church historian and the author of "The Color of Compromise," told me. "You have this phrase and this movement that is forcing people, essentially, to take sides.
I would agree with this. Its exactly what BLM (as a phenomenon) has done and I am genuinely glad that, in many ways, the gloves are starting to come off in these conversations within various corners of the church (see e.g. a recent Pass the Mic episode with Tisby and Tyler Burns). At least then we will all know where we stand: a welcome development in contrast to the early denial– which, as Christopher Hitchens said, always precedes the justification– in the Resolution 9 days.
Speaking of McNeil, again, Griswold writes,
She finds inspiration in the Biblical scenes that depict Jesus as a radical figure—a man of color—flipping tables in the temple to point out economic injustice and agitating for the dignified treatment of lepers and prostitutes. Christ sought to upend corrupt social hierarchies, not to reinforce them or to look the other way; Salter McNeil now sees this as the heart of her own work.
This kind of interpretation of the Gospels is gaining steam. Its exactly why I maintain that the root of all this (at least in the SBC and PCA) is a hermeneutical struggle. Its the same reading of the Synoptics presented by Korie Edwards at the Just Gospel conference last year. Jesus' ministry was characterized by tearing down systemic oppression, etc. etc.  Moving on:
In 2015, Michelle Higgins, a Black pastor and organizer, stood up before tens of thousands of people at a popular evangelical conference in St Louis, Missouri, and told them that, as she put it to me, "mission work was really an exercise in exporting racism, and that evangelicalism was a moral protection for white supremacy." The backlash against Higgins was swift: by the next morning, she'd received numerous death threats. Today, her criticisms are gaining ground. "For the last five hundred years, Christianity has been influenced by Martin Luther's effort to decentralize the church," Lisa Sharon Harper, the founder of a progressive evangelical religious group called Freedom Road, told me. "For the next five hundred years, the principle effort will be decolonization."
Now this is a strange way to define the essence of Luther's Reformation. True enough, as J.N. Figgis noted long ago, the Reformation finally killed off the global aspirations of the Roman Church (and the Holy Roman Empire). But surely developments like the Peace of Augsburg (1555) ("whose realm, his religion") and Lutheran ecclesiology don't support a concerted decentralization effort, neither did the suparnationalism of things like the Schmalkaldic League. But I digress. More important than how Higgins conceives of the last 500 years is what she predicts for the ensuing 500: decolonization. And this is necessitated because of what has happened over the past half-millennia (or, at least, since 1619), the global project of white supremacy: "mission work was really an exercise in exporting racism, and that evangelicalism was a moral protection for white supremacy." There you have it.
One last thing to note is the endurance of the new, critical race theory-informed definition of "racism" (i.e. prejudice plus power), promulgated to the general public most obviously by Robin DiAngelo, but like her "white fragility," now near ubiquitous and unquestioned. From Griswold:
In her workshops, Salter McNeil still encourages participants to try to reduce racial prejudice in their own hearts, and she believes that the church offers helpful spiritual tools in this regard: confession allows an individual to recognize the harm he has caused through racism; lament creates a space for grieving that harm; repentance is a means to undo the harm in practical ways. Now, however, Salter McNeil also speaks out against U.S. policies that she sees as racist—for example, the cruel treatment of undocumented immigrants in detention, or policies that are causing people of color to die of covid-19 at a higher rate than whites.
What the individual can have is racial prejudice. But its the addition of systemic power, inequitably distributed across racial lines, as evidenced by disparities, that really constitutes racism. As Ibram X. Kendi famously told the New York Times, "As an anti-racist, when I see racial disparities, I see racism," and "A racist policy yields racial disparities. An anti-racist policy reduces or eliminates racial disparities."
These are arid and divisive ideas (and not just Kendi's), ones that are infecting certain quadrants of American Christianity. Left unchecked, they will, inter alia, cause problems for Christian fulfillment of the Great Commission.
Update: A reader on Twitter reminded me that the trajectory of Michelle Higgins was foreshadowed back in 2017 in her comments on a Truth's Table podcast episode entitled "Gender Apartheid" (Pass the Mic's Tyler Burns and Jemar Tisby were on that episode as well). Back then, Higgins, a Covenant Seminary grad, was still in the PCA. Christina Edmondson was in the OPC but recently left the denomination with her husband, as announced on Twitter by the latter about a week ago. They're starting a a "crosscultural" location of Christ Presbyterian (PCA) (called Koinonia) in Nashville, apparently.
Not sure what Higgins' exit story is exactly. If a reader has information please send it along. It is interesting that all three of the Truth's Table hosts come from very Reformed Presbyterian backgrounds (education and church membership-wise). Ekemini Uwan graduated from my alma matter, Westminster (Philadelphia), but definitely not in the OPC (nor PCA, as far as I know). Edmondson was a dean at Calvin– then again, there's some indication that Calvin is headed in a bad direction (that is, getting a bit woke).
Back to the "Gender Apartheid" episode, and Higgins' metamorphosis: I had forgotten the waves that particular episode created (2017 was a lifetime ago, especially on matters of social justice, etc.). The incendiary moments surrounded some comments by Higgins et al. on the Mike Pence's Billy Graham rule, and on complimentarianism generally, but the whole thing was a bit wild (at least back then). (Here's a Reformation 21 article on it).
The Religion News Service did a write-up on the incident–written by Nicola A. Menzie of Faithfully Magazine which recently ran a (long) series on Critical Race Theory by Wheaton College's Nathan Luis Cartanga defending the discipline from critics– mentioning a "very noisy critic," one Todd Pruitt who "cranked out a shallow 368-word one-sided 'discussion.'" RNS, unsurprisingly, didn't take kindly to Pruitt's criticism of the podcast, casting him as a rabid misogynist (even though his primary critique was that Higgins and co. were spouting off liberation theology). But I would just point out that Pruitt spoke approvingly on Mortification of Spin of Amiee Byrd's recent book (which criticizes some of the excesses of complimentarian culture) that garnered howls of "feminism!", so he can't be all that misogynist.
Even The Atlantic picked up on the kerfuffle. (Read the whole thing. Its a good article and interesting as a sort of cultural artifact.) Therein, Emma Green recalls,
Half a dozen episodes in, the women decided to take up the topic of gender—specifically, the "gender apartheid" they see in Christianity. According to Uwan, there is "this wall, a very visible wall, erected in the church between men and women." Many Christian conferences address "race, racism, [and] racial reconciliation, trying to do justice in those spheres," she said, "but yet completely ignore the toxic patriarchy that is so embedded within the church."
More:
When they got to the topic of ordination, things grew heated. "What does the word 'ordain-able' mean? It literally means, 'possesses a penis,'" Higgins said. "It does not mean, 'is currently in seminary, has graduated with an M.Div," or master's in divinity, "'and has gone before a licensure committee.'" The focus on male ordination often blocks women out of other leadership roles, she argued. "No one will hear me unless maybe I design and develop a penis-shaped microphone. … Maybe we should have a line of penis microphones, because it is all that you need to have to pass out communion, to take up the offering."
A funny thing: after mentioning that Pruitt sent out a newsletter to PCA elders urging some kind of disciplinary action (to those in the podcast who were in PCA churches), Jemar Tisby is quote as saying,
"When someone says, 'Call the elders,' they're basically saying, 'Something's wrong with the teaching here, and the people in charge at the church need to get on it,'" said Tisby, a doctoral student at the University of Mississippi who earned his M.Div. from the Reformed Theological Seminary. "To me, it's the ecclesiastical equivalent of putting on riot gear for a peaceful protest."
This analogy has not aged well. I see people wearing riot gear to "peaceful protests" every night on the news now.
Image credit: @claybanks/Unsplash