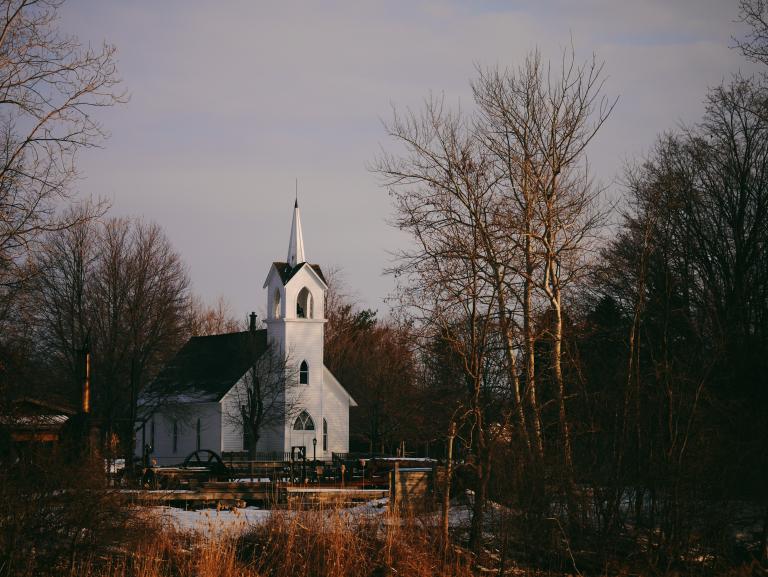 It is nearly impossible, or at least improper, to discuss New England life and theology without mentioning Samuel Willard (1640-1707). Apart from John Cotton, the trio of Mathers, Thomas Hooker, and a few others, Willard is the most noteworthy New England luminary, and his influence dominated the second generation of New Englanders.
Willard was born in Concord, Massachusetts, graduated from Harvard in 1655 (and was the only member of his class to take an M.A., 1659). He was driven out of his post at Groton in 1676 by the conflict with King Philip. He subsequently pastored Boston's Third Church from 1678 until his death. It was at Boston that Willard truly entered the mix of New England politics and began to garner measurable influence in the affairs (theological and political) of the colony. Willard was one of the few ministers to stridently oppose the Salem witch trials from the beginning. (His experience with a case of supposed possession whilst ministering at Groton, about which he wrote, seems to have influenced his opinions on the matter.) In his last six years, he served as president of his alma matter (after a stint as vice president).
His Compleat Body of Divinity (published posthumously by his admirers in 1726) is a treasure trove of Puritan theology and a window into 17th century New England orthodoxy—it is drawn from his weekly lectures on the Westminster Short Catechism delivered on a weekly basis over a 19 year period. (I relied upon Willard heavily in my article, "Identity Politics and the Bondage of the Will," published in the book By What Standard?, published by Founders Press, and, therefore, have a particular but, in my mind, justifiable affinity for Willard.) Willard passed from this life in Boston at the ripe old age (for those days) of 67.
It is with Willard also that we find one of the best and earliest representations of New England election sermons fixated on the character of the good ruler. Indeed, he takes that phrase has the title to his 1694 sermon. Willard's sermon is more straightforward, so to speak, than the two previously reviewed here (by Lewes and Eliot). His sole focus is, in many respects, the character traits and disposition of the good ruler.
***
The sermon was delivered, per usual, at Boston, 1694. Given that election day was typically in May, Sir William Phips would likely still have been in office—he left in November of the same year leaving the post to William Stoughton, longtime lieutenant governor (d. 1701). Phips was the first governor of Massachusetts Bay under the new 1691 charter issued by William III and Mary II (after Charles II had revoked the original 1629 charter). The new charter had been negotiated by a delegation led by Increase Mather. No matter how much Mather tried to talk the new charter up as a reincarnation of the old, New Englanders were never convinced (namely because it wasn't quite true).
The loss of the original charter, and with it the autonomy previously enjoyed, was a severe blow to the morale and self-image of the colony. The chosen-ness of the new Israel came into questions, especially after enduring a series of unfortunate events over the course of a decade or so. The carnage of King Philip's War, visitations of plague, and the tyranny of Sir Edmund Andros (governor of the Dominion of New England from 1686-1689), fostered plenty of doubt.
The charter of 1692, under which Massachusetts and her neighbors enjoyed again some autonomy was a new birth, but not a resurrection. Under the policy of consolidation of the new charter, the royal hand became heavier on the colonies, London's eye more watchful. It was up to the New England clergy to remind people of the goodness of government in order to quell any lingering resentment. It was also incumbent upon them to emphasize the Scriptural duties of governance to their new leaders, who were now royally appointed. The project from 1689 onwards was one of equal parts remembrance, renewal, and adaptation.
***
Willard's text is 2 Samuel 23:3: "He that ruleth over men, must be just, ruling in the fear of God."
In typical fashion, and to put his discourse in context, Willard begins by reviewing the foundations of civil government. He notes that there is some disagreement as to whether 1) civil government was established through "the Multiplication of Mankind," meaning that it would have come into being even had the Fall not taken place; or 2) it was introduced as a result of the Fall and "mans Apostasy." In either case, civil government is "an Article of the Law of Nature" and the equity thereof is discoverable by the light of nature, "being accordingly acknowledged by such as are strangers to Scripture Revelation."
Further affirming this characterization is the fact that, for Christians, civil government "is reducible to the first Command in the Second Table of the Decalogue; which is supposed to be a transcript of the Law given to Adam at the first, and written upon the Tables of the Heart."
Willard cedes that in the event that man had never fallen into sin, the "Moral Image Concreated in him, consisting in, Knowledg [sic], Righteousness, and True Holiness" would have maintained in him perfect understanding of, and obedience to these concreated principles such that no outward, coercive force would have been necessary. "Spontaneous Obedience to the whole duty incumbent on him" would have consumed him perpetually. That is, the role of civil government as we now know it would have been fulfilled from within man himself, which is not to negate the presence of political order as such, only the necessity of violence.
"But since the unhappy Fall hath Robbed man or that perfection, and filled his heart with perverse and rebellious principles, tending to the Suspision [sic] of all Order and the reducing of the World to a Chaos: necessity requires, and the Political happiness of a People is concerned in the establishment of Civil Government."

"When there was no Governour in Israel, but every man did what he would, what horrible outrages, were then perpetrated, though Holy and Zealous Phinehas was at that time the High Priest? and we ourselves have had a Specimen of this in the short Anarchy accompanying our late Revolution. Gods Wisdom therefore, and his goodness is to be adored in that he hath laid in such a relief for the Children of men, against the mischief which would otherwise devour them; and engraven an inclination on their hearts, generally to comply with it."
In sum, given man's fallen condition, civil government is an absolute necessity, but built into man's nature is an inclination to comply therewith. Certainly, Willard (like most of his brethren) would have affirmed the Aristotelian assumption of man's sociable nature. He is made for political life. It is merely the need for coercive force that is the unhappy result of the Fall. Man is not, therefore, naturally averse to government as such. The blessing of government is, therefore, two-fold.
"But this notwithstanding, mens sins may put a curse into their blessings, & render their remedy to be not, better, possibly worse than the Malady, Government is to prevent and cure the disorders that are apt to break forth among the Societies of men; and to promote the civil peace and prosperity of such a people, as well as to suppress impiety, and nourish Religion."
It is of the utmost importance, then, that the men who fill government posts be virtuous and just, and exhibit fealty to true religion. This is the only thing preventing the remedy becoming worse than the malady. Government's purpose—the common good of the people, their liberty and safety—is dependent, to some extent, on the character of those who animate it.
The exemplar of the just, virtuous, and righteous ruler is presented in the sermon's text, says Willard. (He briefly reviews three ways of reading the text but opts for the most common, viz., that David's words are a precept, "giving us to understand what manner of persons such are required to be, by the Divine Mandate, and that it was left as a Rule to them who should succeed.")
The verse applies to any
"that Ruleth over men He that Ruleth… that hath any Dominion, right or authority over either Persons or things… whether the King as Supream, or any Ministers under him." The duty for the people to which the verse applies is exactly what it says: to be "Just, Ruling in the Fear of God."
The ruler who is just, says Willard, refers to
"One that makes Conscience to observe and keep to the Rule of Righteousness in all his Administrations, he ought not to Exert his Power Illimitedly, and Arbitrarily, but in Conformity to the Law of God, and the Light of Nature, for Gods Honour, and the promoting of the common benefit of those over whom he bears Authority."
Willard adds, "[A]nd by the Fear of God we may either understand an holy Reverential Fear, entertained in his heart, which must Govern him, or else he will never Rule well." And this doctrine applies to all rulers at all levels of authority. (Here Willard evidences a conception of separation of powers, something that New England is too little credited for developing early on.)
"Civil Rulers are all such as are in the exercise of a rightful Authority over others. These do not all of them stand in one equal Rank, nor are alike influential into Government. There are Supream [sic] and Subordinate Powers: and of these also there are some who have a Legislative, others an Executive Power in their Hands; which two, though they may sometimes meet in the same persons, yet are in themselves things of a different Nature. There are Superiour Magistrates in Provinces, and such as are of Council with them, and Assembly-men, the Representatives of the People. There are Judges in Courts, Superiour and Inferiour [sic]; Justices of the Peace in their several Precincts: and in each of these Orders there Resides a measure of Authority."

"Now, that all these may be Just, it is firstly required, that they have a Principle of Moral Honesty in them, and Swaying of them: that they Love Righteousness, and Hate Iniquity: that they be Men of Truth, Exod. 18. 21. for every man will act in his Relation, according to the Principle that Rules in him: so that an Unrighteous man will be an Unrighteous Ruler, so far as he hath an Opportunity."
In order to be just, rulers must be "acquainted with the Rules of Righteousness," that is, they must be "Able men, Exod. 18.21," for, "without Knowledge the Mind cannot be good." And "Ignorance is a Foundation for Error." Just rulers must be knowledgeable but also fair and impartial, "one that respects the Cause, and not the persons in all his Administrations." Finally, he must not be susceptible to "Flattery nor Bribery," and he "must be one who prefers the publick Benefit above all private and separate Interests." He who would be just must also be wise. Therefore, justice is inseparable from the fear of God.
The just ruler, then, meditates on the law of God (Deut. 17:18-19). It is by this meditation that his conscience is instructed. As Johannus Althusius held, the natural law may be implanted (concreated) in man, but his conscience must be cultivated to recognize and heed it. In this sense, the natural law is learned, and this is chiefly done through consulting time-tested (and demonstrably just) law (especially those testified to by the ius gentium), the traditional instruction of the church, and Scripture.
***
Willard identifies two "consequences" of the doctrine just covered. First, if the character of the good ruler is justice and the fear of God, and if the office and authority is of God's ordination, then it is only by being just and fearful of God that God is glorified by the ruler, and the ruler worthy of true honor. Put differently, God has established the office and the standard of the same.
"By me Kings Reign, and Princes Decree Justice. By me Princes Rule, and Nobles, even all the Judges of the Earth, and they that are from him, should be for him, and ought to seek the Honour of him who is King of Kings, and Lord of Lords: which they only then do, when they manage their whole Interest and Power with a Design for his Glory; & accordingly manage themselves in all their Ministrations by the Statutes of his Kingdom; which none will ever do, but they that are Just, Ruling in the Fear of God."
Only by this standard will a ruler experience true success, for lack of a better word.
"Righteousness and Religion flourishing in these, will be as a Torch on an Hill, whose Light and Influence will be vastly extensive: every one will be advantaged to see their good works, and to Glorifie God for and in them. Their very Example will have the force of a Law in it, and win many by a powerful Attraction, to the avoiding of sin, and practising of Righteousness. They will be a good Copy, that many will be ambitious to write after: and their faithful Administrations will render them a Terror to Evil D[oers], and an Encouragement to them that do well; which will advance the very end of Government."
The second consequence (or implication): "A People are not made for Rulers, But Rulers for a People." High office should be viewed as a privilege, not a right. That some are subjugated to others does not result from the natural superiority of some, but rather the gift of God. "It is… a Dignity put upon them, to be preferred to Government over their Brethren; to have the oversight, not of Beasts, but of Men."
Those afforded the honor of ruling should, therefore, rule in a manner that reflects this truth. They should seek the common good, the "Civil felicity," the benefit of the people, not of themselves.
Willard writes eloquently on the happy result of being governed by a benevolent ruler:
"We have the Benefit of Government expressed, 1. Tim.2: 2. a quiet Life and a peaceable, in all Godliness and honesty. and it lies especially with Rulers, under God, to make a People Happy or Miserable. When men can enjoy their Liberties and Rights without molestation or oppression; when they can live without fear of being born down by their more Potent Neighbours; when they are secured against Violence, and may be Righted against them that offer them any injury, without fraud; and are encouraged to serve God in their own way, with freedom, and without being imposed upon contrary to the Gospel precepts; now are they an happy People."
***
Rulers must also remember that, because of the high honor bestowed upon them, they will be judged by a harsher standard than their brethren.
"…they are Stewards, and whensoever GOD pleaseth, He will call for a Reckoning, and put them out. GOD sets up, and he pulls down… And although GOD doth not always peculiarly put a Brand in this World upon Impious and Unjust Rulers, yet there is a Tribunal before which they must stand e're long as other men; only their Account will be so much the more Fearful, and Condemnation more Tremendous, by how much they have neglected to take their greater advantages to Glorify GOD, and abused their Power to His Dishonour [sic], by which they had a fairer opportunity than other men."
Willard then moves to application, a "threefold commendation of this truth."
First, he addresses those "in whose hands it is to Appoint the Persons that are to bear Rule over this People." (In our case, this would be voters.)
"Let this be your directory in exerting of this right. Civil Government is seated in no particular Persons or Families by a Natural right, neither hath the Light of Nature, nor the Word of GOD determined in particular, what Form of Government shall be Established among men, whether Monarchical Aristocratical, or Democratical: much less, who are individually to be acknowledged in Authority, and accordingly submitted to."
That being said, "the Holy Providence of God presides in this matter." In times past, as with Saul and David, providence intervened more immediately and "extraordinarily." This is not longer the case. Now, the intervention of providence is "more mediate and ordinary." Indeed, providence acts through the means of voluntary and consensual selection of rulers through methods and procedures not prescribed in Scripture but nevertheless, "remain points of Prudence, and may Lawfully be divers here and there." Willard deems it a great advantage for a people when they are able to voluntarily or consensually appoint their own rulers. That is, when they can "procure either [their own] happiness or misery." "[I]t is a great Priviledge [sic] to be secured from being hurt by any but ourselves." But the structural, procedural privileges of a fundamental charter only go so far; rulers can still make a populace miserable within a great and well-founded constitution.
Accordingly, voters must take great care when selecting and affirming their rulers. They should look for certain qualities in candidates.
"It is true, there are none without their failings; nor can we expect that the best of men will never do amiss; but yet the Best are to be preferred, as they that will do it seldomest [sic], and never of design. They that Fear God will be afraid willfully to hurt men; they that are just will do justice, & that can wrong none. This is it which advantageth [sic] all other gifts, whether natural or acquired, to be truly [sic] serviceable to the promoting of the welfare of a People: without this, the more that men have of these, they are so much the more advantaged to do mischief."
At this point, Willard warns against special favors, bribery, and fractions in the electoral process. He especially harps on the latter.
"When a People are divided into Factions; Just, and Wise, and good Men are renounced, & not thought worthy to be made use of, because they favour not the Party that can sway; and such as are hotly zealous for the design, are counted, meerly by that zeal sufficiently qualified, and to be of all most worthy; this will not promote the Publick Good, but only gain to the one side a little more of advantage to do hurt."
To mitigate against these tendencies in any human government, which are harmful to the public good, Willard instructs rulers to
"take care that Religion may Flourish; the True Fear of God, and Right Administration of His Ordinances may be Promoted and Secured; that Righteousness may be done for men, and that Iniquity which defiles a Land, and pulls down Wrath, may be Purged away."
Willard lists several sins as examples of "Iniquity which defiles a Land" but summarizes them all as "whatsoever hastens the Calamity of a Professing People." The promotion of true religion and public morality is to be the "Sincere Unbiased Aim" in all that the ruler does.
"Carry this with you, & let it Rule in the making of Laws: let the Word of GOD be consulted, and the Common Utility of the Subject be designed: For, though there be not a Body of Civil Laws drawn up in the Scriptures, to which every Pollity [sic] is to be confined, yet there are sufficient general directions, & Rules, to be gathered from thence; which may Regulate in this Affair."
In this same section, Willard advises further on lawmaking. Laws that either serve individual interests apart from considerations of the common good, or are fitted to immediate convenience are ill-advised. The reason the first type is invalidated is obvious from what has been said already. The second type is ill-advised because lawmakers cannot foresee future ramifications. "[T]hat which may serve the present turn, may in a little time prove more Mischievous, than ever was Advantageous," says Willard. And it is never as easy to repeal laws as it is to pass them. Willard instructs rulers, therefore, to muster as much foresight as possible; to consider the possible future externalities, if you like, of their policies before they enact them rather than hastily passing laws fitted only the latest inconvenience.
"Look then forward to the after Issues. It will be no small Aggravation of our Trouble, to be Wounded with a Shaft of our own making. Look for Changes in a World of Mutability, and lay in, as far as innocent Prudence may direct, for your Own, and your Peoples Safety."
Having covered law-making, Willard also briefly discusses principles of justice (i.e. the application of laws), viz., of impartiality and of stare decisis.
"Maintain a good Conscience in it, and let the Fear of God, and a Principle of Justice make you to lay aside all Sinister Respects. Let not Persons but Things Sway you in all your Dispensations; and when the case is the same, let the same sentence proceed from you… When Cases are plain, do not obscure them; and when they are dubious Search them out: and let not flattery or Impudence prevail over you, but take his advice in 2. Chron 16. 9. Thus shall you do in the fear of the Lord, faithfully, and with a perfect heart, Deal couragiously, and the Lord shall be with the good… Remember the cause is Gods, and he will have the calling of it over again; where he will either applaud your fidelity, or condemn your unfaithfulness."
Of course, the integrity of the law is in many ways dependent on the fidelity of lawmakers and law appliers to the law. The importance of the rule of law, as the concomitant to impartiality and fairness, is not lost on Willard. "That Man who Will Violate the Laws which He is to Rule by, will soon neglect to Execute them on others, and bring reproach on himself where he doth."
It should, perhaps, be obvious to Christians that prayer is our greatest weapon and tool in all affairs. But Willard helpfully reminds us of this, that we should take prayer deadly serious.
"Are these the Eminent Qualifications of good Rulers? it is no small concern that we have in this affair. It tells us that we ought Earnestly to Pray to God that we may have such always: and we pray for our selves when we so do."
Along the same lines, and in closing, Willard invites us to take a look in the mirror (as Eliot later did),
"We are Governed by men of like infirmitis [sic] with ourselves, wonder not if sometimes they discover something of them: but when we know that their cordial endeavours are to do that which is right, and promote our peacable and Godly Living, let this please us."
And so, while we may and should pray for rulers that exemplify the godly standard outlined by Willard, the fact is that we may not always be so fortunate. But even the administration of bad rulers is significant to Willard. "Evil Rulers, and the Male-Administrations of good ones, are punishments which GOD doth inflict on a people that have provoked him to Anger against them, GOD gave Saul to Israel in his Wrath."
This is, of course, an antiquated view now. Evangelicals would likely discard it as fanciful or even inappropriate to read God's disposition toward in a nation into the relative character of earthy rulers. Does God even consider people in terms of nations anymore?
It is true that Willard was preaching in 1694 within a context, a nation, wherein people consider themselves to exist in a collective covenant with God (though, as mentioned above, confidence in their unique covenantal status was waning). Because church and state were coordinate, and citizenship was predicated on church membership, this seemed natural. Most of us no longer consider America this way. But that does render Willard's advice useless, especially since a covenanted people, the church, exists within and as a part of the larger national whole; it, therefore, bears some responsibility for the national character, public morals, and the quality of elected officials. Hence, Willard's final line is still work pondering,
"If we Apostatise [sic] from GOD, and grow weary of his ways, he knows how to Scourge us after this manner; and hath, not seldom, done so by his people on such occasions.

But if we be a people Fearing GOD and Keeping of His Commandments, He will Delight in us to Bless us, and to do us Good: and to give us Rulers after his own Prescription, Just Men, and Ruling in the Fear of God."
Image credit: @aaronburden/Unsplash