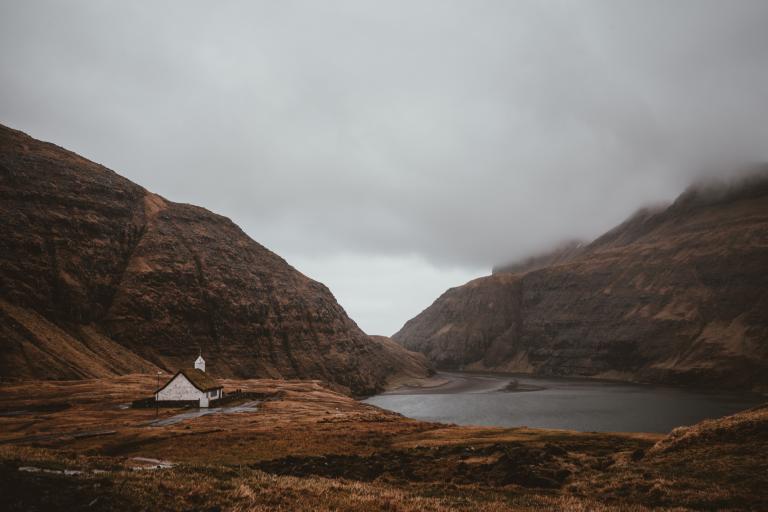 The sermon below, ominously entitled, "A Day of Darkness," was preached by Samuel Checkley (1695-1769) in 1755 at Boston before Governor William Shirley, of whom I've spoken of before.
Relatively little is known about Checkley's life. He does not too often crop up in the great histories of New England. He was the pastor of the New South Church in Boston. His parents were immigrants from Northamptonshire. His ancestor, Anthony, had been the first attorney general under the new charter (1691) in Massachusetts Bay. Anthony's daughter had married John Adams, the ancestor of John (the first vice president and second president of the United States) and Samuel Adams (the "Father of the American Revolution").
Consequently, Checkley is known for being lifelong friends with Samuel Adams' father. Checkley's daughter, Elizabeth, would go on to marry Samuel. Elizabeth herself was known (according to her own daughter) as "a rare example of virtue and piety blended with a retiring and modest demeanour and the charms of elegant woman-hood." An inscription in the Adams family Bible, on the date of Elizabeth's death, 1757, in Samuel Adams' hand, reads,
"To her husband she was as sincere a friend as she was a faithful wife. Her exact economy in all her relative capacities, her kindred on his side as well as her own admire. She ran her Christian race with remarkable steadiness and finished in triumph! She left two small children. God grant they may inherit her graces!"
These reflections on Elizabeth's character and faith must be thought to reflect well on her father. Of the few writings remaining form Checkley are his diary (1735), which is but 94 pages in length, and the sermon reviewed below.
One rather humorous account of Checkley is found in some notes by Dr. Ephraim Eliot, the son of Andrew Eliot (1718-1778) who preached the sermon last noted here, and the first president of the Massachusetts College of Pharmacy. Ephraim's description of Checkley is secondhand, told to the younger Eliot by the elder, and should, perhaps, be taken with a grain of salt.
Eliot recalls that Checkley was known for,
"for eating; he was the largest man in Boston, & his mouth was always full, & his jaw going when not preaching. My father used to say, he hated to preach after Checkley, on acct of the cracking of raisin seeds under his feet with which the floor of the pulpit was always covered. While the people were singing, he was chomping plumbs. . . .

Checkley lost his popularity more from his gourmandising disposition than any other way. he laid out all his money in tidbits, cakes, Raisins, oysters, &c. & ran in debt for other things. To such a degree that his parish chose a committee to get from him a schedule of his debts, which they paid. But he was ashamed to note the debt he owed in small shops for gingerbread &c. Those creditors became noisy, & another committee was chosen to receive & pay all such claims."
What a reminder that even those men who faithfully proclaim the Word are not without sin, even debt-inducing gluttony.
***
Zephaniah 1:15 is Checkley's text. After recounting the story of Zephaniah being sent as the prophet of God to Israel during the reign of Josiah—under who's reign the people turned to righteousness again, but, after a while, returned to the vomit indulged in under Josiah's predecessor, Amon—Checkley channels the prophet, warning his audience of God's judgment. Zephaniah spoke of a day hastening—indeed, it was upon them—wherein the wayward people of God would be visited by great "dread and terror… a day of wrath… and distress; a day of wasteness [sic], and desolation… a day of darkness."
In beginning this way, Checkley charts a different course than that of many who preached on the same occasion before him. It is a jeremiad in the truest sense:
"Now, as this was the case of God's people then, so it also sometimes is, of a people at this day; and I can't but think, that they whose hearts are wise to discern time and judgment, look upon this to be very much our own case, and think the present day, a day of darkness with us."

"And if so, then I hope, it will not be tho't, altogether foreign to the business of this day; if, instead of discoursing of the divine original of civil government, and how great a blessing it is to mankind; of the qualifications of civil rulers, and their duty to the people under their government; and also, the duty of a people to those in civil authority over them; (which are subjects that have been so often handled, on this anniversary solemnity) I should come to you with a few meditations, on the words I have pitched upon for my text—a day of darkness."
The object of Checkley's sermon is to show "when it may be said to be a day of darkness with a people," and what, then, "is the duty of a people at such a day." Clearly, Checkley's sermon strikes a different, more melancholy tone than others before it.
Answering the first question, Checkley provides a simple response: It is a day of darkness amongst a people when they lapse into "great apostacy and declension" and commit "heaven-provoking sins." God cannot help but be angered and provoked by this, especially when those who revel in sin are "his own covenant people." (As has been mentioned in prior posts and is generally known, the people of New England, even by the late date of Checkley's sermon, envisioned themselves special covenant people before God and, therefore, subject to greater standards of conduct, but also to heavier sanctions.)
" These and such like sins, may turn the smiles of providence into frowns, and pull down the judgments of heaven on them, and herefor [sic], God may be provoked to make them desolate, a land not inhabited."
If a day of apostacy and rank idolatry and sin mark a day of darkness, so too does a day "when religion, pure and undefiled religion, which was once their glory, is apace languishing and dying." Indeed, the two go hand-in-hand.
The maintenance of true religion should be thought of an "an honour both to particular persons [regardless of station or social status], and also to a people." "The emperor Theodosius therefore once said, he accounted is a greater honour and joy to him, that he was a member of a church, than emperor of the world." "The flourishing of religion, will exalt a people, but the decay of it, be a reproach to them."
How does one know if religion is decaying amongst a people? Checkley's description of this people is worth quoting at length. It is as sobering as it is eloquent.
"I answer, it is so, when the professors of it have lost that zeal (I don't mean a blind enthusiastick [sic] zeal, but a true Christian zeal, and a zeal according to knowledge) which once they had; and are become indifferent in religion—when, like the church of Laodicea, they are lukewarm, and neither cold, nor hot—and when like the church of Ephesus, they have lost their first love—when the day of the Lord, which once was sanctified, is shamefully broken, and due care not to put a stop thereto, by those whose proper business it is to do it—when the worship, and ordinances of God's house are neglected, and the duties of religion become tiresome to them—when the faithful messengers of God, and his messages by them are slighted, so that they have reason to complain, who hath believed our report, and to whom has the arm of the Lord been revealed? Verily, I have laboured [sic] in vain, &c.—when the support of the gospel, and the faithful ministers of Christ, is looked upon as a burthen too heavy for them to bear, and what they do towards it not cheerfully [sic], but grudgingly— when family religion, government, and instruction are greatly wanting, and they who should support them, become lovers of pleasure, and of the world, more than of God, and religion: when this, I say, is the case of a people, religion is plainly upon the decline, and it is a dark day with them."
That is a long quote from Checkley but one would be hard-pressed to discover a description more applicable to our own day.
Checkley tells a people in a day of darkness to expect great calamity; for God to "take away his gospel from them… and send that dreadful famine among them, not a famine of bread, nor a thirst for water, but a famine of hearing the word of the Lord."
That being said, a sign of days of darkness is also actual famine, pestilence, and war. These things may be visited upon a wayward people as judgment for defiling true religion and sinning wantonly. But far worse is the famine of the proclamation of God's word. The latter is the worse punishment, for it is a judgment in itself but also remove the remedy for the darkness.
"[W]hen this is the case of a people, what a distressing time is it!" When God's people are at odds with God, nothing is right in the world.

" See the distress of such a season spoken of by the prophet,—Judah mourneth, and the gates thereof languish, they are black to the ground, and the cry of Jerusalem is gone up: because the ground is chapt [sic], for there was no rain in the earth, the plow-men were ashamed, they covered their heads. Yea, the hind also calved in the field and forsook it, because there was no grass."
And the next line should cause all of us to perk up:
"[S]uch a day it is also, when God sends contagious and mortal sickness among them. This is another of those judgments God threatned his people with, in case of disobedience. The Lord will make thy plagues wonderful, and the plagues of thy seed, even great plagues, and of long continuance; and sore sickness, and of long continuance."

"And by this judgment did he again and again distress and waste them. Agreable [sic] hereto we read, how at one time he sent the pestilence among them, of which there soon died fourteen thousand and seven hundred; at another time he sent it and there died thereof twenty and four thousand, and at another time, no less than seventy thousand."

"What a dark day, when God sends among a people the pestilence that walketh in darkness, and the destruction that wasteth at noon-day," said Checkley and he contrasted the day of darkness with the coming day of peace. In that future day, the bow shall be broken, the chariot burnt in the fire, and wars cease from one end of the earth to the other." Swords will be beat into plow-shares and spears into pruning hooks, and "nation shall not lift up the sword against nation, neither shall they learn war any more; and then instead of wars and fightings which proceed from the lusts of men."
"But that happy state of the church is yet to come; and the corruptions of men, will still be so predominant, that war will sometimes be inevitable." There is a time for just war, qualifies Checkley. Christians should not lust for it or delight in it, but it is, according to the fallen state of the world, at times, necessary. But a dark day is marked by God suffering the enemies of his people to triumph over them, enslave them, and destroy their homes.
"How much darker the day still! If the Lord of hosts and God of armies, and whose is the victory, instead of being on their side, and fighting their battles for them, should fight against them, making them either to flee before their enemies, fall by their sword, or be led captive by them."
***
Another characteristic of a day of darkness is "when a truly generous publick-spirit is much wanting, and a narrow, coveteous [sic] and selfish one prevails." This too describes our current political moment. The interests of the common good are not central to our law or politics. The analogy of the free market pervades everything. Patriotism and any expression for love of home (oikophilia) is suspected a mask for bigotry. Checkley has this further to say:
"No man was born for himself; nor should any one seek his own, but every one another's wealth. A publick-spirit is a noble and truly Christian spirit, but a narrow and contracted one is mean and sordid; and they who are of such a spirit, are often very far from being the persons they feign themselves to be; they may speak fair, pretend a generous love to mankind, and concern for the common welfare of the places where they live; but SELF is at the bottom, and they will not be likely to lay out themselves to serve the publick, unless they can serve themselves at the same time."
"[O]n the other hand, persons of a generous and publick spirit, will be useful and serviceable both in church and state, and blessings to the places where they live."
Those of a generous public spirit in government "will endeavour to be just, ruling in the fear of God." Mordecai is Checkley's exemplar of this posture. " He was good as well as great, and his greatness gave him an opportunity of doing the more good."
"He improved his power, wealth, and interest with the King and Queen, for the publick good, did not side with one party against another, but endeavour'd to be a common father to all; and herefor was he universally accepted and esteemed—And persons of a public spirit (as Mordecai was) will endeavour to do as he did, and be accepted of the multitude of their brethren as he was—But when persons of his character are few and persons of a contrary one are numerous, a people are in dark and melancholy case."
Here we see Checkley cleverly bringing back his discourse to bear upon civil authorities. Often a great king of Israel, or some amalgam of several, was chosen as the illustrative example of the good ruler in election sermons. But Checkley elects to hold up the character of humble Mordecai as the example for rulers to follow. Mordecai was, of course, a patriot, who sought to further the interests of his people. But at the same time, he did not do so at the expense of his duty to the whole, and especially to those he served.
***
Returning to the markers of dark days: "It is a dark day with a people, when, instead of peace, love and harmony; strife and contention prevail."
"Such a day is it with a people, when their public affairs labour under peculiar difficulties and perplexities, and those who have the conduct of them, notwithstanding all their wisdom, are at a loss what to do and to find out means to extricate and deliver them."

"As a skilful [sic] pilot at helm is necessary, when a vessel is in a storm, and she may suffer shipwreck for want thereof; so it is absolutely necessary, that men of wisdom and sagacity, should have the conduct of the public affairs of a people, when they labour under perplexing difficulties; and for want of such, a common-wealth may be ruined. Now, it may be the case of a people not to have these at the head of affairs at such a time; or if they have, yet they may be greatly in the dark what to do; and want that spirit of council, and understanding which once they had."

"Job, speaking of God, says, he leadeth the councelors away spoiled, and maketh the judges fools.—When this is the case of a people it is a dark one indeed."
"Such a day is it with a people, when trade and business, which once flourish'd among them, and by which they increas'd in wealth at home, and in credit and reputation abroad, fail and are gone." "Trade and merchandize, well understood, regulated and properly carried on, are doubtless great blessings to mankind." Hence the removal of this blessing, the poor management of wealth, the greedy pursuit of it for its own sake, marks a dark day for a people.
"When therefore trade and business of almost every sort fail, insomuch that many, who once could comfortably provide for themselves and families, and at the same time, render unto Caesar the things that are Caesar's, and to God the things that are God's, are so reduced, that they are hard put to it to get their daily bread, and unable to pay their dues, either to church, or state, not thro' idleness, or extravagance, but purely for want of employment, it must needs be a dark day with them."
The final marker of a dark day is when people, having undergone much clamaity, "remain unhumbled and incorrigible, notwithstanding all the humbling providences they have been under."
***
What, then, is to be done for a people in a day of darkness? Checkley's instructions are simple. That people should not delude themselves into thinking that all is well. They should not deny the how grave their situation is. They must, in recognize the fullness of their misfortune, be sure to not charge God with injustice, but rather condemn themselves and justify God for the punishment he has visited upon them. "That acknowledgment becomes them; O Lora, righteoushess belongeth unto thee, but unto us, confusion of faces, as at this day." Instead of complaining endlessly about their present calamity, wallowing in their own folly, a people in a day of darkness should examine their own missteps and learn therefrom.
"They should also make humble and penitent confession to God, and earnestly implore pardon, relief, and help." From there, "a speedy and thoro' reformation" of piety and true religion must be pursued.
***
Having painted this grim, though not hopeless, picture, Checkley does present some direct application for his immediate audience.
"To our civil Rulers; who we hope, will act the part of Fathers to us at such a dark day as the present one is." Checkley means that he hopes the civil rulers before him will lead their subjects to the repentance and renewal of true religion just described, and that the same rulers, specifically the governor, will pursue the common good and interests (not merely his own) of his people, spiritual and otherwise.
After engaging in some obligatory praise for King George and the British government, Checkley adds, "We therefore hope, that while on the one hand you maintain his Majesty's prerogative, you will on the other, be tender of the liberties of this people."
Having addressed the governor directly at length, Checkley then turned to the electors and representatives. He reminded them of the "charter privileges" afforded them, imploring them to preserve and defend the same. He then reminded them of the weight of their duty in electing rulers:
"The election of persons, to sit at the council board, and assist, and advise the king's governor, is with you; and if the most suitable persons, for that end, are not elected, where must the blame lie?—Since therefore this is the particular business of this day, I would in the first place remind you, that the time is coming, when you will be called to an account for the transactions of this day; and the views and designs, with which you shall act, be enquired into—And that therefore it highly concerns you, seriously to consider, whether your proceedings are such, as you can answer to your own consciences, and to this people now, and to Christ in the great day."
Checkley beseeches the electors to choose men that fear God (i.e. in possession of the beginning of wisdom) and "will stand up for the privileges of it, religious as well as civil."
Given our own polity, this advice and warning applies directly to those of us who venture into the polls this election day. We should remember that we will give an account for our choice, for whom we pull the lever. In making our choice we should keep in mind both the state of our nation–which mirrors New England as Checkley described it above–and the interests of the common good and our "charter" (i.e. constitutional) privileges, their preservation and right exercise. Most of all, we must act according to conscience; not selfishly but in accordance with the law of God, Christian prudence, what wisdom we have, and the interests of the whole nation over ourselves. We must ask under what administration the Gospel will have the chance to be preached faithfully, and reformation of our churches conducted unmolested. These are our great interests, and our privilege to exercise.
"Don't," instructs Checkley, "let any have your votes, because they are of this or that party, or will be most likely to serve this or that particular interest, or to carry on this or that particular scheme—but such as you think in conscience, are best qualified for a seat at that HONORABLE BOARD, and most likely to serve the public." Here too he again invokes the public spirit, imploring those with electoral privileges to choose men who possess a love of country and their brethren.
Lastly, Checkley addressed the general public. Come what may of the election, the people must pursue the reformation of religion. If it be not possible to do so nationally then they must begin with their own families, he says. For "Till this is the case with us, we may look for light, but behold darkness."
Image credit: @anniespratt/Unsplash