"Misa…misa…misa…" I muttered to myself under my breath as I scrolled through a pageful of unfamiliar characters. As someone who travels out-of-state often, I am accustomed to the struggle of deciphering church websites (when there is a website at all). Mass times are hidden on the third or fourth menu option, and often confession times aren't on the same page at all! Now, imagine all of these problems in a different language…and a different alphabet.
This was my experience finding a Confession in Korea.
Less than a week into my Korea trip, I found myself in need of Confession. Our tour guide had given us free reign over the rest of the afternoon. I pulled open Naver maps and typed in Catholic Church. Clicking on their website, I sounded out the characters and clicked at random until I finally found misa. The Korean word for Mass which is thankfully the same as the Spanish word.
But nowhere could I find a word that seemed like Confession. After several minutes of putting several screenshots through Google lens, I gave up. Leaving my tourmates to explore the night market, I headed to the church. Maybe the Holy Spirit would arrange this perfectly and I would arrive right on time for Confession. More realistically, I hoped to run into a parishioner and inquire about the times.
Searching for a Confession in Korea
As my tourmates headed to sample the various food offerings of Busan's night market, I slipped down a side street. (I'll just take a moment here to applaud Korea for being an incredibly safe country. Even as I deviated from the brightly lit tourist-filled area, I felt completely at ease).
I periodically muttered under my breath, "gobaeng iss-eo-yo?" Is there confession? 
After a 15 minute walk, I arrived at an open gate on the road. The pedestrian gate was closed. It gave me pause, but Naver maps insisted I was on the right path, so I stepped through the gate. I found myself on a school campus. Just as I was looking around for the Church, a nun walked out of one of the buildings.
Asking for Confession in Korean
I approached her with a hopefully polite bow and "annyeonghaseyo." She returned my greeting and I spoke my rehearsed Korean. Is there confession? 
Though her face told me she had a little trouble deciphering my question, she answered 7:30 PM. That seemed to be the end of it, but amongst her string of words I'd heard misa. I asked again for Confession. Again, she answered with Mass.
Proud that my Duolingo skills were coming in handy, I asked, "do you know what gobaong is? Is gobaong the wrong word?" (If you're curious as to what other apps I use to learn a new language, check out my blog post here)
"What is gobaong???"
I pulled out Google translate and found the problem. Rather than gobaong, confession is gobaeg. I showed her the correct word. The nun's face cleared and she gestured at me to follow her. In the church, she pointed at the Confessional and indicated where to wait. Once again, Duolingo came in handy as the nun tells me confession is in thirty minutes and that Mass is soon after.
I sent a raised eyebrow at the tabernacle. If I had a dollar for every time God has lured me into an unplanned Mass…perhaps I have stored treasure waiting in Heaven.
The Universality of the Church
Waiting for Confession in Korea, I reflected on my favorite part of Catholicism: its universality and its connection to humanity. This Church was clearly Catholic. Behind the altar a Crucifix reminded us of God's sacrificial love. By the tabernacle, a red candle indicated the presence of Christ. A beautiful carving of the Holy Spirit took up the entire ceiling.
But there were signals of the Korean culture as well. Depictions of Jesus and Mary as Koreans, wearing traditional royal garb. The rhythm of the spoken prayers were reminiscent of the chanting intonations of Oriental prayers. And of course, all the writing was in a completely different alphabet.
The church was simultaneously boasting of the diversity of human culture and of the universality of God's love.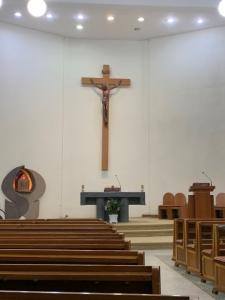 A Successful Confession
Five minutes before the Confession time, the nun realized the priest hadn't arrived. Perhaps he had not planned on hearing Confessions on that day, or perhaps he was simply late. Either way, the nun stood from her pew and came to whisper something in my ear before hurrying away. As I waited for her return, I repeated her rapid string of words until I deciphered she had gone to fetch the priest (though common sense helped me more than my knowledge of the language).
The priest arrived and I finally knelt in the Confessional. I received one final blessing. The priest spoke perfect English. Not only did I receive absolution, but I also received wisdom-filled advice that I could understand.
In this case, God was very clear in speaking to me. Check out this post about what to do when God is silent.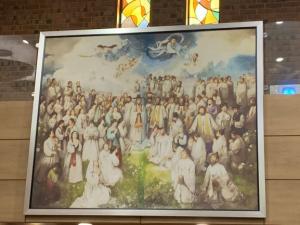 Overall, this was a beautiful interruption to my vacation. In a country that is so foreign, I found myself in the safest place on earth: home. God's love came through equally as powerfully through this nun and priest. And of course, God tricked me into staying for Mass just as he always does back home. The only complaint I have is that the pews were clearly suited for a shorter demographic. My back ached the entire time, but perhaps this little sacrifice will translate to more treasure stored up in Heaven.
For more posts on my experiences traveling through Korea, remember to subscribe to the column! For updates on my travels, follow me on instagram @birdloversmusings
And if you've ever struggled to find Mass and Confession times, masstimes.com is the perfect solution!