… in the Adoration chapel of my parish is this painting by Louis Guidett.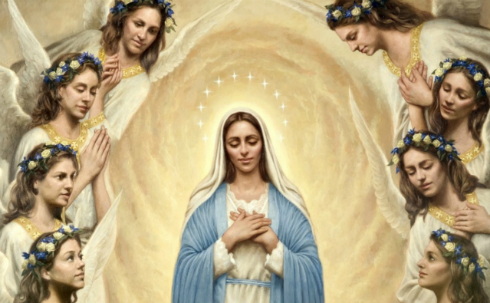 Breathtaking isn't She? At one point I sneaked in the chapel while they were still doing construction and took a few pictures with my chintzy little cell phone but the images did not do justice to the color and detail of this wonderful piece [*Posting those images from my phone would have been a crime]. So here is a detail from the artist's webpage. Guidett studied at the Lorenzo de Medici's School of Art, and later, at the Florence Academy of Art where he studied with realist painter, Daniel Graves. Now he paints out of his home studio here in Winston-Salem, NC. We've got a few very talented local artists around these parts. Remind me to one day tell y'all about Matthew S. Good's pentaptych entitled "Litany of the Saints" painted on the west gallery rail of St. Charles Borromeo Church in Morganton, NC.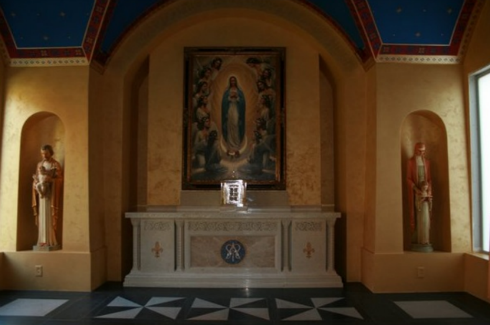 Here is another shot of the same piece from artist Lisa Autry's website. Autry did the detail work and gold leafing on the walls and ceilings of the chapel. She also did the hand stenciled gold leafing to the statue niches in the main part of the church. Again, the above picture does not do justice to Guidett's painting or Autry's skill. You can't see from this image that the entire arched Gothic styled vaulted ceiling is painted and adorned with gold stars.
*I'm not one of those art snobs that thinks paintings should not be reproduced in books or online but I do see merit in the logic. Nothing can compare to viewing a work in person with out the obstructed filter of a photography lens. It's really not the same. You will be surprised by the differences and many times may not even recognize a piece when you go to view it in a museum for the first time. Our eyes process more color than cameras can capture or a scanner can reproduce for prints. Outside of the practical purposes for study, mass produced images of great art really are travesties. We still need galleries and museums. Not everything is lost to technology.