… I got such a soft spot in my heart for the Boy Scouts of America. I've been blessed to be part of a wonderful, active troop lead by dedicated and faithful fathers who are really committed to their kids.
The BSA has taught my son self reliance, helped him become more independent and confident, and has taught him the virtues of helping others and respecting authority. Stuff I can teach but that really, for boys, needs to be reinforced by adult male role models.
When my son needs Scout gear, uniforms, or help getting to camp so many wonderful people step up (I thank you all), the majority former Scouts themselves. The BSA builds that lifetime bond between former and current Scouts.
As a Scout Mom, I just felt compelled to share this story because I know so many Scouting parents and former Scouts read this blog. You've all been so generous with my son that I'd like you to consider helping this troop and pray for their success.
I know first hand how character building a Scouting experience is and I think these young boys deserve to share in that experience.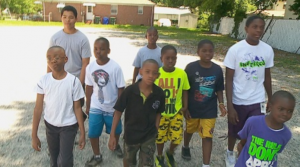 A year ago, a local attorney approached Dr. Durham and asked him to start a Boy Scout program in a community that has not had a scouting program in a couple of decades. Fairmount Park has it's share of problems that include gangs, gang-related violence and a dearth of activities and facilities for children.

Troop 112 does not have uniforms, and it struggles to host fundraisers. Even with it's deficiencies, Dr. Durham says Troop 112 is desperately needed in Fairmount Park.

"I saw a lot of the young boys who were void of any type of leadership, and void of interaction with anything that had structure to it," said Dr. Durham. [read more]
Wearing shorts, T-shirts and tennis shoes, the boys trickle in with their mothers. The troop has only a dozen or so members, but not one child has any portion of the Boy Scouts uniform. It's a come-as-you-are program managed by New Hope Pastor Dr. Calvin Durham.
To help I suppose you can contact the church directly;
New Hope Church of God in Christ
3232 Brest Avenue
Norfolk VA 23509
(757) 857-5315