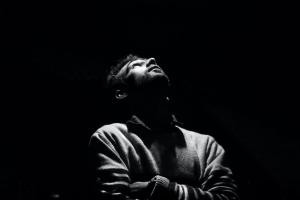 As many of you know, I've been going through a stroke recovery. Today I had a little setback. My blood pressure got high and I had a bloody nose and had to go to the ER. What I was feeling most was discouragement.
When I'm discouraged, it's tempting to look for encouragement. That seems like the natural response or remedy for discouragement. But I no longer think what we naturally think is always the best remedy.
People that mean well and offer encouragement, sometimes bypass the issue by telling us to "be of good cheer" "feel better.". Because setbacks cause us to experience pain, discouragement, frustration, and anger, they make us uncomfortable and we want to get past them as quickly as we can.
But today, what was most important for me was to admit that a part of me was discouraged. I would characterize it as darkness more than light, but necessary more than inconvenient.
I am learning to be with my troubling emotions and make friends with them because they are a part of me. I'm becoming convinced it's the only way to truly move forward and necessary for my healing.
The people I reached out to today were the people that reminded me I have a right to be discouraged. They checked on me later in the day and they didn't give me any platitudes or religious sentiment, the just expressed their love for me and ask for an update.
I worked so hard in my stroke recovery and made such good progress, but it's been a little discouraging lately. So it's totally natural for a part of me to be discouraged. These times are times we must experience, and not somehow get by them.
Learning to be authentic and present, as I describe in my book Being, is a lesson I'm still learning. Today was a good teacher.
Be where you are, be who you are,
Karl Forehand