Jeanie DeRousseau is an Anthropologist. She is also a board member of  Imagine the Good and the "Chief Visionary Officer" of LightPages, a group of organically connecting women who are committed to facilitating new social systems that serve the common good.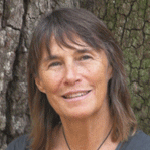 A week ago I completed my 65th year in this physical body.  When my sister Pam called to wish me Happy Birthday, I told her that my stomach was off, so no cake for me.  Just before she hung up, she added a postscript to our conversation, "Do you eat nuts?"  I answered with some surprise, "I do… nuts are one of my main proteins."  She quickly relayed the story of my brother-in-law, whose indigestion had been solved by eliminating nuts from his diet, thus relieving his diverticulitis.
Like the proverbial light bulb, I knew she had identified the problem, and my heart sunk.  I didn't care that I might have to find another source of protein, although that might be difficult; mostly, I realized how little I really attend to my own body.  And like a telescope unpacking, I saw deep into the core of the matter.
I saw that although my body is giving me messages, I hardly give a thought to food, to exercise, to medical matters, even sex these days.  Thankfully, the people in my life have been interested in these things, so my poor body has not suffered too badly.  "If I don't pay attention to my own body, what do I pay attention to?" I wondered.  My awareness led me deeper. I saw how my time is so very other-directed, how I need to feel I'm helping someone else to feel good about myself, and how uncomfortable I am doing things that benefit only me in the face of others' needs (and there is always someone who needs something!).
And in that flash, I knew that despite the years of self-reflection and doing my inner work, I was still not valuing my own Beingness.  I was not yet living from the knowing of That.
I had asked for some completion on my birthday… I didn't know what it would be, but 65 years was long enough to be working at this.  Now I knew… same ol', same ol'… lack of Self-value.   Paying close attention to every feeling, tending to the moments of my day, I let my new awareness unfold in me.  I determined to go to a yoga class in the evening just to anchor my right to an experience just for me.
When my daughter arrived with her suitcase and an armful of flowers, I smiled at her smile, while the flood of awareness continued.  As I straightened her room and made sure she had everything she needed to be comfortable, I realized I was avoiding being the center of the celebration.  As I tried to negotiate arrangements between my daughter and her not-so-well father, I saw just how intrusive my need to 'help' could become.  I felt the conflict within me, until I grew angry and went off by myself to reflect.
I soon discovered some very young and embodied decisions I'd made to avoid the sense of separation… willing myself to feel good by 'helping'… and finally to make 'helping' part of my functioning personality, an egoic façade of connection… oh so hard to accept… and now ironically bringing forth experiences of separation from myself.
In the midst of my inner process, there were my birthday flowers, oh so lovely yellow orange and lavender.  Slowly, stem by stem I placed and re-arranged the sunflowers and lilies till at last the beauty of their partnership made my heart sing.  I felt the energy of those flowers, cut and soon-to-die, in every cell.
Later, as the family was connecting around an old episode of 'Northern Exposure', and a poem by Robert Frost was quoted, something about dancing around a center of knowing, I glanced at the flowers. I looked back at my husband and the exquisite wonder of my soul rushed in.