Kathe Schaaf is a founding member of Women of Spirit and Faith, organized in 2010 with the intention of exploring, nurturing and celebrating women's spiritual leadership. She is one of the editors of Women, Spirituality and Transformative Leadership: Where Grace Meets Power, an anthology of women's wisdom. Kathe serves on the Board of Trustees of the Council for a Parliament of the World's Religions, where she co-chairs the Women's Task Force.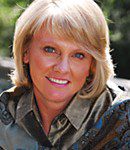 In spring of 2010, I traveled to England and Scotland for a spiritual pilgrimage, joining a group of soul sisters converging from the U.S., Canada and the UK. A cluster of us settled first in Glastonbury to sit in silence at the Chalice Well and explore the local myths and mysteries of ancient lore. On our last day in the region, we shared a remarkable guided journey to the Neolithic burial mounds at West Kennet, the standing stones of Avebury and a crop circle which had recently appeared in a field of yellow rapeseed across the road from Silbury Hill.  The next day, we traveled together by car to Bristol and by plane to Glasgow, where we boarded a train for the town of Oban on the west coast of Scotland. We were meeting up with the rest of our group and heading to the island of Iona for a week immersed in the rich spiritual history of that holy island. We would spend the night in Oban, stock up on groceries and embark on a series of ferries to make our journey to Iona.
I had been to Iona with these women once before and I was looking forward to the feminine rhythms of our life in the big white house on the shore of the sound: sharing conversation and scones with clotted cream at afternoon tea with a stream of synchronistic visitors; sacred circles in the evening around our altar in the living room;  the solitude of a morning spent picking rocks on the beach and long walks.  Having just co-convened a large women's conference, I was deeply tired and hungry for some stillness and quiet and integration. I imagined stormy weather, naps, reading and having nothing to do except keep the coal fire.
It was in Oban that the Divine picked me up and spun me around and launched me on a completely different pilgrimage. At 4 p.m.  on Friday the 13th of May, I walked into the office of an Oban optometrist and reported that a black moon had been rising in the vision field of my left eye during my day of travel from Glastonbury– and that moon was now coming full. I was diagnosed with a detached retina and informed that I needed to return to Glasgow immediately to meet with specialists at the Gartnavel Hospital Eye Casualty Unit the following morning.  Thus began a profound journey into blindness and back again, into being fully surrendered to the mystery of deep faith and radical miracles.
The miracles began immediately. My friend Ginny pledged to travel with me wherever I needed to go. Two wonderful sisters from the staff at the optometrist's office offered to drive us four hours back to Glasgow, making hotel reservations near the hospital on their smart phones along the way and then driving all the way back.  My husband Doug, from home in California, threw himself into researching everything he could learn about detached retinas and my treatment options, providing important support and guidance by phone.
And there were scary moments. When the doctor in Glasgow explained that the macula area of my retina was fully detached and I was already effectively blind in my left eye, I think I went into shock.  He explained their plan.  Surgery was required. As soon as possible. Their surgical theatre was not available to me until Tuesday.  When he left us alone to discuss options, Ginny helped hold me together as I shivered, then sobbed  and then began to focus on next steps. I confirmed that flying home would cause no further damage to my eye, and threw myself into planning to  get back to California as quickly as possible to get the most sophisticated treatment available. I had surgery hours after landing at LAX and, over a four month period of recovery, slowly regained much of the vision in my left eye. My surgeon tells me that my recovery is in the top 2% of possible outcomes for a macula off detachment.
There was a moment standing at Heathrow airport waiting to board a flight to Los Angeles when I had a vivid realization: My right eye was seeing our colorful, busy world and my left eye was staring into the mystery, the 'dark energy' which makes up so much of our Universe. The two worlds converged … in me. I took a moment then to celebrate the precious gift of being fully present to both.