Ever wondered if women could be pastors, teachers of men, and/or church leaders? Is God's good design a hierarchy of male leaders in the church? What about marriage—should the husband act with authority over his wife? Have you felt lost knowing what to study in the Bible to understand what it says about women and leadership? What resources should you consider to better understand the major views on women?
For 18 months I have worked with a co-author and a team of ezers to write a book about women in church leadership. One of our "helpers" in the process has been Cynthia Hester, a doctoral candidate specializing in women in church history. As part of her doctoral program, Cynthia has been creating, writing, refining, recording, proofing, and every other step imaginable to produce a curriculum on that very subject—what does God say about women?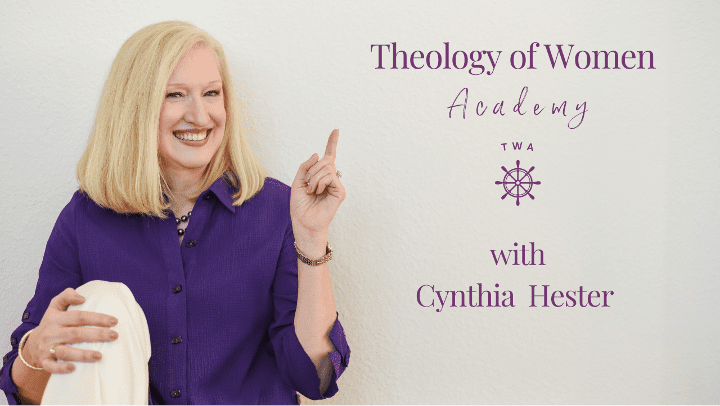 Tomorrow, September 1, enrollment to the Theology of Women Academy (TWA) opens. I asked Cynthia a few questions about it:
What exactly is the Theology of Women Academy?
TWA is the only online course of its kind outside of a Bible college or seminary that guides you through what to read, study, and sift in the Bible and church history to equip you to form your views on women, leadership, and the church. The goal is to move you from uncertainty to clarity and an informed foundation to form your theology of women.
Do I have to know my Bible really well in order to succeed?
TWA is for anyone who has an interest in understanding what the Bible says about women & the church. I've intentionally crafted TWA to make it accessible for folks with minimal Bible knowledge, as well as for pastors and Bible teachers. All students will have access to a bonus video teaching on the basics of Bible study interpretation. I've also kept the reading to portions of two books, along with one supplemental article per lesson. The video teaching and reading assignments are focused to illuminate, but not to overwhelm. And, for the more ambitious students, I've included several articles in each module for optional "Deeper Dive Reading." So, the course is layered to meet the needs of various levels of Bible knowledge.
How does TWA work?
In this 7-week online course, I'll serve as your educational guide. Together we'll embark on a learning journey following a strategic "roadmap," with pre-planned stops at significant locations in the Bible and church history. At each "stop" we will read about, sift, and discuss the spectrum of views. In this study of women and church leadership you will:
Learn key words and related terms: complementarian, egalitarian, descriptive, prescriptive, ezer, authentein, and more…
Read scholar's arguments and sift the spectrum of biblical views.
Grow in your understanding of the significant related Bible passages.
Learn about the women in public ministry in the Bible & church history.
Examine Jesus's and Paul's interactions with women.
Consider the implications of Bible translation issues in the relevant texts.
And so much more…
How do we enroll?
Enrollment opens on September 1 and closes on Sept. 10. The pilot launch cost is $47 ($50 off reg. cost). Two books are required (one is a free download). Organized into six modules, each lesson has video teaching, assigned reading, and discussion. The video teaching is pre-recorded which allows you to work through each module's 3-to-4 lessons when it is convenient for your schedule.
What else? A weekly live Q & A Zoom call with Cynthia each Friday at noon (CST), with the option to watch a replay. And, access to a private Facebook group for interaction with Cynthia and your fellow students, to ask questions, and to engage in discussions.
Why did you create this course?
In 2014, while in seminary and serving a Bible church staff leading the ministry to women, I began to have questions about women and leadership. I realized I hadn't studied the topic myself, but had "borrowed" my views from my home and church experiences. I felt a strong need to study what the Bible says about women. It was time to sift the Word to confirm or rethink what I believed.
So, in 2015, I took the Dallas Seminary course "Biblical and Theological Foundations for Women in Ministry Leadership." Since that time, I've immersed myself in learning the theological arguments about women and researching women in the Bible and in church history. My studies have included travel to research medieval Christian women in Italy, and to visit the home cities of Bible women in Greece. And, the creation and evaluation of TWA is my doctoral dissertation project (DMin, pending 2022).
Why spend so much time and effort producing TWA? Why does it matter so much?
This topic matters because it impacts over half the church. And, it's not just a "women's issue." Why? It matters because both women and men image God. And, how Christ-followers view women has implications for men, and on our male/female relationships. My professor Dr. Sandra Glahn, wrote, "We need to make sure our position [on women] is truly grounded in the Word" because "if our views are based on faulty interpretations of Scripture, we will embrace a faulty view of God."[1]
[1] Sandra Glahn, Vindicating the Vixens, 16.
Click here to get on her waitlist, which will prioritize your registration over later students. If you read this post on September 1 or later, click through and register ASAP. Class size is limited to 60.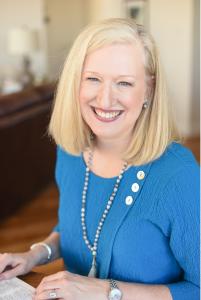 Cynthia is passionate about catalyzing conversations on women, leadership, and the church. She earned a business degree from Baylor University. Formerly a department store buyer, Cynthia has also held leadership positions in the church and in non-profit ministries. In 2017, she graduated with a Master of Arts degree summa cum laude from Dallas Theological Seminary (DTS). Cynthia is currently a DTS Doctor of Ministry (DMin) candidate.
Teaching and discipling women are her passions, and she has taught Bible conferences for women in Haiti and at Kiev Theological Seminary in Kiev, Ukraine. Currently, Cynthia leads the women's Bible study at her church. A published writer, she blogs at cynthiahester.com.
Cynthia married her college sweetheart, Lindsey, and they live in Weatherford, Texas. They love to travel internationally and to spend time with their two sons, DILs, and grandkids.