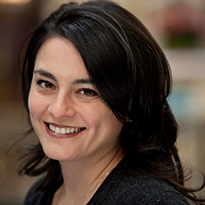 Diana von Glahn is the co-producer–along with her husband, David–writer, host, sometime cameraperson, and editor of The Faithful Traveler, a television series that looks at travel and pilgrimage through the eyes of faith. The series currently broadcasts on EWTN, and is available online. Diana explores the art, architecture, history, and doctrine behind shrines and places of pilgrimage around the world, and seeks to entice viewers to visit these spectacular locations themselves, armed with the information provided in The Faithful Traveler. For those who can't make the travels themselves, Diana hopes to bring these amazing sites into their homes, and enable them to virtually make pilgrimage with her.
Born and raised in San Diego, Diana is the second of four first-generation Mexican-American girls. At the San Diego School of Creative and Performing Arts, she developed a life-long need for a balance of creative and intellectual pursuit. Diana earned a BA in English at Pepperdine University, and a law degree at the University of Notre Dame Law School. After a brief career as an attorney, Diana moved to New York City to pursue a career in publishing. She has been an editor for in a variety of genres, including kid's nonfiction, graphic design, cookbooks, Catholic newspapers, and legal books. She met David in New York and they married in Philadelphia. The Faithful Traveler was born on their honeymoon in France. Diana has been visiting Catholic shrines, churches, & places of pilgrimage as long as she can remember. A lifelong Catholic, she has always loved the feeling of home that a Catholic church gives her. Through The Faithful Traveler, she hopes to share her love of and help others appreciate the Catholic faith.
For more information about The Faithful Traveler, to watch episodes from The Faithful Traveler, view or listen to Diana's interviews, peruse photos from her travels, find information about her upcoming organized pilgrimages, of buy her DVDs, visit www.thefaithfultraveler.com.
To help support the future of The Faithful Traveler, donations can be made here: