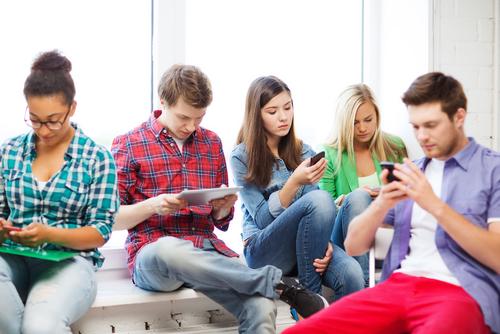 By Colette M. Liddy
The World Communications Day messages come out every January 24, the feast of St. Francis de Sales, a patron of journalists. This year I had to look for it; there has been hardly any chatter on Pope Francis' message, "Communicating the Family: A Privileged Place of Encounter with the Gift of Love."
This message is a quick read and encourages us to see family as a "privileged" place, where we can "encounter the gift of love." The Holy Father focuses on the family as a school of human communication and relationships. He sounds somewhat like a professor of the science of communications, of human communications. In fact he does not speak of media until the end. Lest we forget, media is only one aspect of communications.
"…it is in the context of the family that we first learn how to communicate." writes the Pope.
He starts at the beginning — in utero — as the first encounter with the gift of love. "The womb which hosts us is the first "school" of communication, a place of listening and physical contact where we begin to familiarize ourselves with the outside world within a protected environment, with the reassuring sound of the mother's heartbeat." It is there, he says that "the encounter between two persons, so intimately related while still distinct from each other, an encounter so full of promise, is our first experience of communication.'
The next encounter with this privileged place for the gift of love comes when we are growing up in a family: "…family members accept one another because there is a bond between them. The wider the range of these relationships and the greater the differences of age, the richer will be our living environment."
I think of a song Faith Hill's sings, "A Baby Changes Everything". So true, he or she is born, everyone makes room and we all change in some way, a good way. Bedrooms gets switched around, sometimes requiring big sacrifices; children learn how to take care of younger brothers and sisters; Dad and Mom parent a little differently with each child; grandparents, aunts and uncles, close friends, learn about being called in at moment's notice when a child is sick or a family is in need. (I'm thinking of my friend, a grandmother, who recently had to run Pedialyte across the state of New Jersey, as if there was no Pedialyte available nearby. But of course, as only a grandmother can understand, it was Pedialyte delivered with love).
Through family life, we receive that which came from our ancestors. "In the family we realize that others have preceded us, they made it possible for us to exist and in our turn to generate life and to do something good and beautiful. We can give because we have received," writes Pope Francis.
Learning to pray as a family is central to this passing down. Pope Francis writes "The experience of this relationship which "precedes" us enables the family to become the setting in which the most basic form of communication, which is prayer, is handed down."
Another encounter with the gift of love is when family turns outward to the world beyond its own home to other families. Our Holy Father explains, "…the family comes alive as it reaches beyond itself; families who do so communicate their message of life and communion, giving comfort and hope to more fragile families, and thus build up the Church herself, which is the family of families."
"More fragile" families. Most families are fragile. Still in our own brokenness, can we look around and see the "more fragile" families who are in our parishes, schools, neighborhoods? That human connection can be given in the simplest of ways — a kind word to that mother, father, or child who is hurting, encouraging a teen or college student when you see his or her talents. I know a single mother who recently moved into a new town and wanted to meet other moms, but when she was with the other mothers (i.e. in the school hallway or wherever), they were all closed in on their devices.
The Holy Father points to the all important and hard work of forgiveness. That word — forgiveness is a word that is synonymous with the word family.
"More than anywhere else, the family is where we daily experience our own limits and those of others, the problems great and small entailed in living peacefully with others…The family, where we keep loving one another despite our limits and sins, thus becomes a school of forgiveness. Forgiveness is itself a process of communication," writes Pope Francis.
It is within in a family that we learn much about falling down and picking up, beginning again, moving forward. No throwing in the towel. Forgive. Again. No matter how far down we go, no matter how well we know each other, forgive, try, smile, try again. Pray. Pray for the grace. The grace to love, the grace to see all the goodness God sees in our loved ones. And all the good they do for us. Not simple. Hard work for adults as we struggle with our hurts and our loved ones have to live with that.
Our best intentions are often not perceived correctly, even by the ones we are closest to and we love the most. Venerable Pio Bruno Lanteri, founder of the Oblates of the Blessed Virgin Mary, was known to say 'Nunc coepi', 'Now, I begin'. One saying of his sayings I particularly like is: "If I should fail even a thousand times I will not be troubled, I will not lose courage, but say immediately and with peace, now I begin."
Pope Francis, not surprisingly, also writes of the families of children with special needs. How often in a crowd does he reach across, and embrace, kiss and bless a disabled child or adult? He sees the efforts of those parents, siblings, and grandparents — the numerous doctor appointments, interventions, medical tests, the tracking down of resources, the sacrifices they make physically, emotionally, and mentally.
"When it comes to the challenges of communication, families who have children with one or more disabilities have much to teach us. A motor, sensory or mental limitation can be a reason for closing in on ourselves, but it can also become, thanks to the love of parents, siblings, and friends, an incentive to openness, sharing and ready communication with all. It can also help schools, parishes and associations to become more welcoming and inclusive of everyone."
The National Catholic Partnership on Disability provides rich resources for full inclusion of persons with disabilities into the life of the Church and society.
If you were looking for some real advice on media consumption, it only comes at the end. These are "communications" messages, and believe it or not, communications is much more than the latest digital device. "By growing daily in our awareness of the vital importance of encountering others we will employ technology wisely, rather than letting ourselves be dominated by it. Here too, parents are the primary educators, but they cannot be left to their own devices," Francis writes.
Note the use of the word "devices". He encourages the Christian community to help parents in
"teaching children how to live in a media environment in a way consonant with the dignity of the human person and service of the common good."
There is a need for those in the church, lay and religious — who understand the science of media and communications and the foundations of our faith — to help teach young people, their parents, all of us, how to live in our media environment using it wisely in a way that does good, finds room for God and one another, and of course, does not damage others. Just as parents are the first teachers of their children in teaching them the faith, then media education has to be another part of it. We're clearly only at the beginning of this frontier.
"The great challenge facing us today is to learn once again how to talk to one another, not simply how to generate and consume information."
Great challenge, he says. He did not say small challenge or medium challenge. The Holy Father writes that it is a great challenge to learn to once again talk to one another. Again the "encounter with the gift of love," comes to mind when we adults model to the young how to talk to one another. Eyeball to eyeball. Smile to smile. Even if we are competing with their devices as well as our own.
How much we long for that smile and long to give each other a smile. (And the smiling face on the text just does not cut it). Can we, will we, give a real smile in between texts? Can we stop every device for some family time? And invest that time to preserve our families as that privileged place with the "encounter with the gift of love"? It might be a good Lenten challenge. As our Holy Father says, we are not fighting to defend the past, but "rather with patience and trust, we are working to build a better future for the world in which we live."
Colette M. Liddy is a media relations professional and former television and radio producer who loves the annual World Communications Day messages.