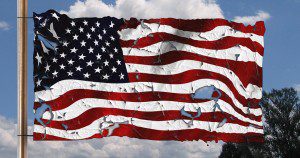 Were it not for the 2016 presidential election, I would have thought "alt-right" was a computer keyboard command.  Thanks to the current political climate, I have become acquainted with a group, an ideology, a way of viewing the world that send chills down my spine.
The term "alt-right" was coined in 2008 by Richard Spencer, a white nationalist, who achieved media prominence after Trump was elected when he held a national conference during which he claimed that Trump's presidency created an opening for greater acceptance of alt-right ideologies.
As with much that I find highly distasteful, I would like to ignore the alt-right. But I do so at my country's peril. Not long after the 2016 election, I received an email from a Catholic college student who had read my column expressing concern over Steve Bannon's appointment as a special adviser to the president.  Since then, we've exchanged email regularly, and I attribute my growing concern about the alt-right movement to this young man's heightened awareness of it, especially as it has infiltrated social media, college campuses, and as it has been given a degree of acceptance by some people in power.   
If you're like me and newly aware of the alt-right, I provide you this short description of this movement:
"The Alternative Right, commonly known as the Alt-Right, is a set of far-right ideologies, groups and individuals whose core belief is that 'white identity' is under attack by multicultural forces using 'political correctness' and 'social justice' to undermine white people and 'their' civilization. Characterized by heavy use of social media and online memes, Alt-Righters eschew 'establishment' conservatism, skew young, and embrace white ethno-nationalism as a fundamental value." (Excerpted from the Southern Poverty Law Center's website.)
Of interest to Catholics, some who describe themselves as alt-right support Catholic traditionalism, defined as a return to Catholicism before the reforms of Vatican II.  But even more important for all Christians is to be aware of the racism, nationalism, misogyny, and anti-Semitism expressed by many who identify as part of this movement.  Their anti-immigrant stance is also in direct opposition to our Catholic emphasis on welcoming and supporting immigrants.
While many readers of this column are not likely to be exposed to the despicable actions of Internet "trolls", we cannot bury our heads in the sand.  People are being victimized and divisions are growing more pronounced as a result of the undercurrent of hatred, racism, xenophobia, and bigotry which has grown more intense…and seemingly more acceptable…over the last two years.  
President Trump's recent controversial re-tweet of a doctored video of him beating up "CNN" was revealed to be originally created by a Reddit user who had posted many racist, anti-Semitic, and white nationalist sentiments.  This Trump tweet not only suggests violence against the media, but gives a level of respectability to those who traffic in despicable slurs.
Many who voted for President Trump are quick to refute the suggestion that they are racists, nationalists, or xenophobes. And I take them at their word. They had other reasons to choose this candidate.  However, it's incumbent on those who supported a Trump presidency for pro-life and other reasons to unite and renounce the racism, hate crimes, anti-Muslim, anti-LGBT, and anti-immigrant rhetoric that has found its way into the American lexicon.
This is not about politics. Our Catholic faith is not aligned with any one political party. Indeed, the teachings of the Catholic Church transcend political affiliation.  I do not presume to argue that Catholic teaching is more fully represented on one or the other side of the aisle.  I believe, however, that our common beliefs will help us transcend our political differences. And we can best find common ground when we agree to the basic principle that all people are created in God's image and have intrinsic value.    
The universal Church is founded upon multi-culturalism and our respect for all races, genders, and creeds.  We must resist white nationalism, whether it is generated from the underworld of the Internet, within speeches by prominent leaders, or through government policies directed at vulnerable populations.  The Alt-right will not go away unless all of us stand up against hatred that is based upon race, religion, and gender.  We must defend our country against those who espouse ideologies contrary to our most deeply held beliefs as Christians and Americans.   
  Special to Patheos from Mary Hood Hart.