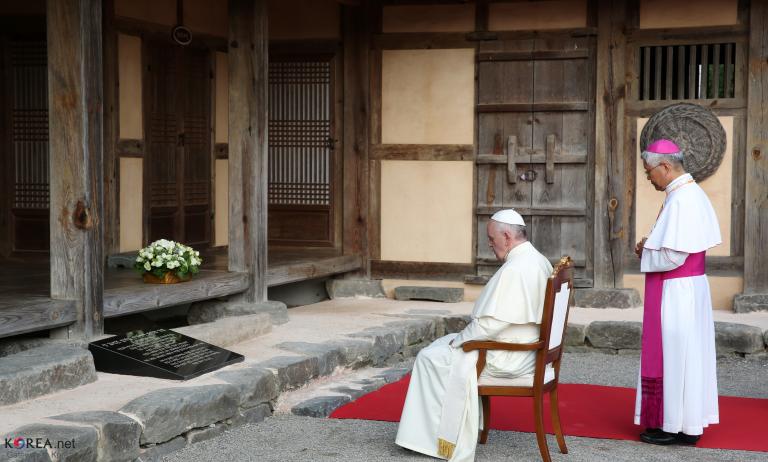 by guest writer William M. Shea
Christopher Lamb, in an interview by Charles Collins [Crux 4/29/20], makes this comment: "For liberals, Francis is too conservative and for conservatives he's too liberal.The pope is an old-fashioned Jesuit who can't be put into a box." (Crux 4/29/20) Throughout his seven year pontificate Francis has undone the stereotypical image of the papacy, even more than John XXIII of happy memory. He has proven to be such for many it seems, not least for public luminaries Jamie Manson (NCR 4/14/20) and Massimo Faggoli (La Croix 4/15/20). I agree with Lamb. Francis is an oddity. On one level (the Gospel) he is easy to understand; on another (the history of the office), he is quite complex. I spent seventeen years working in Jesuit universities and many more under direction by Jesuits so I do have some familiarity with "our way of proceeding," as they might put it. I can testify to the truth of Lamb's claim that "The pope is an old fashioned Jesuit who can't be put in a box." Perhaps Manson wants him in a box, a vain pursuit in my opinion.
Today I'd like to comment on Manson's comments on the pope, and in the next post Faggioli's. Manson thinks Francis is now blocking the advancement of women in the church generally and in the diaconate in particular. She judges the pope wrongly. She uses the terms "heartless" and "cruel" of his recent acts. He isn't either, nor are his acts. The terms she uses about Francis are not only wrong, they are unkind. She wants the pope to respect women, but she doesn't respect the pope.
She suggests that there are "two popes," and the second pope, "the other Pope Francis," has made not only questionable decisions but morally objectionable ones: After reading her columns with profit over the years, I suddenly find that she and I are in largely different bubbles. In contrast to her, I want the desacralization of the ordained. It's the only way to thoroughly end clericalism. Women don't need sacralization in ministry any more than men do. They need a calling and reception but no sacralization. The era of sacralization via priestly ordination and episcopal consecration should be over as far as I can see, so why throw women back into the institutional structures of a passing era?
She also thinks the pope's newly appointed commission on the ordination of women to the diaconate is a right-wing set-up. In her view it will recommend that women not be ordained. I think that is likely, but I don't object to it. Whereas the first commission (2016) resulted in a hung jury, according to Manson this new one is made up of people who have not done any recognized academic work on the historical issues; nor have any of them expressed the belief that women ever served in a diaconate. Phyllis Zagano, the foremost American supporter of female deacons and her commission mates have already registered their views and the pope is informed of them, or so I read. What's the point of reappointing the same commission or mirroring it? Is he trying to shut the door on the female diaconate? Manson seems convinced; I am not at all.
The new commission, even if it is blind to Manson's conviction, is no great mystery to me. The pope is not a dishonest man. He's dealing with ecclesial politics! He needs agreement from the center and the right if the church is to reach the necessary consensus. If he can't get one, he won't make female deacons, not to say married priests. I think he's doing what he must for the church as a whole. Unity is his job! Long-term thinking is his job. Universal perspective is his job. He is correct about this, and his care is to make as sure that the steps he takes are taken for and with the church, not for and to his own satisfaction and much less to relieve our left-wing dyspepsia. She thinks he has "effectively killed the possibility of any real progress for women in the church…and this turn of events is nothing short of cruel." Really? I think that is nonsense. He hasn't killed possibilities. To call his decision"cruel" is not just wrong, it's an insult. He doesn't think like Manson or me. For one thing he's very smart, wise and holy, and he's doing a job Manson and I couldn't.
She points out quite rightly that he's chosen no one from the "peripheries" for the commission — but the Amazonian synod was a "periphery." Does he need to hear more from those folks? I heard them and I agree with them. What the pope needs now is to get to the ecclesial peripheries who object. He needs to begin a process of wider consultation if he is to lead the church into the 21st century as he has lead it into the 20th. He not only needs to let Manson and me simmer, but Burke and Mueller and Sarah simmer, until the great majority of Catholics of all sorts of ecclesiological convictions are ready to accept change — or no change.
In addition, Manson objects that Francis has been loyal to Pell throughout his portentous trial. What would Manson expect of the pope, given the circumstances? Throw Pell under the bus? Or attack the Australian legal establishment which he made clear he trusts? And why would Francis' belief and prayer "rub salt in the wounds" of victims? Who knows what Pell has done or not done at this point? All we do know is that the definitive Australian legal body has said the evidence and verdict failed both Pell and the legal system. Does Manson in fact know something I don't know? I don't like Pell for the same reasons that she doesn't like him. I think he is an ecclesiological dinosaur and a nasty person to boot. So what? That not the point here. Let us suppose he's innocent (and I haven't at all at any point been impressed by the evidence that he is guilty). Shouldn't Francis' and the rest of us be relieved at the High Court's fair and unanimous decision and by the fact that Pell is out of jail? Manson and I have no business judging the man guilty when the local judicial actors in the case have behaved so badly.
Finally, I admit to two things that may disqualify me from the comments I've made in opposition to Manson. First, I love this pope far more than any ecclesiastical figure in my lifetime, including six other popes. In him I see Christ and hear His voice, and not because he is pope but because he is Father Jorge Bergoglio, S.J. and not anything or anyone else. He is a man unchanged by ecclesiastical elevation. Second, I am hardly an orthodox Roman Catholic though I am a sincere Roman Catholic. Because of my ecclesiological opinions, the retiring Archbishop of Philadelphia, in a high point of my life as a Catholic, named me an apostate after reading my book, Judas Was a Bishop (2015). Perhaps he did so in charity as a warning, hoping to see me do penance. Maybe later!
image credit: (Author: Republic of Korea, Title: Pope Francis visits Solmoe Shrine on August 14 [Detail]; Source: Flickr, CC by SA 2.0)