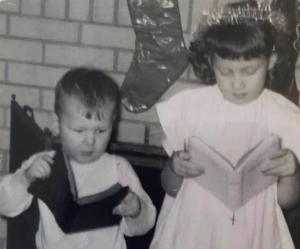 My sister Sandy and I got along pretty well when we were kids. She was 2 years, 8 months, and 7 days older than me. We were baby boomers, children of the '50s. We grew up in a traditional family: Dad at work, Mom at home, transistor radios, black and white televisions, knotty pine paneling, a brick fireplace, and church on Sunday. It was a good way to grow up. That's one of the reasons that I had a hard time understanding sibling rivalries in the Bible. I remember hearing about Cain and Abel, Jacob and Esau, Joseph and his brothers, and King David's children to name a few.
"Mom always liked you best!"
It seems that jealousy is usually at the heart of these sibling rivalries in the Bible. That reminds me of The Smothers Brothers arguing, "Mom always liked you best!"  But something else shows up in these stories; there's always a good guy and a bad guy. In fact, they're all guys. The Bible doesn't provide a single instance of a sister's fight – unless you count Mary and Martha – which isn't a fight as much as a frustration.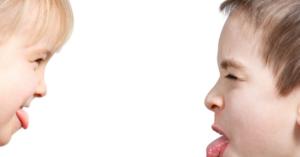 Kitty, my wife, grew up as an only child. For that reason, she wouldn't let our 3 daughters fight. I'm sure they did, just not when we were around. On the other hand, Sandy and I quarreled a few times. Okay, we fussed a lot, but only after she turned 11 and I was 8. She claims that I was awful to her, that I teased her and generally bugged her and her friends. I can't remember (sort of). I know I wouldn't dump her in a well like Joseph's brothers did to him or some other sibling rivalry in the Bible.
Joseph had "so much promise!"
Perhaps my favorite sibling rivalry story in the Bible is that of Joseph. Joseph had "so much promise!" Have you ever heard that phrase when someone is talking about a person who didn't accomplish much? Here's the thing, though; Joseph did accomplish much. Years ago, I recall reading a book that grabbed me and wouldn't let go. The title was appropriately called, Joseph – A Novel (Fleming H. Revell Company, 1980).   Like every good storyteller, the author painted the characters in bold colors with her writing.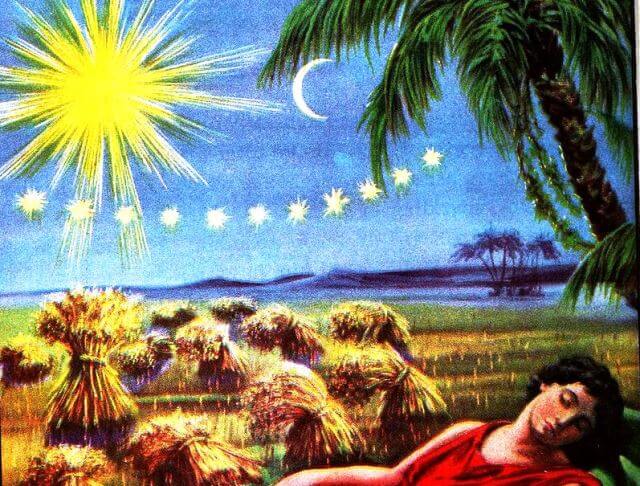 Jacob and Rachel's son Joseph, the dreamer, dared to tell his brothers about his dreams. And he told them while wearing the many-colored robe his father gave him. Those dreams favored Joseph while casting his brothers in a negative light. Although he was his father's favorite, he must have either been naive or simply miscalculated the jealousy of his brothers. It could have been a fatal mistake if the Lord had not been with him. His brothers (actually his half-brothers) plotted to kill him. One of them, Reuben, talked them out of it. He suggested they should throw him in a well, thinking he could return later and rescue him. However, a caravan of Egyptian merchants passed by while they were plotting Joseph's demise. So, they did what any loving brother would do; they sold him. Then they killed a goat and dipped his beautiful coat in its blood. They showed the coat to their father Jacob. When he saw it, he believed that his son was dead, ravaged by a wild animal.
Potiphar's wife tried to seduce him.
Joseph ended up as a slave to Potiphar, captain of Pharaoh's guard. In time, he became a personal servant to Potiphar, then placed in charge of the household. Joseph was "easy on the eyes" and Potiphar's wife tried to seduce him. Joseph wouldn't play along and ran. His boss' wife, now spurned, ripped off a piece of his garment and accused him of rape. He was arrested and was sent to prison.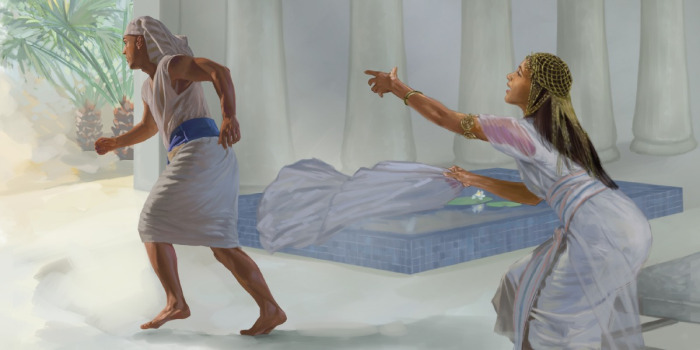 What I love about this sibling rivalry story is that Joseph just wouldn't stay down. No matter the schemes thrown at him by his brothers, or Potiphar's wife, he rose to the top. Even in prison, the jailer placed him in charge of other prisoners, Pharaoh's baker and his cup-bearer. They also had dreams and Joseph accurately interpreted them. Then Pharaoh had a couple of dreams of his own.
The cows that were ugly and gaunt ate up the 7 fat cows
In his dreams, "He was standing by the Nile, when out of the river there came up seven cows, sleek and fat, and they grazed among the reeds. After them, seven other cows, ugly and gaunt, came up out of the Nile and stood beside those on the riverbank. And the cows that were ugly and gaunt ate up the seven sleek, fat cows. Then Pharaoh woke up" (Genesis 41:1-4, New International Version). Then, he had a second dream. "Seven heads of grain, healthy and good, were growing on a single stalk. After them, seven other heads of grain sprouted—thin and scorched by the east wind. The thin heads of grain swallowed up the seven healthy, full heads" (vv 5-7).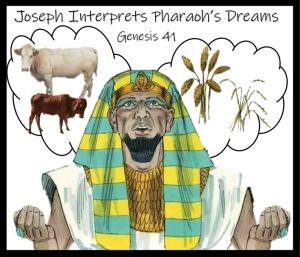 None of Pharaoh's advisors could interpret the dreams. However, the cup-bearer, no longer in prison,  remembered that Joseph had interpreted his dream. Pharaoh called for Joseph to be released. Joseph told Pharaoh that he was not able to interpret the dream but that God was able. Then Joseph relayed to Pharaoh that the 2 dreams had the same meaning. There would be 7 bountiful years followed by 7 years of drought and famine. Joseph even gave Pharaoh the strategy for making it through the terrible years to come. As a result, he placed Joseph in charge of all the land of Egypt; second in command to Pharaoh. What a story!
At first, they did not recognize him
But there's more. The famine was so severe that it reached the land of Canaan, where his brothers and his father lived. Like every great story, this one also ends with redemption. His brothers and eventually his father had to travel to meet with Joseph to acquire the resources they needed. At first, they did not recognize him. Joseph made it difficult for them, tricking them and making them return with their younger brother who had stayed with their father. I don't suppose there is a more moving scene in all of the sibling rivalries in the Bible as that of Joseph's reunion with his brothers and father. Joseph was a most unusual man. He was able to say that even though his brothers tried to kill him, God used it to benefit them all by sending Joseph ahead of them so he could provide for them during the famine (46:5).
"…father to son and son to father, both bound by love."
It would take more space and time than I have to appropriately parse the beauty of this sibling rivalry story made right. However, I see in this amazing tale, a kindred motivation to the New Testament parable of the Prodigal Son. In the latter, the lost son returns home to his father's embrace. In the story of Joseph, the father returns to the son's willing heart. Together, they form a circle; father to son and son to father, both bound by love. To borrow from another passage of scripture found in both the Old and New Testaments, "And he will turn the hearts of the fathers to the children, And the hearts of the children to their fathers," (Malachi 4:6, Luke 1:17).