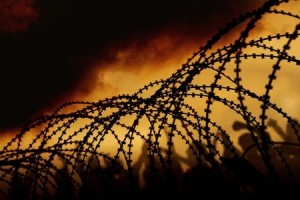 "I didn't come here because I wanted a job… I came here because I wanted to live."
These are the words from an undocumented immigrant here in the U.S. When I heard them, they struck me to my core. They could have easily been the words of Mary, mother of Jesus, as they fled to Egypt during his childhood.
"We just wanted to live."
As Christians, our tradition, our faith, our roots, are all tied up in an immigrant identity – or at least they should be. Reaching back to Adam and Eve, and to Abraham and Sarah, we are a people who are on the move. We are typically found in places other than where we began. Even parts of scriptures were put together as the Israelites were living in a foreign land.
"That means you must also love immigrants because you were immigrants in Egypt." – Deuteronomy 10:19 (CEB)
We must learn to fully embrace the call of Deuteronomy to show hospitality to sojourners. It's a call that is about so much more than being welcoming and offering drink and food (although it does include those). The kind of hospitality to which we are called too is one of seeing someone that we may identify as "other" and loving them.
"…but Jesus said, 'Let the little children come to me, and do not stop them; for it is to such as these that the kingdom of heaven belongs.'" – Matthew 19:14 (NRSV)
Jesus had a strong bias for children. As his followers do we? Protesting against children who are trying to escape a living hell and possible death is, in no way, reflective of who Jesus was and who he calls us to be. When Michele Bachmann calls them "invaders," and others compare them to lepers who should be separated and quarantined, Christians across our nation should look to the example of Jesus and proclaim, "Whatever you do to these children, you are doing to our children, you are doing to me."
"And the king will answer them, 'Truly I tell you, just as you did it to one of the least of these who are members of my family, you did it to me.'" – Matthew 25:40 (NRSV)
We should proclaim it because there are those on the religious and political right who are working desperately to turn these children into something less than human. We should proclaim it because, as Dr. King said, "Injustice anywhere is a threat to justice everywhere."
We should proclaim their worth, their value, their right to a life that is not constantly in jeopardy, not only because it is the Christian thing to do, but because it is the humane thing to do. If we continue down this path of anthropomorphizing corporations and dehumanizing people, if we continue to look to the financial cost of helping people rather than the moral cost of not helping them, we will find ourselves living in a society increasingly devoid of the ability to care for and even care about the least of these.
We are far down a path that elevates the manmade value of a dollar over the value of a human life. On that dollar is printed, "In God We Trust." It is as if we believe the dollar is a reflection of God and not the people.
It is time to put those dollars and our lives to a use that not only honors the teachings of Jesus but honors the sanctity of life. If our government, and some of the folks on the religious and political right are unwilling to do the right thing, then we must take it into our own hands.
Below you'll find linked many of the ways you can help. As I receive more information, I'll add to the list. Please, share this far and wide. We need as many people helping as possible.
This matters. These children matter.
I've written a short story on this topic with the hope of humanizing the issue. You can read it here: Jesús and the Attempted Exodus: A U.S. Border Tragedy
United Methodist Committee on Relief
Cooperative Baptist Fellowship Cares
Lutheran Immigration and Refugee Service
Episcopal Diocese of West Texas
Catholic Charities of the Rio Grand
Circle of Health International
RAICES (Refugee and Immigrant Center for Education and Legal Services)
Neighborhood House of Calexico
International Education Service of Texas
Roman Catholic Diocese of Laredo
United States Conference of Catholic Bishops
Help create a market for Progressive Christianity. Not through big publishers or big denominations, but through the grassroots. Consider supporting Mark's blogging. We need to encourage the growth of progressive Christian voices in the marketplace. Even a dollar will help.
Facebook continues to make it increasingly difficult for me to let you know about new blog posts like this. Please consider signing up for my mailing list where we can insure you are notified. Just click here!
Mark is a co-founder of The Christian Left. Come and join the conversation!