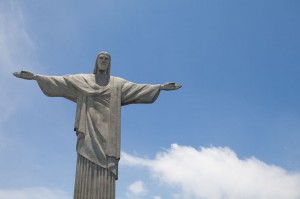 Anne Rice's engaging book Christ the Lord: Out of Egypt is being made into a movie that's currently slated for release in the Spring of 2016.
That's how I met Jesus in Rome.
I also walked the streets of Alexandria, sat in the throne room of King Herod and stood on the steps of the Temple in Jerusalem – all in one day… while in Rome.
I was fortunate enough to be invited out to the set for the movie. They are filming at a movie studio that is truly historic. It's called Cinecittà, Italian for Cinema City. Films like Ben-Hur and Gangs of New York have their cinematic roots there.
I was only on set for two days and it was late in the filming process. But, the benefit of arriving late in the process is that I was able to see the accumulation of a lot of the work from set design to costumes and even a bit of how they translated the storyline from book to silver screen.
From what I saw, I have to admit, I'm eager to see how this film continues on in the tradition of films from Cinecittà. My early suspicion is that it is going to do exceptionally well.
If you are familiar with Ms. Rice's book, you know that this is the story of a year in the life of Jesus' childhood. Specifically, it follows Jesus and his family as they journey out of Egypt back to Israel, and it follows Jesus on his own Journey of self discovery.
Much of the energy and tension of the book rest heavily on the internal dialogue of Jesus as he struggles with realizing that he is different and tries to enlist what are mostly unwilling adults in aiding him in his quest. Frankly, I'd have to imagine that would not only be difficult to translate into the visual medium of film, but would leave much lacking in terms of engagement and inspiration if it were to be directly translated from book to movie.
Fortunately, Cyrus and Betsy Nowrasteh, who wrote the screenplay, have given us a few important additions to the book which add a great deal of tension, motivation and forward propulsion that a film truly needs to engage a modern audience.
For now, I'll save exactly what they are, but I suspect you'll find their choices to be not only necessary but, most likely, you will also find them to be engaging. Fans of Science-fiction/Fantasy genre are going to find one of their choices to be particularly pleasing because of the actor brought in to make the addition as powerful as possible.
I've not yet seen the screenplay, nor have I seen much of the footage they'll be using to put the film together, but I can tell you that it's coming from very intriguing source material, which has been thoughtfully used to provide the groundwork and inspiration for the screenplay. To the best of my knowledge, exploring this defining time in Jesus' childhood has never been done before.
The acting I saw over the course of the two days was phenomenal. The cast and crew seemed to get along and function as one happy family – they truly liked each other and clearly loved being there doing what they were doing. The set design is phenomenal, costuming is gorgeous, hair and makeup is so perfect you really don't even notice it (which I consider high praise in a film like this) and the directing has a professional easiness about it that seems to have set the perfect score for what the movie needs to be.
It's hard to say if ultimately that all translates into a film that will live into the history of the grounds on which it was shot. Considering it was filmed in a city where the apostle Paul once walked, where Emperors ruled an empire for ages and where some of the best movies ever made were filmed, it has some exceptionally monstrous and historic shoes to fill.
Here's the thing: it just might do it.
I'll be watching in great anticipation as more work is done on the film and, as I have more information that I can share, you can count on me to fill you in.
But until then, let's all bask in the momentary glory of the potential of a Christian film that doesn't wallow in the low end of art as it leans on the built-in success of marketing a conservative perspective from the shallow end of the theological pool.
Feels good, doesn't it?


Consider supporting Mark's blogging. Help create a market for Progressive Christianity. Not through big publishers or big denominations, but through the grassroots. We need to encourage the growth of progressive Christian voices in the marketplace. Even a dollar will help.


Facebook continues to make it increasingly difficult for me to let you know about new blog posts like this. Please consider signing up for my mailing list where we can insure you are notified.  Just click here!
Mark is a co-founder of The Christian Left. Come and join the conversation!