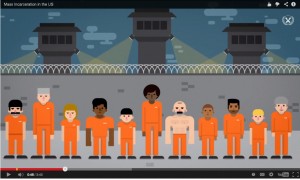 As you will hear in the video, the United States only has 4% of the world's population, but we have 25% of the world's imprisoned population.
When you add those who are under parole or probation supervision to the numbers for those who are in jail, 1 out of every 31 adults in the U.S. is under some form of correctional supervision.
African Americans make up a disproportionate percentage of the U.S. prison population.
The U.S. has one-third of the world's female prison population.
Since 1970, the U.S. prison population has increased by 700%.
These facts should be beyond alarming to us all. If you have even the faintest ability to feel compassion and to long for real justice, this reality should not be acceptable to you.
As Christians, we should recognize that it stands over and against everything we are called to be.
The spirit of the Lord God is upon me,

because the Lord has anointed me;

he has sent me to bring good news to the oppressed,

to bind up the brokenhearted,

to proclaim liberty to the captives,

and release to the prisoners;

– Isaiah 61:1 (NRSV)
Please, take the 4 minutes of time needed to watch this video about incarceration in the U.S. It's important that we all understand what is happening.
If you are willing, take the first step to bringing greater awareness to the rapidly growing issue and share this post with everyone that you can.