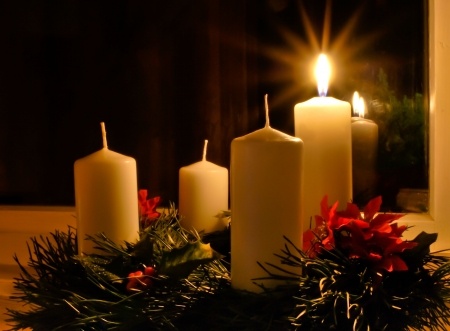 Good and gracious God,
It is never easy to wait…
that may be
why Advent
is so hard for us.
But Loving God,
it is not so hard for you.
You wait for us
to turn from our old ways
toward the life you desire for us.
You wait for us
to admit what we have done,
and what we have failed to do,
so we might be freed
toward the life you know
we can have here on Earth.
But our fears and our failures
get in the way.
We lose sight of hope
and find ourselves
stuck in what we see
as impossibilities.
We lose sight of joy
and wallow in
what is wrong.
We lose sight of love
and focus on the things
that frustrate and anger us.
We lose sight of peace
and bind ourselves up
in the things that divide us.
This Advent season
give us pause to rest,
to wait,
to be still
and know that you are God.
Lend us perspective
this Advent
and call us back to be the people
you created us to be.
As we wait
for Hope Come Down
may we learn to practice hopefulness
and may that hopefulness
teach us to fear less
and love more.
May it strengthen us
and encourage us
as we ourselves
strive to be a people of hope
in a far too fearful world.
Amen.
Consider supporting Mark's blogging. Help create a market for Progressive Christianity. Not through big publishers or big denominations, but through the grassroots. We need to encourage the growth of progressive Christian voices in the marketplace. Even a dollar will help.
Facebook continues to make it increasingly difficult for me to let you know about new blog posts like this. Please consider signing up for my mailing list where we can insure you are notified.Just click here!
Mark is a co-founder of The Christian Left. Come and join the conversation!