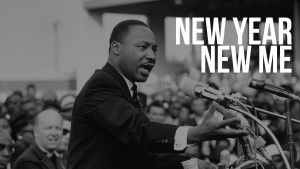 It has been such a pleasure working with Patheos to launch The Great Divide. This blog has been a transformative vehicle for identifying and dismantling the walls that isolate us from each other, the walls that sever the secular from the sacred, the same walls that separate us from God.
Over the holiday break, I took an inventory of my life. I asked myself, "What am I good at? What are the things I am passionate about? What can I bring to the table?" The recurring theme was one of reconciliation.
Today, on the day we celebrate the birth of one of my heroes, Dr. Martin Luther King Jr., I introduce to you the new focus of our blog: inspiring Jesus followers to bring racial reconciliation into their cities and homes.
But why?
Only 6% of churches in the United States are considered to be diverse. What I have come to realize is that, unfortunately, this reality does not affect some people. Sure, they might agree with the idea of diversity, they might even admire it, but because its absence does not create any noticeable discomfort, they do not seek it out.
See, that's the thing about ideas – if they do not cause a certain level of pain, no change will occur.
However, there exists another group of people, and they are growing in number. Although they want to create diversity within the church, they have no idea how to start. They need a focus, a way forward.
How do we build diverse communities among Jesus followers?
Dr. King championed this thing of reconciliation and building diverse communities. While I may not know how to do a lot of things, this same enthusiasm is unmistakable in my life. I am passionate about motivating churches to build diverse communities. The great divides in our world often go beyond cultural and political issues – great divides are Gospel issues. Therefore, the question of bringing about racial reconciliation in our lives will require a Gospel answer.
Will you join me?