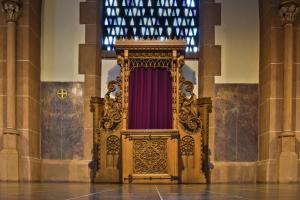 The Church has always taught the necessity of the baptized to confession sin. The practice's form differs over time, but the truth remains the same. The sinner must confess their sins for forgiveness. To remain in unconfessed sin puts salvation in jeopardy. In the Lord Prayer Jesus states, "and forgive us our debts, as we also have forgiven our debtors" (Matthew 6:12).
Martin Luther on Confession
The Protestant reformer Martin Luther viewed confession of sin an "exercises of men" and contrary to the "truth of God." To Luther, unbelief was the only sin worthy of eternal condemnation. He claimed contrition, confession, and satisfaction leaves one more wretched than before. This "truth of God" is faith alone. In reality, this "truth" stands in opposition to Sacred Scripture and the historical Christian record.
"Even if he would, he could not lose his salvation, however much he sinned, unless he refused to believe. For no sin can condemn him save unbelief alone. All other sins, so long as the faith in God's promise made in baptism returns or remains, are immediately blotted out through that same faith, or rather through the truth of God, because he cannot deny himself if you confess him and faithfully cling to him in his promise. But as for contrition, confession of sins, and satisfaction, along with all those carefully devised exercises of men: if you rely on them and neglect this truth of God, they will suddenly fail you and leave you more wretched than before. For whatever is done without faith in God's truth is vanity of vanities and vexation of spirit." [LW 36: 60 emphasis mine].
Confession of Sin in Sacred Scripture
In John 20:21-23, Jesus sent his disciples into the world with the Holy Spirt. This gift comes with the ability to forgive sins. The early church believed this gift was not only for the original disciples (now apostles). It was a gift to the Church.
21 Jesus said to them again, "Peace be with you. As the Father has sent me, even so I am sending you." 22 And when he had said this, he breathed on them and said to them, "Receive the Holy Spirit. 23 If you forgive the sins of any, they are forgiven them; if you withhold forgiveness from any, it is withheld."
In James 5:14-16, forgiveness of sin is possible through confession to the elders (presbyters) of the church. It is clear from the context of the passage that James addresses baptized Christians, not the unbaptized. The "elders" have authority to anoint the sick and forgive sins (see John 20:21-23).
14 Is anyone among you sick? Let him call for the elders of the church, and let them pray over him, anointing him with oil in the name of the Lord. 15 And the prayer of faith will save the one who is sick, and the Lord will raise him up. And if he has committed sins, he will be forgiven. 16 Therefore, confess your sins to one another and pray for one another, that you may be healed. The prayer of a righteous person has great power as it is working.
Confession of Sin in the 1st Century
The Didache also exhorts the baptized to confess their sins before receiving the Eucharist in order to ensure their sacrifice may be pure. To partake of the Eucharist with unconfessed sin is to profane one's sacrifice. Confession is the means by which the baptized is purified and therefore able to offer a pure sacrifice.
"But every Lord's day gather yourselves together, and break bread, and give thanksgiving after having confessed your transgressions, that your sacrifice may be pure. But let no one that is at variance with his fellow come together with you, until they be reconciled, that your sacrifice may not be profaned. For this is that which was spoken by the Lord: In every place and time offer to me a pure sacrifice; for I am a great King, says the Lord, and my name is wonderful among the nations." (Didache: Chapter 14. Christian Assembly on the Lord's Day [AD 50-70])
The Letter of Barnabas echoes the Didache's exhortation to confess and therefore maintain a clear conscience in prayer. Confession is not a mere suggestion; it is a command. Confess or suffer the spiritual consequences.
"You shall confess your sins. You shall not go to prayer with an evil conscience. This is the way of light" (Letter of Barnabas 19 [A.D. 74]).
The Shepherd of Hermas takes a more stringent approach to confession and allows for only one opportunity for confession after baptism. If one were to continue in sin after this one opportunity, a second repentance is not possible.
"And therefore, I say to you, that if any one is tempted by the devil, and sins after that great and holy calling in which the Lord has called His people to everlasting life, he has opportunity to repent but once. But if he should sin frequently after this, and then repent, to such a man his repentance will be of no avail; for with difficulty will he live. And I said, Sir, I feel that life has come back to me in listening attentively to these commandments; for I know that I shall be saved, if in future I sin no more. And he said, you will be saved, you and all who keep these commandments." (The Shepherd 4:3 [A.D. 80]).
The 2nd Century
Ignatius of Antioch ties confession to unity with the bishop. Specifically, Ignatius refers here to the baptized who have separated themselves from the church and the bishop. Confession and "the exercise of penance" restores one to Christ and his Church.
"For as many as are of God and of Jesus Christ are also with the bishop. And as many as shall, in the exercise of penance, return into the unity of the Church, these, too, shall belong to God, that they may live according to Jesus Christ" (Letter to the Philadelphians 3 [A.D. 110]).
Tertullian warns the baptized who refuse to confess out of a sense of modesty to not jeopardize their salvation. To Tertullian, unconfessed sin can lead to spiritual death just as undiagnosed disease can lead to physical death.
"[Regarding confession, some] flee from this work as being an exposure of themselves, or they put it off from day to day. I presume they are more mindful of modesty than of salvation, like those who contract a disease in the more shameful parts of the body and shun making themselves known to the physicians; and thus they perish along with their own bashfulness" (Repentance 10:1 [A.D. 203]).
The 3rd Century
Hippolytus, writing on one of the earliest accounts of the ordination of bishops, includes their authority to forgive sins. The "command" referred to in the quote below given by Jesus in John 20:21-23 and Matthew 16:13-20. No contemporary of Hippolytus or any writer that came after him in the early church questions him on this point. If he were to have invented this out of whole cloth, there would have been push back.
"[The bishop conducting the ordination of the new bishop shall pray:] God and Father of our Lord Jesus Christ. . .. Pour forth now that power which comes from you, from your royal Spirit, which you gave to your beloved Son, Jesus Christ, and which he bestowed upon his holy apostles . . . and grant this your servant, whom you have chosen for the episcopate, [the power] to feed your holy flock and to serve without blame as your high priest, ministering night and day to propitiate unceasingly before your face and to offer to you the gifts of your holy Church, and by the Spirit of the high priesthood to have the authority to forgive sins, in accord with your command" (Apostolic Tradition 3 [A.D. 215]).
Origen provides a concise description of confession. Notice the strikingly seminaries to confession in the modern Catholic Church. Contrary to Luther's view of confession as "exercises of men," Origen sees confession as medicinal.
"[A final method of forgiveness], albeit hard and laborious [is] the remission of sins through penance, when the sinner . . . does not shrink from declaring his sin to a priest of the Lord and from seeking medicine, after the manner of him who say, 'I said, "To the Lord I will accuse myself of my iniquity"'" (Homilies on Leviticus 2:4 [A.D. 248]).
Cyprian warns those who have sacrificed to idols during the Decian persecution of the dangers of receiving the Eucharist without first confessing their sins. He sees the reception of the Eucharist with unconfessed sin as a worse sin than the initial sin of public denial of Christ.
"The apostle [Paul] likewise bears witness and says: '. . . Whoever eats the bread or drinks the cup of the Lord unworthily will be guilty of the body and blood of the Lord' [1 Cor. 11:27]. But [the impenitent] spurn and despise all these warnings; before their sins are expiated, before they have made a confession of their crime, before their conscience has been purged in the ceremony and at the hand of the priest . . . they do violence to [the Lord's] body and blood, and with their hands and mouth they sin against the Lord more than when they denied him" (The Lapsed 15:1–3 (A.D. 251]).
The Final Word on Confession
Martin Luther breaks with the early Christian church in his innovation of faith alone and its implications regarding the relevance of confession and penance. The early Christians universally agree on the necessity of confession. Confession is the medicine that heals the damaged soul once regenerated in baptism.
Like what you read? Please check out my other writing here.
Please like and follow me on Facebook.