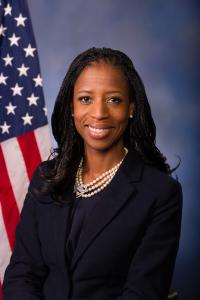 Mia Love isn't standing up for women – she's fighting for her political survival. 
"I think that he should voluntarily resign."
The quote above could apply to any number of famous men recently accused of sexual impropriety. Last night, Arizona Republican Congressman Trent Franks resigned amid allegations that he had pressured female staffers to role-play The Handmaid's Tale bear his children. Earlier this week, Minnesota Democratic Senator Al Franken tendered his resignation, following a flood of groping allegations. Since early November, Alabama Republican senatorial candidate Roy Moore has faced bipartisan calls to quit his race, as now 9 women have accused him of sexual harassment or assault while they were teenagers (Moore purportedly molested one of them when she was 14).
But no, this quote wasn't about Franks, Franken, or Moore. Rather, it was about Texas Republican Congressman Blake Farenthold – and it came from Utah Republican Congresswoman Mia Love.
At first, I wanted to applaud Love's political courage. It's not easy for a second-term, African-American, Republican congresswoman (a double-minority in the overwhelmingly white and male Republican caucus) to condemn a third-term, white, Republican congressman. And Rep. Love's comments on Farenthold would seem consistent with her earlier statements; after all, she had previously called for Franken to step down, and she refused to vote for Donald Trump in the 2016 presidential election.
But after my initial impulse to praise Love, I started thinking. Love represents Utah's fourth congressional district, the most left-leaning in the solidly red state. Her constituents were previously represented by the popular Democratic congressman Jim Matheson, the scion of a prominent Mormon political family and a proud member of the conservative "Blue Dog" Democratic caucus. In the two elections Love won in her district after Matheson's retirement, her margin of victory was substantially smaller than that of other members of Utah's congressional delegation. In fact, at points during the 2016 election, her district was rated a "toss-up" by some polling firms.
Basically, Love represents the one potential "swing district" in Utah. With that in mind, her "courageous" condemnation of Farenthold seems less like a principled stand against sexual misconduct and more like a calculated move to preempt attacks from her likely challenger in 2018, Democratic Mayor of Salt Lake County Ben McAdams.
McAdams poses a serious threat to Love's hold on her seat. He first won his mayoral office in 2012, a tough year for Utah Democrats with Mitt Romney topping the GOP ticket, by vanquishing Republican Marc Crockett by over 9 percentage points. He once again triumphed in 2016, when he trounced his Republican opponent by almost 19 percentage points.
McAdams has been able to beat out Republicans by leveraging his renown for being a pragmatic moderate with a fiscally conservative track record. His reputation for bipartisanship is such that, during his 2012 race, many Republican officials endorsed him, and 22% of GOP voters cast their ballots for him. Further, he has somehow managed to pull off the seemingly impossible task of appealing to both Mormons (McAdams himself is active LDS) and the LGBT community (Ben represented the most LGBT-heavy district in the Utah State Senate). His successful effort at triangulating an ideologically varied cross-section of Utahans has lent itself to his campaign slogan: "Yeah, he's different."
Love is right to be worried by a challenge from McAdams – and that, more than a "Profiles in Courage" mentality, may explain why she's been so eager to put herself front and center in calling for Farenthold's head. In a 2018 face-off, McAdams will likely seek to weigh Love down with the albatross of Donald Trump, a figure who is surprisingly unpopular in deep-red Utah. As stated earlier, Love did criticize Trump during the 2016 election and refused to vote for him. Yet, leading up to his inauguration, she said that he was "kind" and "gracious," and, since his installment in the White House, she has been noticeably loath to condemn his many breaches of civility and presidential decorum.
With the specter of Trump's unfitness for office – and 19 women's credible accusations that he sexually assaulted them – hanging over Love, she must think that denouncing Farenthold will mitigate the impact of McAdams's all-but-certain future attack ads linking her to our debauched commander in chief. Time will tell if this strategy will work. But one thing is certain – Love's eagerness to condemn Farenthold shouldn't be read as a courageous stand for dignity and decency. Rather, it should be seen for what it is – a calculated attempt to cast herself as a champion for women as she dreads being linked (rightly) to the chauvinist in the Oval Office.