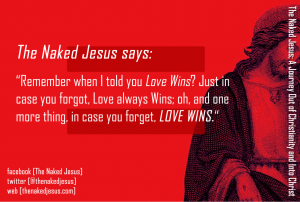 I received an email today from someone who asked me why I hadn't spoken about the SCOTUS ruling on Marriage Equity. My reply was simple; I never shout-out my point of view in the middle of a celebration. But, now that the party is slowing down a bit I will share with you my point of view:
Love Wins
It really is that simple, Love Wins.
I'm not concerned which side of the debate you are on; as long as you remember that Love Wins. You see, being mean, argumentative, insulting, demanding simply tells the world your faith is mean, argumentative, insulting, and demanding – and it should not be so. Your faith should be filled with grace, love, hope and mercy. Each time a decision is made where certain groups of people disagree think it's the end of the world. This was the same when slavery ended, when women received the right to vote, and segregation ended, and yet the world did not end. So, wherever you stand on the issue, let kinder hearts speak, let love speak, let grace speak, let mercy speak.
As for me? I am going to get back to the celebration [the bar is still open] – there is a great amount to celebrate because:
Love Wins