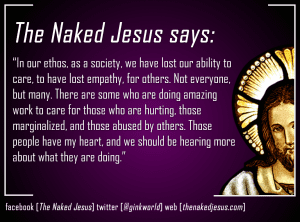 In our ethos, as a society, we have lost our ability to care, to have lost empathy, for others. Not everyone, but many. There are some who are doing amazing work to care for those who are hurting, those marginalized, and those abused by others. Those people have my heart, and we should be hearing more about what they are doing. Yet, for many, the absence of the ability to feel the pains of others is a driving force. This lack of empathy causes us to ignore the pains of others. We see their pain as being small, or just not important, or worse, we see their pains as imaginary. At best, we do this out of ignorance, at worse we do this because we desire to get all we can for ourselves.
I honestly believe this lack of caring, this lack of empathy, cause many to be unresponsive to the cries of others. When we lack empathy, we ignore to voices of others, and speak empty words to address their feeling. Feeling the pains of others is a very important reality for us to live under. When we have an empathic heart, we put our desires aside, and we embrace change. We see the need for systems, ideas, and more to change. We embrace what others are feeling, and we honor their feelings.
My prayer, and my life model, is to care for others. My desire is to feel the pains of others; to find ways to help – with actions, and not just words. One small way [and yes, it is a very small way] of doing this, of caring for others, of showing Love Wins, is to post stories of people caring for others – on a regular basis. When we do this, we become a voice for change. While I realize this is a small thing, I also believe that if many people post small things, they become large things. Small voices, shouting together, can make a difference. So, we have a choice, we can either be a voice showing love wins, or we can be a voice showing indifference wins. You pick.