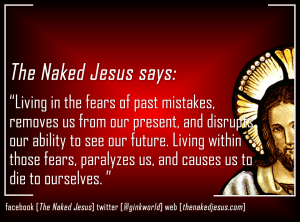 Living in the fears of past mistakes, removes us from our present, and disrupts our ability to see our future. Living within those fears, paralyzes us, and causes us to die to ourselves. One of the reasons the Divine speaks so often about forgiveness, is because of the destruction living with past mistakes can cause us. We become paralyzed to possibilities because, we focus on past problems. We're unable to find our true self, the self the Divine created us to be. I've been praying over the issues facing us when it comes to forgiveness. Why are we so unwilling to trust that we are truly forgiven? How can we move past the feelings we have about not being forgiven? Is it possible, the feelings we have of not being forgiven are true, and the Divine has not forgiven us of past mistakes?
Over my faith journey, I must've read the words Jesus speaks in Matthew's recording of His live and ministry, "In prayer there is a connection between what God does and what you do. You can't get forgiveness from God, for instance, without also forgiving others. If you refuse to do your part, you cut yourself off from God's part. [6:14-15]" I'm struck with this reality, we may not feel forgiven because we're not – WHAT? I know, sounds harsh. But the more I think about it, the clearer it becomes. Our mistakes are not forgiven, because forgiveness is not only between us, and the Divine. Forgiveness, for it to truly work in our favor, means we need to forgive others who have harmed us. In our self, we understand that for us to be forgiven, we must first forgive others – and so many of us are unwilling to forgive others, and in turn we know we're not forgiven.
It's when we learn to forgive the mistakes others have done to us, that the Divine forgives our mistakes.
, "You're blessed when you're content with just who you are—no more, no less. That's the moment you find yourselves proud owners of everything that can't be bought. [5:5]" It's at that moment in time, when we understand the reality of forgiveness.