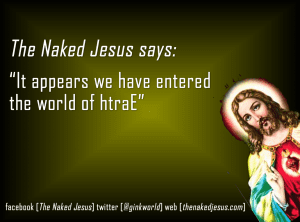 NERD ALERT:
It appears we've entered the world of htraE; well it sure feels like it, at levels which astound me. Now, for those who aren't as nerdy as I am [or think my dyslexia has kicked in], let me share a little back ground info on htraE [in case you missed it, htraE is Earth spelled backwards]. htraE is a DC Comic Book cubed shaped planet. Originally, Bizarro World was a distant planet, dedicated to being the opposite of Earth; now, I'm not going to go into how this world became cube, I'll leave that to those who wish to tickle their inner nerd to do the research. The point I desire to make here is that on htraE they live by a code, called the Bizarro Code:
Us do opposite of all Earthly things!
Us hate beauty!
Us love ugliness!
Is big crime to make anything perfect on Bizarro World!
When I heard that the Trump Administration [TA] used
Alternative Facts
, my warped, nerdy mind went straight to the Bizzaro Code.
I have to admit, I actually love the phase "Alternative Facts." As a Sci-Fi nut, I think it's just a cool set of words. It works well with the idea of an "Alternate Reality," or "Parallel Universe," or "Multiverse" – See, they're just cool words that conger up some very interesting possibilities. Unfortunately, the possibilities they conger up when I think in terms of the TA, aren't very interesting; all of them are downright hurtful. But that should be no surprise to anyone. For decades, the Republicans, and their religious arm [the conservative church] have shared with us their version of a Bizarro-Christ with the following Bizarro Code:
Us do opposite of Christly things!
Us hate grace!
Us love law!
Is big on greed to make everything ours on Bizarro World!
Welcome To htraE