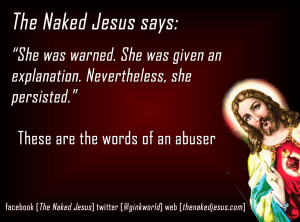 My father was a very angry, abusive man. Like most abusers, he could be a wonderful, loving, giving person – but once the switch was flipped, watch out. I have long since forgiven him for his abuse, and I have tried to understand his anger, with some positive results. I will admit, forgiving him was way easier then striving to understand his anger. As I looked back at my life, I would notice his anger manifested in his treatment of my Mother, myself, and my siblings [I come to believe this was one of his anger points, having seven children, he only wanted one, or two, at most].
His abuse was physical, but I think the deepest scars were those coming from the emotional, and spiritual abuse. I can remember many times in my life where I hid from my father, many times I had my spirit crushed by him, and many times where I would walk away from a "conversation" emotionally bruised, and drained. On many occasions, he would justify his actions, and words, based on some twisted sense of reality. He would say things like [usually about my Mother], "I told you to stop, I told you I was getting mad" or, "I warned her. I told her she didn't want to get me mad" or, "she would not stop, I had to do what I did" or, "she deserved what she got." Many times, his outbreak of anger, and abuse, centered around silly things like not having dinner ready when he got home [even though we never knew when he would come home]. He would breakout in rage if the food was not ready, or if it was cold – he was never pleased. So, when I hear certain words, certain phrases, a switch clicks on in my brain, and I hear the words of an abuser.
When I read the words, "
She was warned. She was given an explanation. Nevertheless, she persisted
" [followed by a punishment] I hear my father's voice saying those words. Flash backs flood my mind, and in my spirit, I cry. It matters little as to the reason why those words were spoken, they are the words of a person seeking control, seeking to overpower the voice of another, someone they see as "less;" they are the words of an abuser.
In Proverbs, we are reminded of where abusive language comes from
Blessings accrue on a good and honest life, but the mouth of the wicked is a dark cave of abuse. [10:6 MSG]"

The mouth of a good person is a deep, life-giving well, but the mouth of the wicked is a dark cave of abuse. [10:11 MSG]
I find words designed to show authority, or control, over another to be abusive; especially when that is the desire of the speaker's heart to show power, but even when it's not, it still hurts. You may say, "Hey, we need to honor authority" – I agree, but not when that authority is abusive. Our words should be filled with grace, love, and understanding. If they are not, we should not speak.