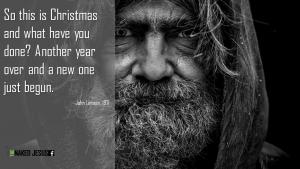 I remember hearing John Lennon's Happy Xmas [War is Over] for the first time over a friend's house. For me, it was one of those songs that caused a shift in thinking. The words echoed in my head for weeks. I never heard anything like it, and I had to buy the CD because I needed to hear the song again: many times.
I loved that it centered on asking us all the question, what have you done? It's a question I've asked myself over, and over, and over each year about this time: What have I done? It's a question that has changed my life, it is a question that should change all our lives. As we get closer and closer to Christmas, the question becomes alive, and bounces around in my head. It's like the Divine sends a holy nudge in my brain. Think back over this year, and ask yourself, what have I done?
This Christmas season many center their thoughts on Liturgical Colors, Music, Fasting, Rituals, and an Advent Wreath. Each Sunday they gather together with others in their church and have some young cute families light a candle for hope, peace, joy, and love, with a huge white candle lit on Christmas Eve; depending on their tradition. Each Sunday, part of the Collective Narrative is read, and the Pastor speaks on the topic for that assigned Sunday. At the Christmas Eve service, they light the Jesus Candle, sing silent night and go home [after the offering]. What we have done in the past needs a shift in thinking, and this shift will bring about a lot of "What ifs"
What if we switched things up a bit? What if, and I know this will make many uncomfortable, we answered the question, what have you done?, each week?
What if, each week of Advent you didn't light a candle and hear some boring sermon, but you heard from someone active in helping others? Let them light the candle, and speak about what they do, and how others could get involved?
What if your church had the elderly couple who spends three days a week delivering meals to shut-ins share the hope they see in the faces of those they serve?
What if your church had that young lady who spends her weekends mowing the lawns of those in her neighborhood who are unable to do so share the joy she receives, and gives, in helping others?
What if your church had that college student who works helping others out of gangs share the peace he sees in the eyes of those who leave the gangs?
What if you had the young man who spends his evenings volunteering to help children learn to read share the joy he sees in the faces of those he helps?
What if, your church went beyond the four weeks of Advent and strived to get others out in the community so next year they can answer the question, what have you done?, themselves?
What if, you heard the stories of those who could answer the question what have I've done? speak about what they're doing? What if Christmas Eve was spent celebrating all those who have put their faith into action?
Think about it, the what ifs are endless.
Get your Copy of DISRUPT: Everything Changes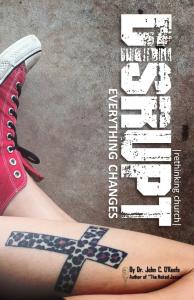 Today