If you're a pastor or church leader, you undoubtedly have competing interests and voices vying for your attention, especially when you're deciding what your church will do (or not do)–and how. With all these things to balance, how can you tell if your church's vision is still tied to God's mission? Or if your choices and actions align with your intentions?
This month, one the Theology of Work Project's (TOW) steering committee members reminded us of the pressure that pastors and church leaders face. He wrote, "One of the great mistakes we in the faith-work movement make is using the church as a battering ram. While the church is in the business of equipping believers and that includes understanding their work matters to God, "workfaith" is but one of many constituencies the church must serve. We're called to read Scripture and know God ourselves, and when we do that, God opens our eyes to just how intimately He wants us involved in His Creation."
His comment reminds us that emphasis on equipping Christians to engage faithfully through their work does not negate the value of activities that one might traditionally associate with church. Those include bible study, small group, prayer and sharing one's faith; these are tools the Holy Spirit uses to guide and speak.—Vocational discipleship simply expands our partnership with the work of the Holy Spirit in the world.
We are invited to dream with God, to follow Jesus into new fields—to see how He's already at work around us and join Him.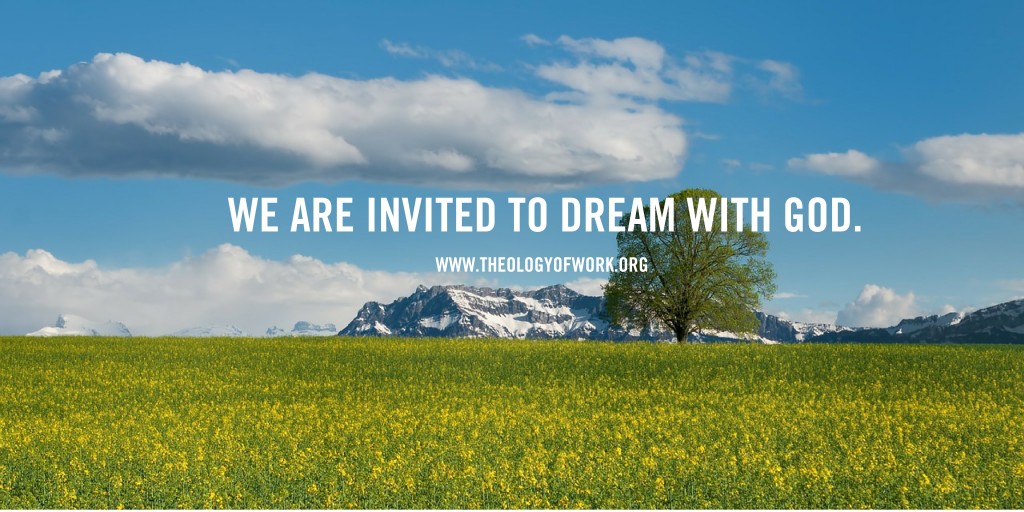 So how can pastors and leaders evaluate whether their church's mission has drifted to discount whole-life discipleship? Skye Jethani, former pastor and current editor at Christianity Today's Leadership Journal talks about that here:
He poignantly asks, "Is your church a destination or a vehicle?" As he describes it, churches that are equipping "the saints for the work of ministry" (Ephesians 4:12) teach people to first commune with Jesus and then do what He wants them to do. Translated today, "ministry" implies church work. However, Jethani points out, there were no institutional churches when Paul wrote his letter to the Ephesians. Christians were called to acts of service "in the greater context of the world", including the context of work.
"Vehicle" churches help people connect with God and equip them to do what He is calling them to do. "Destination" churches ask people to invest in the institution of the church and its activities, rather than celebrating those who participate in what Jesus is doing outside the church. He explains that young people in particular are asking what it means to be active Christians in medicine, education, homemaking, business and government. How can Christians impact culture in those arenas?
If your vision for whole-life discipleship includes vocational discipleship, we've identified some common activities of church leaders that are trying to help people integrate faith and work. These churches do the following.
Partner with non-church-staff congregants to

understand their congregation's work contexts, and address the opportunities and challenges they face;
build and inform the church's "faith and work" efforts; and
encourage the whole church community to examine how they can actively live out faith in the workplace.
Search for examples of faith at work.
Actively develop or search for resources for people integrating faith and work.
Create structures to sustain ministries that help people integrate faith and work—whether those structures are folded into current church activities (such as prayer and small groups), or take the form of specific "faith and work" ministries.
Commission, affirm and release people to work outside the church.
The Great Commission calls us to make disciples, not just "converts." The invitation for pastors and church leaders, and indeed, all of God's people to "make disciples" beckons us to examine what it means to be faithful in everyday workplaces. Vocational discipleship widens our invitation to God to be God over every area of our lives. By equipping each other for the workplace, we give God a wider berth to work creatively through His people, working for His purposes.
What do you think? What has helped your church develop a vision for whole-life discipleship? vocational discipleship? How do you evaluate how your church is doing?
This post is part of the Theology of Work Project's summer blog series. The series is especially for pastors and leaders who are helping Christians to apply faith in their everyday work.