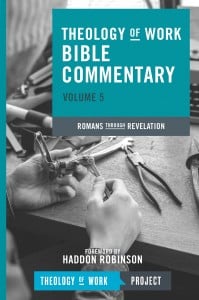 The Theology of Work Bible Commentary, Volume 5: Romans-Revelation is now available in print for the first time. If you've ever wondered about God's direction for your work, the TOW Commentary is a good place to start. The commentary can be used for bible study or as a reference for myriad work-related topics. Written by a team of over 138 scholars, pastors and working Christians, the commentary helps people with a broad range of questions, such as:
Does my work matter to God?
What does it mean to be "Christian" at work?
How should I deal with a negative performance assessment?
What does the Bible say about working with nonbelievers?
How can I be a better leader or manager?
What does the Bible say about wealth?
The Theology of Work Bible Commentary is also available for free in its entirety online. However, those who enjoy having a good book in hand will undoubtedly appreciate having both Volume 4: The Gospel and Acts and Volume 5: Romans-Revelation in print. (Volumes 1-3 will be available later in 2015 and early 2016.)
 Here's what other people have said about the TOW Commentary.
"I can't tell you how much I struggle with my faith at work, and I can't thank you enough for this website. It (has) already helped me a great deal…your article about the meek has motivated me and brought new life to my efforts at work."
– Brad, online TOW Commentary user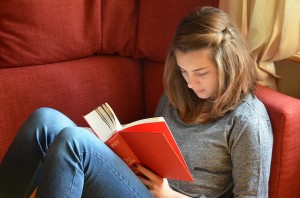 "The conversation about faith and work is deeper and richer thanks to the Theology of Work Project." 
– Andy Crouch, Executive Editor, Christianity Today
"Did you ever wonder what your work has to do with your faith? The short answer is everything, and now you can read all about it in the Theology of Work Bible Commentary, now in print for the first time. Heartily recommended."  
– Eric Metaxas, New York Times Bestselling Author, Bonhoeffer: Pastor, Martyr, Prophet, Spy 
"From the very beginning, God designed us to work. We each have gifts and callings intended to reflect his glory and to bring us fulfillment, even as we serve others. While there are various resources addressing this subject, this unique commentary offers a comprehensive survey of an important biblical theme. With its added online availability, it is an invaluable resource for pastors and business professionals alike."
– Ravi Zacharias, Founder, Ravi Zacharias International Ministries, Author and Speaker
"This commentary can turn the church inside out as the people of God serve God full-time from Monday to Friday."
– R. Paul Stevens, Professor Emeritus, Marketplace Theology, Regent College, Vancouver, BC
The Theology of Work Bible Commentary, Volume 5: Romans-Revelation is available in print here.
---