Make no mistake about it; the Sochi Olympics had millions of people around the world glued to the big screen for much of February.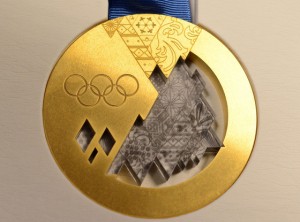 The experience was so intense for some people, that in Canada, very few even slept on Sunday as they opted to get up as early as 4 a.m. (or just stay awake) to watch that final gold medal hockey game that closed the nearly three-week long love affair with all things athletic.
Medal counts and examples of patriotism aside, there is something compelling about watching people who are literally at the top of their game. And when you listen to the interviews with the athletes, time and again it's not the physicality that they say made the difference – invariably it's the mental discipline.
We know all too well that when the mind is clear, it achieves great things. We may not all want or desire to be Olympic athletes, but what the Games reminds the human race is that we have a capacity to take on that challenge and make that mental leap.
Take for example Jennifer Jones. She's the Canadian skip who lead the curling team to victory. In an interview on the closing day of the Olympics she was asked about what it took to get to the gold.
Her answer was very straight forward, but also a good lesson in what we can all choose to apply to our own lives – whether that means being a better parent, or choosing a new career or making any change in our lives for the better.
What she said was that the team always focused on the positive, while remaining objectively critical. What I heard was that rather than get into blaming each other about what went wrong, the team focused on what went right, identified what could be improved upon, and then went about refining those aspects of their game until they were satisfied.
Pick any athlete from any country, and you'll hear the same thing. While there are coaches who revel in bullyboy tactics, there is an increasing trend towards refinement and analysis. Simple questions can lead to renewed and redirected action, and it is action that creates results – not sitting back and dreaming about it.
So getting back to all those couch potatoes who have been watching for the last 20 days or so. The mere fact that so many millions of people watched these games, means there's a strong likelihood that some may be considering taking on their own Olympic challenge.
What an incredible global consciousness that creates. This time right now – these next 10 days – are days when we can take the pride and the inspiration of the Olympics and bring that same element of determination into our homes, into our workplaces, into our communities.
Sure there's politics with the Olympics, and now billions of dollars that are spent. But looked at from another point of view, the Olympics are truly a gift that we as members of the human race give ourselves every couple of years as a way to collectively remind ourselves of what humanity is capable of at the individual level, and what a country can do to support them.
What if we lived every day like it was the Olympics? What if we focused our individual energies on achieving the best that we could in our lives, while at the same time providing all the necessary support to aid those around us?
There is power in numbers. We have our own Olympic dreams to achieve, and can we can harness the power of our minds – our spiritual integrity – to take action and make those dreams real.
If we all did that, just think where we'll be in four more years.
I for one, can hardly wait.