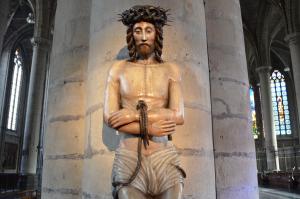 One night when I was in my 20s and living in an apartment with my sister, there was a knock on the door. A mysterious woman stood there, selling an assortment of religious prints. I gave her a few dollars for an image of Jesus in prayer in the Garden of Gethsemane. I believe it was providence. Little did I know that the image was a foreshadowing of one of the most devastatingly difficult times of my life. Like some cryptic messenger from a fairy tale, the woman had sold me an allusion to what was to come, as in the following decade I experienced crippling depression which upended my life and my career plans. Looking back, this period became my very own Agony in the Garden, driving me to my knees in conversion and in search of comfort and healing from God. In that sense, good did come of the suffering, but it didn't diminish the agony. Since that strange woman appeared at my doorstep so long ago I have had a special devotion to and solidarity with Jesus in the Garden, mainly because his suffering was not physical, but mental, and this is the variety of pain and suffering which I have been allotted. The image of the anguished Jesus, slumped over a stone, gazing pleadingly at the Father guided me through that time, and continues to strengthen and fortify me in difficulties. From this dark period of my life, I have emerged stronger, happier, and wiser, and through this experience I have thankfully acquired an increased adeptness at handling the difficult times.
Good Friday and the Problem of Suffering
Because of Adam and Eve's disobedience, suffering and death entered the world and continues today: "The harmony in which [Adam and Eve] had found themselves, thanks to original justice, is now destroyed: the control of the soul's spiritual faculties over the body is shattered; the union of man and woman becomes subject to tensions, their relations henceforth marked by lust and domination. Harmony with creation is broken: visible creation has become alien and hostile to man. Because of man, creation is now subject 'to its bondage to decay'… Death makes its entrance into human history." (CCC #400)
On Good Friday, we meditate on Christ's Passion and death and the pain and agony he endured for our sins. In this life, we, too, will endure our own share of crosses and hardships. Suffering is inescapable. The question is, how do we handle it? Even though we often fall painfully short from being Christlike in our worst moments, it is important to reflect on how Jesus handled his suffering. Jesus endured distressing pain and overwhelming anguish during his Passion and Crucifixion but he didn't rebel, didn't react in anger, and didn't try to escape the suffering. He bore it patiently and prayerfully. Our fallen nature often prevents us from handling difficulties so gracefully, but we can examine Christ's actions and attempt to imitate his manner of living.
How Did Jesus Suffer?
In Luke's gospel, Jesus goes out to the Mount of Olives immediately after the Last Supper and withdraws to pray, as is his unfailing custom before all events of his life. There are moments in life, as this moment was for Jesus, when we are brought to our knees, when pain and devastation are so absolute that we can not stand anymore. It is in these moments: instances of death, disasters, and tragedy, that the best thing we can do is cling to the Cross of Christ in prayer and unite our suffering with his. We humble ourselves before God and admit our need, and he responds to us and comforts us. Often God does not take the suffering away: despite Jesus' tortured petition in the garden, God still allowed his crucifixion. However, he promises to comfort and assist us in our difficulties. The gospels tell us that an angel was sent to attend to him, and he was strengthened for the trial ahead of him.
Jesus also turns to his closest friends for comfort. At the table of the Last Supper, he shares his last intimate meal with his apostles. He reveals to them, "I have eagerly desired to eat this Passover with you before I suffer." (Lk. 22:15) As he prepares them for his impending death, he undoubtedly was consoled in spending these last moments in fellowship with his closest followers. His apostles are also present with him in the Garden of Gethsemane. Most importantly, Jesus' Mother was present at the foot of the Cross, along with St. John, keeping vigil with him until he died. Just as Jesus had his closest followers with him in his darkest hour, we need our faithful friends and family to support and comfort us when we are suffering. Clearly, in addition to consulting friends, it is vital to seek out professional resources to help with issues such as depression and other mental health problems.
Another characteristic of Jesus in his anguish in his Agony, his torture and his Crucifixion is pardon of enemies. "Father, forgive them, they know not what they do." (Lk. 23:34) Forgiveness of our enemies releases the weight of resentment and lessens the burden of suffering. Jesus faced the greatest of suffering, yet he did not lash out in pain or anger. He unequivocally forgave his torturers and executioners. Can we imitate his perfect love and forgive those who have harmed us or caused us suffering? Holding on to anger and unforgiveness intensifies our agony and adds to our burdens. When we release resentments and surrender grudges, our negativity is replaced with joy, and we will be happier, even when external circumstances cause us hardship.
Most importantly, Jesus humbly and calmly accepted his suffering as necessary; he didn't resist it: "Father, if you are willing, take this cup away from me; still, not my will but yours be done." (Lk 22:42) He knew his purpose was to complete his saving mission and he fulfilled it gracefully and lovingly. We can consider also the peace the saints experienced in suffering. Their endurance is not a myth or an impossibility. They labored faithfully and diligently under spiritual discipline to develop the fortitude to endure their trials. St. Therese remarked that "suffering is the very best gift he has to give us. He gives it only to his chosen friends." St. Augustine reminds us of the redemptive value of suffering: "Trials and tribulations offer us a chance to make reparation for our past faults and sins. On such occasions the Lord comes to us like a physician to heal the wounds left by our sins. Tribulation is the divine medicine."
If You Have a Headache, You Take an Aspirin
I am not suggesting we don't take measures to lessen or eliminate the sufferings. Certainly we should seek out every earthly means to cure or lessen our difficulties. However, Jesus' words and actions in the gospel provide us a perfect example of how to handle the suffering that we can not remove. If we believe he loves us, we should be confident that he takes an active interest in even the smallest details of our lives and that he, along with our Blessed Mother and the saints, intercedes with the Father and comes to our aid in our necessities. We should not underestimate the power of God's divine action and assistance in our lives. Only consider the numerous accounts of Jesus' healing intervention in the gospels for the blind, the lame, the sick. His healing power is still present today for those who have faith, even though he no longer walks the earth with his physical body.
I am not hoping for another icon peddler to darken my doorstep anytime soon, but if it should happen I know that I have been tried by fire and have acquired a healthier dose of fortitude to survive more effectively whatever comes. I have learned that an integral component of enduring hardship is prayer and reception of the sacraments. Forgiveness and reconciliation and the support that comes with cultivating genuine friendships are essential. Without these, we will not have the strength or the endurance to withstand suffering gracefully. Perhaps most importantly is trusting in the healing power of Christ and believing that he desires to support and assist us in our needs. On this most somber of days, let us unite our own sufferings with Christ on the Cross. Through imitating him and uniting our suffering with his, we can endure anything.
(Image credit: Pixabay)