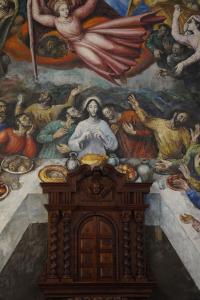 The Betrayal of Judas
In John's gospel today, the scene is set for Judas' betrayal of Jesus. After Jesus demonstrates his love and humility by washing the disciples' feet at the Last Supper, he declares, "But so that the scriptures might be fulfilled, 'The one who ate my food has raised his heel against me.'…Amen, amen, I say to you, one of you will betray me." (Jn. 13:18,21) The disciples are bewildered and Peter signals John to find out who he meant. Knowing that we are all sinners, I wonder if each of the disciples in his own heart began to question themselves and fearfully speculate whether they were capable of carrying out such a contemptible act. "Master, who is it?" the beloved disciple asks. Even when Jesus hands the morsel to Judas, the disciples are still confused and do not comprehend what he is about to do.
Continual Conversion is Needed to Remain Faithful
It is easy to disparage Judas and settle into a smug comfort, thinking we will never be Judases, that we have all of our bases covered and could never fall into sin. The truth is, we are all capable of being seduced into betraying Jesus, as faithful as we may be. No one is immune from the deception of the evil one, so we should always be on guard against temptation and sin. We need a continual conversion of heart; to examine ourselves daily, admit our faults and failings, confess them, and resolve to amend our ways. "Christ's call to conversion continues to resound in the lives of Christians. This second conversion is an uninterrupted task for the whole Church who, "clasping sinners to her bosom, [is] at once holy and always in need of purification, [and] follows constantly the path of penance and renewal." This endeavor of conversion is not just a human work. It is the movement of a "contrite heart," drawn and moved by grace to respond to the merciful love of God who loved us first. (CCC #1428)
Peter's Overconfidence and Conversion
Jesus predicts his coming death and informs his disciples that where he is going they can not follow at that time. Peter, in his zeal, assures Jesus that he will be faithful to death, when he promises, "Master, why can't I follow you now? I will lay down my life for you." (Jn. 13:37) When we first encounter Jesus, it is easy to believe that we will never betray him; that we will never fall. However, when, like Peter, we are faced with persecution and hardship because of our faith, it often becomes difficult to remain steadfast and unwavering. Without humility, we are vulnerable to betrayals like Peter's when he denied Christ three times. "Therefore, whoever thinks he is standing secure should take care not to fall."(1 Cor. 10:1;2)" However, when we do fall and rise again as Peter did, Jesus offers us his forgiveness. "Jesus' look of infinite mercy drew tears of repentance from Peter and, after the Lord's resurrection, a threefold affirmation of love for him. The second conversion also has a communitarian dimension, as is clear in the Lord's call to a whole Church: "Repent!" (CCC #1429)
The Example of a Saint
This Holy Week, as we mourn the partial loss of Notre Dame Cathedral to inferno, we also celebrate the simple, humble French saint, Bernadette of Lourdes today, April 16. St. Bernadette was an example of perseverance in faith, even when things became very difficult for her through persecution. In addition to suffering with poor health, she was doubted, mistreated and rejected by others as a result of her status as a visionary. She humbly and piously accepted her sufferings. When questioned about the apparitions and under pressure to deny them, she remained steadfast and courageous. Unlike Judas and Peter, she refused to deny Christ. She is an excellent example of enduring persecutions and remaining faithful even despite suffering.