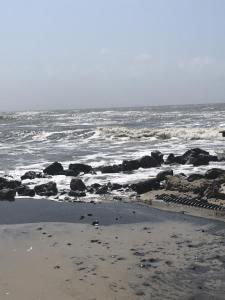 My daughter and I drove south to Dauphin Island yesterday to meet friends on the beach. We crossed the lengthy bridge over the water that surrounds the island on all sides, isolating it from the mainland. Time to withdraw and reflect for a few hours. We were able to sit quietly and listen to the soft waves wash ashore, feel the salty breeze and the stinging sand against our legs, and inhale the fresh Gulf of Mexico air blustering in from the Gulf and pushing us about from all sides.
It has been said that no man is an island. However, Jesus teaches us that it is necessary to withdraw regularly to our own island of prayer and contemplation to reconnect with our Maker, to gather our thoughts, and to rest and reset to face the busyness of life. He invited his apostles to "Come away by yourselves to a deserted place and rest a while," (Mark 6:31) as he invites us to do often in our daily lives. Solitude is the best and often the only way we can plug into the Holy Spirit and hear his instruction and encouragement. Like syncing your smartphone with your computer or receiving updates on your phone, we are enlightened and instructed when we depart from the bustle and cares of the world around us, plug into God, and seek out solitude and quiet prayer.
Like the repetitive and persistent ebb and flow of the Gulf waves, our lives are meant to alternate moments of outward activity and inner reflection and contemplation. We expand outward in friendship and relationship with others, then we withdraw back into ourselves to reconnect with God. To be healthy spiritually requires balance: both the external activities of work, recreation, and fellowship, and times of inward reflection; "going to our inner room and closing the door to pray to our Father in secret."
Today in the Palm Sunday liturgy readings, we experience with Jesus the ebb and flow of his movements during his final days on earth. At the procession with palms, we recreate his triumphant entrance into Jerusalem, thronged by palm-bearing admirers. The crowds surround him as he rides in on the colt and "the whole multitude of his disciples began to praise God aloud with joy for all the mighty deeds they had seen." (Lk. 19:37) In the gospel reading, Jesus expresses his desire to share the Passover with his apostles, as they gather in the Upper Room to commence the Last Supper. One of his greatest acts of love then transpired: the institution of the Holy Eucharist. His love was so great that he desired to pour himself out and remain with us on earth after his death until the end of time. Knowing that the time was approaching for his Passion, he surrounds himself with his friends and followers, seeking their companionship and showing them the love he had for them.
As the Passion approaches, however, Jesus finds it necessary to retreat from the crowds. Following his triumphant entrance into the city and the Last Supper, as the fanfare died down, he continued his custom of going apart to pray in preparation for his coming tribulations. He went out with his apostles to the Mount of Olives and, "After withdrawing about a stone's throw from them and kneeling, he prayed, saying, 'Father, if you are willing, take this cup away from me; still, not my will but yours be done.'" (Lk. 22:42) Like the waves retreating from the shore, he pulls back from the company of others to commune with God his Father to receive strength and grace to endure the impending suffering.
In the events that follow, Our Lord is betrayed and abandoned by his disciples, arrested, brought before unjust rulers, sentenced to death, tortured and crucified and not once does he complain or rebel. Only heavenly strength and power could enable a person to endure the sum of that suffering. His fervent prayer in the Garden of Gethsemane facilitates his intense preparation for the Cross. God the Father gives him the necessary soundness to withstand that degree of pain and suffering.
Just as Jesus' time for the Cross approached, we will also face hardships and difficulties. Do we prepare for the trials and crosses that will come to us in our lives? Sometimes we immerse ourselves so heavily in activities around us that we forget to step back and take time for God. Holy Week is a perfect time to tune in to the Holy Spirit and ask him to enlighten and fortify us for all of our needs. We will receive so much grace by choosing to walk with Our Lord through Holy Thursday, Good Friday, and Easter Sunday. Let us prepare through prayer to be swept up in the wave of joy at the great celebration of Easter which is approaching.